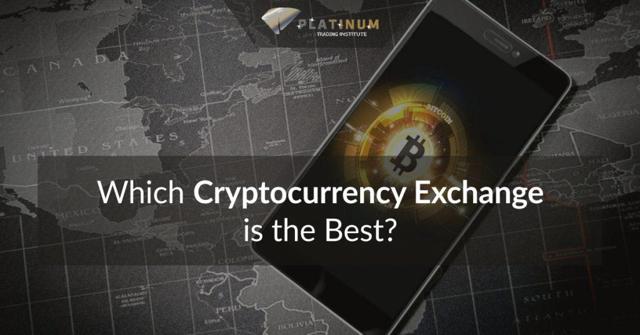 Since January 8, 2018, the cryptocurrency market cap has slipped from about $828 Billion to about $264 Billion on April 2, 2018. Interestingly, though during this period Bitcoin's market share has steadily increased from about 33% to 45% today. This indicates the larger share of alternate coins losing a larger percentage of their value during the same period. Despite these coins exhibiting negative trends, some coins have bucked the trend and posted some handful gains. In addition, traders have observed a steady rotation among a handful of coins that have offered significant opportunities for profit.
According to a last 'Crowd Machine' count, there are 1596 cryptocurrencies being sold in 9934 markets worldwide. There are more than 190 cryptocurrency exchanges worldwide, with US housing at least 100. With such a large number of exchanges available for Cryptocurrency trade, selecting a reliable crypto exchange is evidently a difficult task. Furthermore, many of these coins are not available on many a mainstream exchanges. In addition, an active trader is confounded by the fact that some of the smaller exchanges are not reliable, and may pose a significant risk.
In order to help Platinum Trading Institute (NYSE:PTI) clients, its traders have explored several exchanges of reliability, ease of trading, reputation, and cost standpoints. The salient features of that study are summarized below.
Cryptocurrency Exchange – What is it?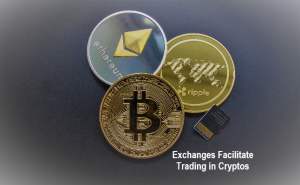 Exchanges are internet based platforms that provide a forum for orderly trades of cryptocurrencies. It is, in fact, an auction platform, where traders auction their crypto coins for the best price. These exchanges charge a nominal fee for providing these services, facilitate hot and cold wallet services for safekeeping of coins, and often serve as a news outlet. Thus, choice of a particular exchange depends on several factors. For example:
Does it trade in the coin that interests you?
Is the investment safe with them?
What are the fees? And
Most importantly, what is the account verification processes?
Another salient feature is the time associated with the delivery of a particular coin. Many exchanges take a week or two to credit your account with the most popular coins, such as Bitcoins.
Below are some of PTI recommendations for trading Cryptocurrencies:
Coinbase: Founded in 2011, Coinbase is one of the most reputed exchange offering services in North Americas, and in Western Europe. It also offers services in Australia, and in Asia for Singapore based customers. Among its primary coin offerings, Bitcoin and Ethereum make up for most of its trading portfolio. The other coins include Bitcoin cash, Litecoin, Ripple, and Ethereum Classic.
Opening an account with them is relatively simple. The investor needs a valid Government issued identification, a credit card, and an active bank account. The Coinbase requires fiat currency to purchase a Cryptocurrency, which is transferred into the Coinbase account electronically.
In general, Coinbase is not ideal for frequent trading as sometimes the delivery time for the coins could be longer. Coinbase offers a sister exchange 'GDAX,' that can be used for frequent online trading. The currency transfer between the Coinbase and GDAX is only in cryptocurrencies, though GDAX offers a multitude of smaller currencies for trade.
Poloniex: Poloniex is a relatively newer exchange. Founded in 2014, it offers a multitude of coins for trading. The salient features of this exchange are:
A large number of coins available for trading,
Trading permitted on margin with short trading features,
A relatively user-friendly trading platform, and
This platform has an interface that enables traders to review and decipher the trade information in simplified formats.
Kraken: Kraken offers best of both the exchanges, Coinbase and Poloniex. It offers trading in more currencies than Coinbase, and also has an interface that is as user-friendly as Poloniex. As it supports more fiat currencies, e.g. EUR, GBP, CAD, and JPY, it is more popular in European countries and Great Britain. Trading on margin is also another salutary aspect of Kraken.
Bittrex: Bittrex also offers a state-of-the-art online trading platform in more than 150 altcoins. The only shortcoming of this exchange is the fact that, it does not accept any fiat currencies. In general, a good, reliable and user-friendly exchange.
Which exchange should I use?
We have selected the above four exchanges as they are some of the largest, most reliable, and offer diversification in types of coins traded. They also provide variability in terms of straight purchase, margin, and shorting. However, they indicate that no one exchange capabilities are sufficient to meet all the needs of an active trader.
Our Expert Crypto Traders each has an account with all of them, and even more. These mentors have introduced some of our student traders to relatively unknown exchanges, helping them to trade widely and relatively cheaply. Thus, based on our experience, for new traders, we recommend that you review the following video.
Using Multiple Exchanges is Strongly Recommended.
Evidently, one or even a couple of exchanges do not provide the tools needed for a successful trading experience. Each exchange has its niche in a given market segment, and you must assemble an optimum mix of these exchanges for trading profitably. With over 190 exchanges, worldwide – it could become difficult for a newcomer to select an exchange that meets her needs.
At PTI, we also have an expertise in evaluating Exchanges that meet your specific needs. You are encouraged to register for one of our free cryptocurrency webinars, have a one-on-one conversation with one of our mentors, and discuss your specific needs with him. We will work with you and based on your inputs recommend a series of Exchanges that will fulfill your needs.
That is a PTI guarantee!
Earnings Disclaimer:
The information you'll find in this article is for educational purpose only. We make no promise or guarantee of income or earnings. You have to do some work, use your best judgment and perform due diligence before using the information in this article. Your success is still up to you. Nothing in this article is intended to be professional, legal, financial and/or accounting advice. Always seek competent advice from professionals in these matters. If you break the city or other local laws, we will not be held liable for any damages you incur.
 This article was originally published on Platinum Trading Institute.