More and more people are considering getting into the bitcoin mining game because, while incredibly expensive, it's still profitable because of the current exchange rates. But, where you live in the United States will have a significant impact on how profitable a mining venture might be.
Mining for bitcoin takes a huge amount of power. Recent reports say that the global power consumption of the mining network is more than many industrialized countries, such as Ireland. But how much does it cost to mine one coin?
While that might not be the most accurate way to measure profitability (due to how the mining process actually works), it does give a good comparison when looking at the exchange rate. Crescent Electric, an electrical supply company, recently put together numbers on the average power consumption of three mining rigs: the AntMiner S7, the AntMiner S9, and the Avalon 6. They averaged these power consumption amounts together and then multiplied them by the average residential electricity rate in each state.
After crunching all those numbers, they came up with this map graphic: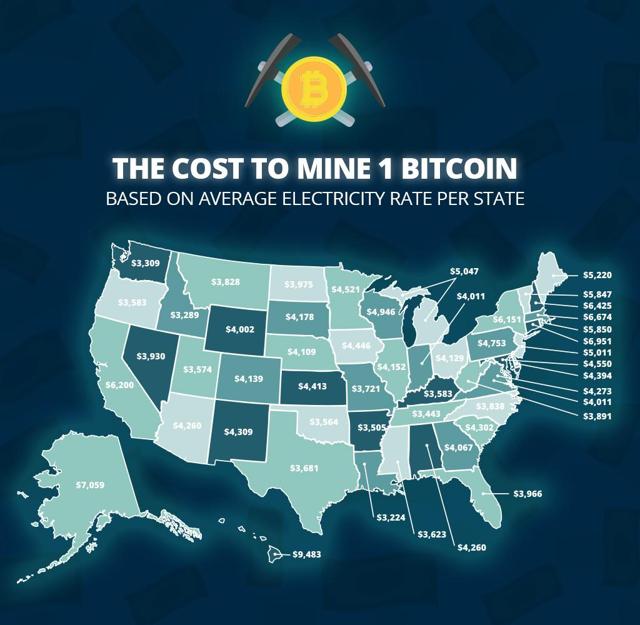 So, by using their calculations, Louisiana comes in as the cheapest state at $3,224 for one bitcoin. Idaho, Washington, Tennessee, and Arkansas round out the top five, respectively. Most of those make sense, being more rural state. Washington, however, is a but of a surprise.
The most expensive state was (unsurprisingly) Hawaii at an astounding $9,483 per coin. Alaska, Connecticut, Massachusetts, and New Hampshire are the next four expensive. It looks like the northeast isn't the best place to set up a mining rig. 
Overall, while the exchange rate is at it's current levels for bitcoin, it's profitable to mine in every state. However, if you live in Louisiana, you're going to get the most bang for your buck. Of course, these are just averaged prices. If you really want to set up a mining rig, find out what the electricity rate is for your house. Even different parts of states can vary significantly.