From uncashed dividends, payroll checks, checking accounts, stocks, security deposits, and many more, there's no doubt that unclaimed money is incredibly common in our country. So common, in fact, that there's an excess of $60 million dollars worth of unclaimed money waiting to be reunited with its rightful owners. Dependent on the state, money is deemed unclaimed after there has been no account activity or contact with the account owner after a number of years.
To prevent unclaimed money being dispersed into financial institutions, businesses, or other entities, our country has laws in place to protect consumers that vary by state. However, unclaimed money can be used in the interim of being claimed for the public good. For example, in the state of Florida, unclaimed claimed money is turned over to the State School Fund and used for public education. However, the original amount reported can be reclaimed by the owner at any time at no cost after this has taken place. The same goes for Oregon as until the money is claimed, it's held in Oregon's Common School Fund. The interest accrued from the unclaimed money is then dispersed to schools twice a year.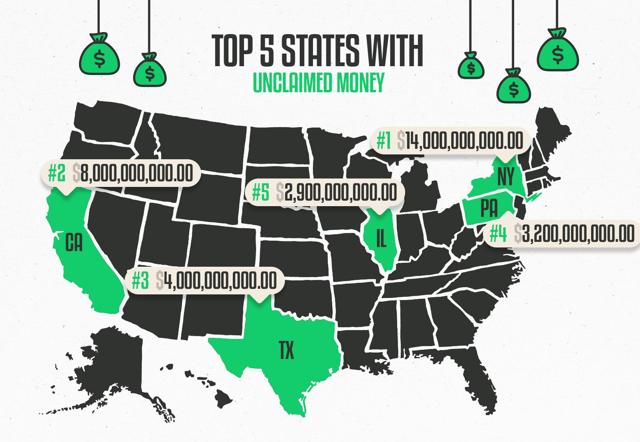 Simple Thrifty Living, a personal finance website, recently analyzed unclaimed money across our country, looking at the average amount per person, the amount per state, largest claims, and the top five states with unclaimed money. Through this study, it was found that the top five states holding the most unclaimed money, in order of greatest to least, are New York, California, Texas, Pennsylvania, and Illinois. Overall, as these states are generally more populous, it's no surprise that they come out on top with the heftiest amounts of unclaimed money. Additionally, two of the highest individual claims of owed money belong to residents in Illinois and New York, both totaling over a million dollars.
If you feel that you may have money that's owed to you, rest assured that your current state or former state of residency is safely holding your missing money. If you're wondering if there's money owed to you, there's a multitude of free online resources to find out.
Disclosure: I/we have no positions in any stocks mentioned, and no plans to initiate any positions within the next 72 hours.