It is difficult to ignore all the Bitcoin related news. You may be wondering if you missed your opportunity or if it is too late to invest.
Bitcoin is a digital currency and, like other currencies, it is very volatile. The volatility is hard to stomach for many of us. You may be up 18% one day, down 10% the next, up 5% and then down 22%. In the long run you could have been up 400%, but that is significant risk to take.
If you are a stock investor, you can consider buying a stock like GBTC. It is a an open-ended investment trust that invests in Bitcoin. It too is volatile, yet you have the benefit of treating it like a stock and the guidelines that come with stock trading.
Trading GBTC vs. Buying Bitcoin
An investor has the opportunity to buy Bitcoins directly. This requires setting up a Bitcoin wallet, buying Bitcoin, and selling Bitcoin. A wallet is setup through a cryptocurrency trading company like Coinbase; an investor should treat this wallet like carrying cash because Bitcoin is not insured. Buying and trading Bitcoin has fees; some fees are percentage-based and the more you invest the more you pay. The benefit is that you know exactly how many Bitcoin you own.
When you buy a share of GBTC you are buying into a collective investment of purchased Bitcoin. The trust determines how much Bitcoin is bought or sold; there is no need to setup an individual wallet. And you pay the same trading fees similar to any other stock, and the 2% annual fee.
Risks of Buying
Bitcoin is a decentralized currency and is not backed by a government. This makes is desirable to many, but if Bitcoin fails there will be no institution to bail it out. Many investors see Bitcoin as fool's gold.
Yet, Bitcoin has appreciated in value significantly. With this significant growth, one might believe a crash or a bubble may be imminent. Since a crash has not occurred, one might invest cautiously by buying at opportune times and setting stop sell orders to minimize loss.
Rather than trading Bitcoin directly, buying GBTC is a good alternative. It follows the Bitcoin price in the same direction; when Bitcoin increases the GBTC price usually follows that increase.
The risk of buying GBTC is that buy that stock fails to translate having the same amount of Bitcoin. As of January 4, 2018, GBTC was priced at $2200.00 per share but it only held $1363.56 worth of Bitcoin per share. This is a double-edge sword: the value of the trust has a higher value and it can appreciate faster, but when Bitcoin falls drastically the value of the trust will drop much faster (as can be observed in the price drop December 19 thru 22, 2017). That said, GBTC offers the benefit of following momentum trading patterns to buy correctly and sell correctly.
Opportunities to Buy GBTC

GBTC had three valid buy opportunities. The last buy opportunity was over a 400% based on the last high in 2017. The buy opportunity is generally when the stock price exceed its last high with significant volume.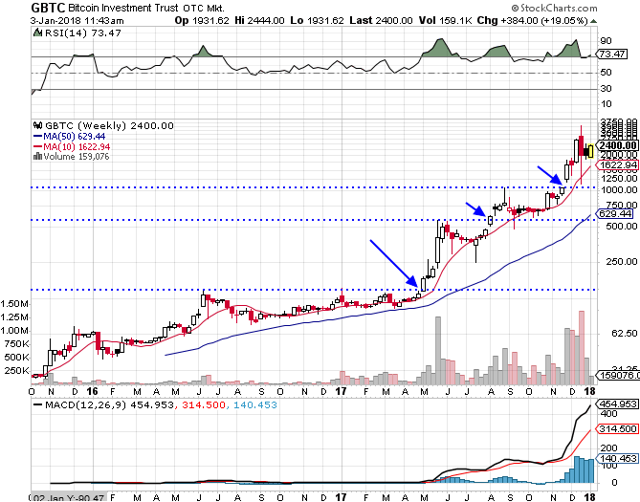 Along with those three buy opportunities, there were also three early entry opportunities. Early entry opportunities are buy opportunities that are more risky. They are based on the volume having increased steadily and the stock passing its 50 day moving average (DMA). These are risky and do not always work, but it is an opportunity to buy ahead of the buy opportunity.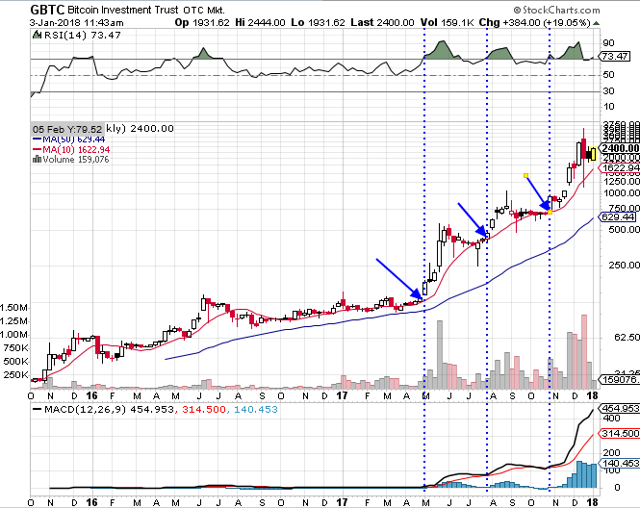 Next Early Entry Opportunity for GBTC

The next early entry point is when GBTC surpasses its 50 DMA. It is currently well above the 50 DMA line. For it to have an early entry opportunity, the price must continue to stay relatively the same and give the 50 DMA line time to catch up. If the price continues to be in the same relative price, the 50 DMA will soon exceed the market price. When this happens, you wait for the volume to start increasing over the course of a week or few weeks. If you see the volume increase and the market price exceed the 50 DMA line, it is an opportunity to buy early.
Set a tight stop and investing a small portion of your intended position. You can buy the rest of your opposition at the next buy opportunity.
Next Buy Opportunity for GBTC

The current buy opportunity is when the price exceeds $3,523. You should also see large volume when the price exceeds the buy opportunity price.
When to sell GBTC
When you decide to buy GBTC determine an acceptable loss. The price swings may be as high as 10% meaning a 10% stop loss may trigger rather quickly.
If you have bought and have a profit, you can use the 10 DMA as your sell signal. When the price drops below the 10 DMA with a sharp price decline on volume, this might be a good time to sell. During the large sell off from December 19 thru 22, 2017, the first two days were large drops toward the 10 DMA. The third day the open price was below the 10 DMA. You could have sold near the end of the second day or early in the third day to capture profits.
Wishing you success on your next trade!
Disclosure: I/we have no positions in any stocks mentioned, and no plans to initiate any positions within the next 72 hours.