The Macro: Markets are at all time highs and traders although bullish are cautious. Calls in the VIX (volatility gauge) far outnumber puts. Furthermore, I see more puts in the indices than calls. There are several factors that threaten the bull market including but not limited to: Ukraine & the bond market.
The Micro: Nike has a reliable management team and a global reach. With growth in the emerging markets and a recovering Europe, NKE should do well over the mid to long term.
The Price action: Recently, NKE had a nice rebound off an important level. It seems that traders keep want to take it back to the 70ish level. NKE bulls defended it well several times over the past two years. Bears have successfully sold the 80ish level well in the past year. So This gives me a nice channel in which I can trade the stock or its options. I can do Iron condors as close to those edges as possible and let premium erosion make me money. OR if I am a good market timer, I can buy it on dips and sell it on rips. One thing is certain this quarter: I don't overstay my welcome in profitable trades. I can even buy longer dated calls and sell closer calls against them to lower my cost of entry without increasing margin risk. Right now it's in the middle of the range. If I am optimistic on yesterday's breakout then I can buy it here. Or if I believe that we should retrace lower markets in general then I can wait until later this week and buy it on possible pullback. I am a fan of not rushing into anything. I would rather miss a trade than jump in too late. Today it being green is encouraging given that we had a miss on retail reports AND a massive miss from Arden.
1year look at NKE: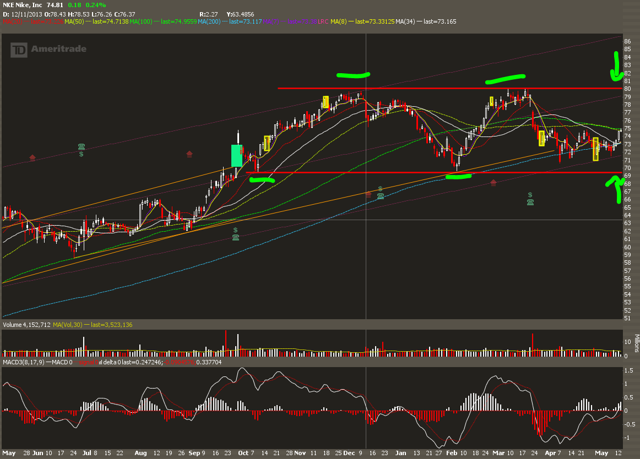 2year look at NKE (eliminate the clutter):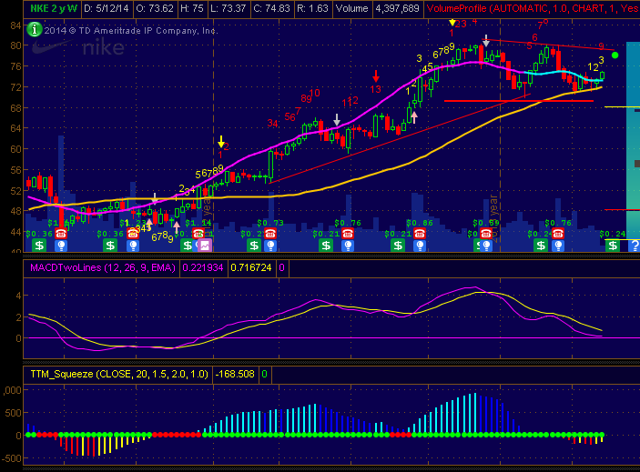 Nic.
Teaching traders make money from a relatively safe distance: Create Income with Options Spreads, a large community of Options Traders looking to create extra income by trading credit spreads. For just about the cost of a cup of coffee per day, you can get all the benefits of the CIWOS subscription, including analysis, alerts, trade recommendations, chats & video updates.
This is not a trade recommendation. Information to further educate audience in opportunity analysis.
Disclosure: I have no positions in any stocks mentioned, and no plans to initiate any positions within the next 72 hours.