Investment Thesis
To make money you have to watch your money, and Tesla(TSLA) is a stock you have to pay attention to. With Tesla, changes happen fast ….However, you must consider which one is greater the risks, or the rewards? Tesla faces many challenges, they have in the past and they will continue to in the future with every challenge taking a hit to the stock price. Uncertainty, unpredictability, and trust issues are damaging the brand and will mean a bumpy road ahead for Tesla investors.
Uncertainty in future production values and estimates
There's this place called Shanghai, and currently we're now in 2019 and construction is not progressing the way it needs to be. After finding the property and signing the agreement with the Shanghai government back in October, Tesla has finally made some progress with their groundbreaking ceremony on January 7th. They are hopeful to have the factory built quickly, and want to have their first Tesla out this year. However, building and preparing a factory that fast requires a lot of capital, and it seems more of a wish, than reality especially given it took 3 months to get to the groundbreaking ceremony. This raises many questions since Elon used this factory for his estimate for a million cars in 2020, actually he claimed it to be the source of the capacity to produce those million cars. While his colleague gave a more modest number for the Shanghai factory, when asked about where he would have the capacity to produce a million cars Elon's only answer was Shanghai. This factory was supposed to speed up production a lot, and that does not seem to be happening anything soon.
To build the factory in Shanghai, Musk wants to use local resources. Using this idea for raising the capital in China using local Chinese banks will go against Trump's idea to keep things US based in the midst of a trade-war. Could this be a reason that Tesla is slow at started the factory? What does it mean that it is not started? It will take a long time to build before the cars are also ready to build and sell and those are factored into the 2020 estimate.
On top of all that, one of the risks Tesla faces is having limited experience in manufacturing their vehicles in the high volumes that they have been achieving lately, and to fulfill their expectations for production and sales they still have 4x the amount of the current productions values, producing a total of 245,240 cars in 2018. Another possible issue with continuing to ramp up the vehicle production, is capital, but we'll get to that in a bit.
Unpredictability with Elon
2018 has been a rather wild year for Elon, which he himself admitted in an interview in November with HBO. As he should be focused on streamlining the production of Tesla cars, he instead invests time into silencing critics and throwing around the nasty P word. He admits near failure, creating trust issues for those closest to Tesla. He makes false tweets leading to a SEC investigation and his eventual removal as Tesla's Chairman. On top of that, more of his actions cause distrust from NASA. While the year was rough for Tesla, it was rougher for Elon which really begs the question, what surprises are in store for 2019?
Silencing Montana Skeptic and that nasty P word.
One huge thing I worry about with Elon is his focus, or lack-there-of. His erratic focus into things he shouldn't be are cause for concern among investors and here's why. A man in charge of a successfully rising company shouldn't be concerned with little things. He should be focused on how he can streamline producing cars, being more productive, more cost effective, as well as finding more labor and factories to satisfy the demand for the model 3. Instead we are hearing news of him silencing a critic, and insulting someone who risked their own life to save children. Silencing Montana Skeptic (or anyone else for that matter) is not going to suddenly help Elon and Tesla produce more cars at a faster rate to satisfy the demand. It's really just wasting shareholders time and money, and should not be accepted. If the product is as good as the claim, why not just ignore him? If MS's reasonings were base-less, then he doesn't really pose a threat, so why should Elon waste his time? A better way to prove you are right is to fulfill the goals that you have set for yourself.
Now, something I really cannot understand is calling a hero a pedophile, or 'pedo'. Maybe he should refresh his memory on what happened to the careers of Paula Dean, Billy Bush, or Kathy Griffen, along with many more. Just a few words, or maybe a few actions, can really kill someone's character, or even their careers or business's, and I really cannot understand the thinking, or lack there of, of some of his actions. A company is only as strong as it's leadership, and sometimes Elon shows a lot of weakness. I have heard many times, Elon is Tesla, so shouldn't investors be worried about some of the really dumb things he has to say?
NASA says no to smoking weed
After publicly taking a puff of weed on a podcast in September, Elon put himself in some hot water with NASA over his SpaceX company. During Joe Rogan's podcast, he offered Elon a joint which he took; being a very public business figure this was heavily scrutinized and even resulted in NASA launching a safety review. NASA ordered a safety review which involves hundreds of interviews evaluating the culture of the workplaces. While he declined to comment about what prompted this review, NASA spokesman Bob Jacobs stated that the review would 
ensure the companies are meeting NASA's requirements for workplace safety, including the adherence to a drug-free environment. 
NASA Administrator Jim Bridenstine was very clear:
We need to show the American public that when we put an astronaut on a rocket, they'll be safe.
While Bridenstine is quite confident in the SpaceX team, he still believes that
culture and leadership start at the top. Anything that would result in some questioning the culture of safety, we need to fix immediately.
So, was the hit worth it? Spending unnecessary time and money for a review that shouldn't need to happen? Doesn't seem like it.
The damage a tweet can do
On August 7th, Elon Musk tweeted out that he had secured funding to take Tesla private at $420 a share, as well as a few more tweets to go along with that. With his tweet, Elon mislead investors and sent the stock skyrocketing up. Then on September 27th the U.S. Securities and Exchange Commission charged Elon Musk with securities fraud because of a
series of false and misleading tweets about a potential transaction to take Tesla private.
Two days later the SEC announced Elon agreed to settle the securities fraud charge and that they would be charging Tesla as well for
failing to have required disclosure controls and procedures to Musk's tweets.
As a result, Elon and Tesla had to each pay $20 million in penalties, which is planned to go to investors who were harmed by the tweet. On top of that, after holding the position since 2004, Elon has to step down as Tesla's Chairman and be replaced by a new Chairman. Once he steps down, he cannot be re-elected as Tesla's Chairman for three years. Tesla must also appoint two new independent directors to the board, as well as oversee all of Musk's communications.
The settlement was approved by a court in October, giving Elon 45 days to step down as Chairman and Tesla to find a new one.
By December, Elon was already bragging in an interview for 60 minutes, that he not only hand-picked the new Tesla Chairman, Robyn Denholm, himself, but that no one was monitoring his tweets either.
I would think that losing his position as Chairman would knock him down a peg, given that he's held that position for so many years, but it doesn't quite seem he's learned his lesson yet. Elon still has too much control; private investors were very wronged by his misleading tweets which put the stock on a roller coaster ride. Lets see how it changed the stock price as well as the market cap. First we can see the major changes in the stock price after the tweet on August 7th, and then the changes after the SEC announcements: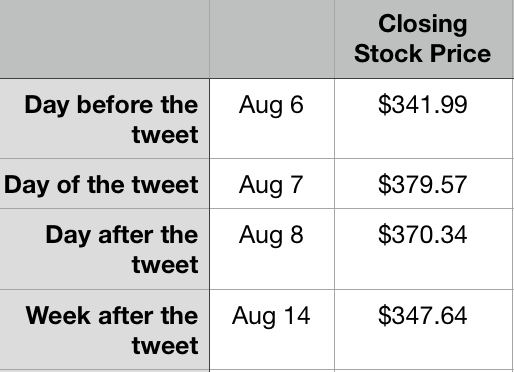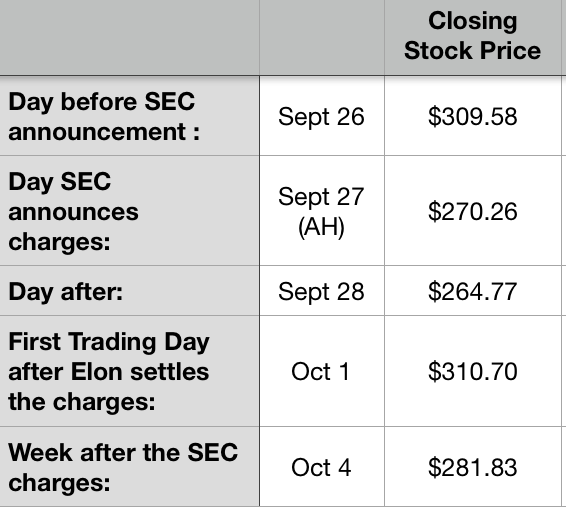 After the tweet, Tesla shares rose to $379.57 from the previous close of $341.99 and a week later they were already back down at $347.64; costing shareholders money, and causing them anxiety.
With drastically changing stock prices comes a drastically changing market cap, and this situation is no different; using the outstanding shares from the  previous quarter report we can look at the changes in the market cap:
Tesla had a market cap of $58.3 billion on Aug 6th, and then after the tweet on Aug 7th, Tesla's market cap was $64.7 billion, increasing the market cap by $6.4 billion.
Now lets quick skip ahead to Sept 26 before the SEC announced they were charging Elon, the market cap was $52.8 billion, and fell $6.7 billion to $46.1 billion after hours on sept 27th after the announcement was made.
So now lets ask, was that tweet really worth sending? Of course not. The damage can be handled of course, for now, but it's extremely unnecessary for any company, let alone one who struggles as Tesla does. It's unfair to shareholders and on top of that, where is Elon and Tesla's focus when being charged by the SEC when both should be striving to fulfill the demand for the model 3.
Admitting weakness & creating trust issues
If you don't agree that Tesla is struggling, you must listen to what Elon himself says about this. First lets jump back to 2011, in an interview Elon gave his opinion on a company who lost private investors a lot of money.
Executives were too optimist. They presented a better face to the situation than should have been presented in the final few months; but then if they didn't do that, it would have become a self fulfilling prophecy. As soon as the CEO say's we're not sure if we're going to survive, you're dead…… Do I think there are parallels with Tesla ….. in our case we have significant capital reserves and we have more money at Tesla than we need to complete the program.
Now lets jump ahead to last November, when Elon did an interview with Axios on HBO. In this interview he expressed his anguish and vulnerability and he admitted:
Tesla really faced this year, a threat of death, due to the model 3 production ramp. Essentially the company was bleeding money like crazy and if we didn't solve these problems, in a very short period of time we would die.
After admitting this, after hearing all year about Tesla being fine, and not needing to raise capital, it is hard trust what he has to say. His false tweet also really shows that you can't believe anything he has to say…this now creates trust issues among investors which can be extremely damaging to a company.
Elon did not inform shareholders before the possible death of Tesla, and admitting it afterwards is…well, stupid I believe. While admitting a company is severely struggling is a possible death to a company, what is the purpose of admitting it afterwards? While you are temporarily out of the woods now, you have shown investors that it is possible for the company to fail, as it was very close already, and that in the future if there are not significant improvements in available capital, then failure is still very possible. In fact, one of the risks Tesla outlined in recent quarter reports was that
We have experienced and may continue to experience delays in realizing our projected timelines and cost and volume targets for the production and ramp of our Model 3 vehicle, which could harm our business, prospects, financial condition and operating results.
This is exactly what drove Tesla to near death in 2018, ramping up the model 3 production ramp caused them to bleed money all over and almost brought them down. So, what does this say about further ramping up the production? Without much cash on hand it doesn't seem to matter if the demand for the vehicles is high, the company can still collapse. Although the future can be very bright ahead for Tesla, you still can't ignore the current financial situation, or in reality even trust it when the CEO says 'it's fine.'
Possible sign of weakness?
As of January 2nd, Tesla has now dropped the price of their cars by $2,000 in the U.S. to offset the federal EV tax credit which changed from $7,500 to $3,750 on January 1st. While this a generous move by Tesla, I more so see it as a possible act of desperation to get cars sold. As a growing, trending, uprising company, I cannot see the need for a price reduction on their products especially when the company needs capital the way Tesla does. On top of that, I would expect less action in January and possibly February, because those who are interested in buying a Tesla right now, would have taken advantage of the Federal Tax credits before the end of December. To me this shows they do not want to see that drop in deliveries and reservations, because they need all the capital they can get, as fast as they can get it.
Price cuts are happening for China as well, who has recently been increasing the tariffs on imports from the U.S as a result of the trade-war. To offset the increased cost for their vehicles, Tesla had to adjust their pricing in China and still expects that it could have a negative impact on the volume of cars delivered to China in the near future.
Based on their Q3 results Tesla had just about 3 billion in cash, and about 9.7 billion in current liabilities: this gives them a cash ratio of 0.31, such a low cash ratio shows signs of financial difficulty as well as a red flag to creditors. With Tesla in this bad position, it is important to do well on their model 3 sales as a drop in demand could mean Tesla would need to raise capital, and that could be difficult if it's needed last minute.
Investor Takeaway
Everyone is either really supportive, or they are super against Tesla; but lets just look at the reality here. Tesla has a strong brand and if they are able to produce more cars at a faster rate, and at the same time keep the demand up and get them delivered to the consumers producing the revenue that they need, they can survive and quite probably flourish; but low cash, mixed with decreasing prices of vehicles presents a very quick and real danger for Tesla. Even strong brands like Apple(AAPL) are having trouble in the midsts of the trade-war, and the fact that Tesla is cutting down their prices shows they are being affected. Tesla's moat is their brand; If the demand for their cars drops, Tesla will be in major trouble. Their cash is short, and they admittedly burn through it…if there is a drop in demand for Tesla cars, that is the death of Tesla. While focus on the future important, it's not the only thing; without the present, the future cannot happen. Tesla moves quick, good news or bad news. Don't just sit around waiting to collect in the future, be aware of what is happening all around Tesla's world. There are just too many things for me to worry about with Tesla, so I have to stay on the sidelines.
Elon has done a lot of work to get where he is today, and I just cannot understand why he is so willing to jeopardize his success as well as Tesla's. What I would like to say to Elon: Be careful of your actions, they have consequences which can hurt not only you but your company as well as the investors; you're not exempt from everything. As investors you must hold Elon's actions to a high standard because anything he does reflects on the company; NASA clearly agree's with that. Brand strength is the most important thing for Tesla and it gets knocked down by all these actions. A ship is only as good as its captain… and I gotta say I don't want to see a boat full of Model X's go down… gotta love them doors.
Disclosure: I/we have no positions in any stocks mentioned, and no plans to initiate any positions within the next 72 hours.