In November, the mainstream financial story was about the "Fiscal Cliff" and how it was too dangerous to buy stocks until this political issue was resolved. Since then, the stock markets have gained about 15% and are setting new all-time highs. Conclusion: complete nonsense.
Today, the mainstream story is that the bull market in gold is over. This assertion too will be proven to be categorically false within the next 12 months as I expect gold to not only rally strongly, but set a new all-time high.
Those who have been following me on Facebook or Twitter know how relentless I've been recently in urging the purchase of gold mining stocks. And for good reason, there is no other sector that is more illogically undervalued than gold mining stocks right now.
Unfortunate for most, but very fortunate for contrarian investors like me, people do not like to buy stocks when they actually present an excellent value. A contrarian by definition is an investor who buys an asset when most others are selling and sells when most others are buying. This consistently equates to buying low and selling high, something most people (due to misinformation and emotions) cannot bring themselves to do.
Gold stocks are currently a contrarian investor's (and should be every investor's) dream come true.
Let's take a quick look at my absolute favorite fund and largest holding at the moment, (NYSEARCA:GDXJ). GDXJ is a fund of 79 junior gold mining stocks which bottomed at $14.95 earlier this month.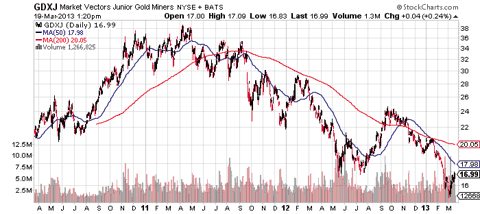 As of this week, this fund has already rallied 14% off of its bottom and it's just getting started. By the time it reaches its current 50-day moving average, it will be up 20%. To reach its current 200-day moving average, the most conservative minimum target I can imagine, GDXJ will have rallied 33% from it's bottom.
I believe this fund is far more likely to at least challenge its high from September, which would represent a gain of 66% from its bottom this month. And if GDXJ were to approach its all-time high, the gain would be well over 100% even from today's price, below $17.
You'll be kicking yourself if you miss out on this rally. Seize the opportunity before everyone else figures it out and prices are much higher.
If you are more conservative, consider buying the senior gold mining fund (NYSEARCA:GDX) or the major players Barrick (NYSE:ABX), Goldcorp (NYSE:GG) and Newmont Mining (NYSE:NEM).
If you are more aggressive, you could consider buying the gold exploration fund (GLDX) or more speculative stocks like Lupaka Gold (LPK.TO), Keegan Resources (KGN), or Capstone Mining (CS.TO).
Disclosure: I am long GDXJ.
Additional disclosure: This writing is for informational purposes only and does not constitute an offer to sell, a solicitation to buy, or a recommendation regarding any securities transaction, or as an offer to provide advisory or other services by THETA ADMINISTRATION, LLC in any jurisdiction in which such offer, solicitation, purchase or sale would be unlawful under the securities laws of such jurisdiction. The information contained in this writing should not be construed as financial or investment advice on any subject matter. All liability in respect to actions taken based on any or all of the information on this writing are expressly disclaimed.
Disclosure: I am long GDXJ. I wrote this article myself, and it expresses my own opinions. I am not receiving compensation for it (other than from Seeking Alpha). I have no business relationship with any company whose stock is mentioned in this article.