Losing as much as 75% of your capital over the next couple of years is something that I may be able to help you avoid. In today's ultra-low interest rate environment, many investors have understandably been attracted to assets that provide high yields. Unfortunately, these assets themselves can be volatile and wipe out years of yield in a matter of weeks or months.
If you are currently invested in real estate investment trusts (REITs), utilities, telecom or consumer staple stocks, history would strongly indicate that right now would be a good time to quit while you are ahead. These sectors have recently been experiencing bubble-like popularity and appear to be starting to head south. The last time these sectors experienced a bear market they dropped as much as 75%.
First of all, let us examine closely to where we stand in the overall business cycle. Below is a chart of the S&P 500 index over the past 20 years.

Perhaps you notice a pattern developing above, with bull markets lasting about 5 years. These are then followed by severe bear markets lasting about 2 years. While the mainstream media is suggesting today that we are in the midst of an economic recovery, the facts suggest otherwise as this well-documented video demonstrates: There Will Be No Recovery: Prepare Yourself Accordingly. Based on all the evidence provided, it appears that another severe bear market is the most likely outcome in the months ahead.
The last time the market was setting new all-time highs was October 2007. Similar to now, the mainstream media was focused on the excitement of highs, with little to no mention of the immense downside risks. Less than 18 months later, unsuspecting investors experienced devastating losses, which this CBS 60-Minutes segment clearly documented: The 401K Fallout.
In late 2007 I warned investors to prepare for the 2008 bear market so they could successfully protect and grow their capital as the markets tumbled. I hope that this time around, even more investors are prepared to preserve their wealth. On that note, let's take a closer look at the REIT, utilities, telecom and consumer staples sectors. Several charts follow and in each, the red line represents the 200-day moving average price.
Beginning with real estate investment trusts, let's look at the fund (NYSEARCA:VNQ) which holds several major REIT stocks such as Simon Property Group (NYSE:SPG), Ventas (NYSE:VTR) and Boston Properties (NYSE:BXP). This fund plummeted 75% in the last bear market, so investors beware. As you see below, VNQ has increased about 23% since November and the increase since March has all the signs of another bubble. The successful investing mantra is to buy low and sell high. NVQ appears to be a great opportunity to sell high right now.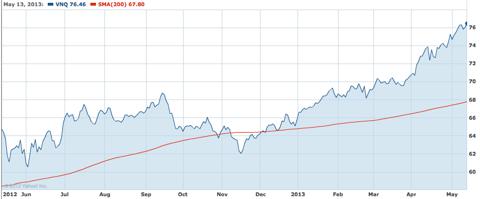 Now let's look at the utilities sector as it appears its bubble may have already popped. (NYSEARCA:XLU) is a popular utilities sector fund that holds components such as Duke Energy Corporation (NYSE:DUK), The Southern Company (NYSE:SO) and Dominion Resources (NYSE:D). Looking back to the last bear market, XLU dropped 48% from top to bottom. Look out below!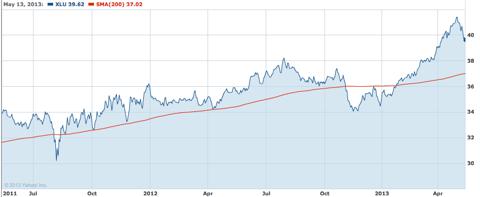 The telecom sector is another that is overly popular at the moment. The telecom fund (BATS:IYZ) dropped 61% in the last bear market and appears perched for a repeat performance over the upcoming months. This sector also appears the least healthy of the lot with Verizon (NYSE:VZ) sporting a P/E ratio of 131 and Sprint Nextel losing an astonishing $4.3B last year. Even AT&T (NYSE:T) has a P/E of 28 at the moment, which is far from a good value in my books.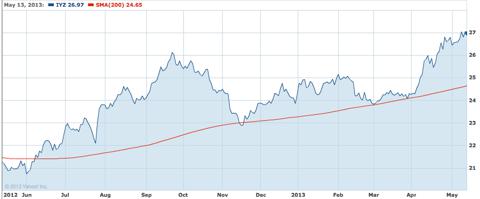 Let's finish by looking at some of the most popular household names: Procter & Gamble (NYSE:PG), Coca-Cola (NYSE:KO)
Philip Morris (PG), Wal-Mart (NYSE:WMT), CVS (NYSE:CVS) and Costco (NASDAQ:COST)-as represented by the consumer staples fund (NYSEARCA:XLP). While the least volatile of the bunch, XLP still lost 32% in the last bear market, so investors certainly are exposed to danger, especially after this sector's recent bubble run.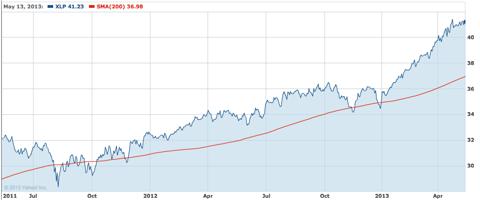 What goes up must come down. And all bubbles end in disaster for the slow and unaware. Although history proves this to be true time and again, one simply has to look at how one of the world's most popular companies behaved over the past few months. After hitting its bubble peak in September, Apple (NASDAQ:AAPL) collapsed 45% into its April low.
Although I cannot conclusively tell you that all of the assets I've mentioned in this article have completed their ultimate bubble peaks, I can say with confidence that at this stage of the game, their downside risks far outweigh their upside potential. I do believe there are much better areas to be invested right now. For example, after the utter obliteration the gold mining sector has experienced this year, it appears to have nowhere to go but up over the upcoming months. My last article, The Anatomy of a Gold Mining Collapse And Recovery goes into more detail about this sector.