This post is about a man I have a great deal of admiration and respect for. His name is Robert W. "Bob" Duggan, CEO and chairman of Pharmacyclics Inc.
I had the pleasure of meeting him in February of 2012 in Beverly Hills. At the time, Pharmacyclics was trading at about $25 and had increased 500% over the previous year. Although I didn't say it to him, I recall thinking at the time how PCYC had to be a bubble at the time that was sure to burst. Perhaps you'd think the same, looking at this chart for the same period.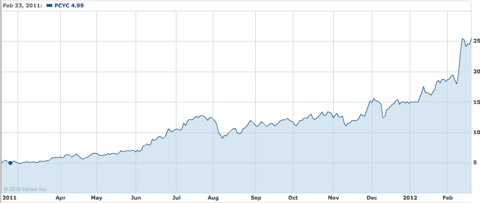 In hindsight, $25 turned out to be a bargain for the stock, as it proceeded to climb to the $90 price it sits at today. In fact, since Duggan became chairman in September of 2008, the stock price of PCYC has increased more than 4,000% or 40x as you'll see below.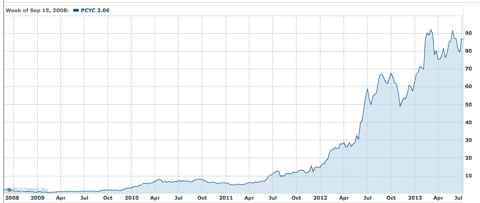 According to Bob's write up on the Forbes Billionaire List, "Pharmacyclics makes a drug now in clinical trials to treat chronic lymphocytic leukemia. He assumed leadership of the company in 2008, shelving the company's other efforts to focus R&D on the cancer drug. He's also been featured on Motley Fool, Bloomberg, BusinessWeek and several other popular media sites.
He is considered one of the founders of robotic surgery. He served as chairman of Computer Motion, the world's first robotic surgery company, from 1989, and CEO from 1997, until it was acquired by Intuitive Surgical in 2003. He has also been a private venture investor for more than 30 years and is the founder of Robert W. Duggan & Associates, which invests in medical, biomedical, high technology, information services, billboard, media and communication companies."
Although I respect him immensely as a businessman, it is the generous support he and his wife have shown for philanthropic programs the world over that inspire me the most to achieve greater success myself--so I can contribute even more to the much needed solutions for our global community.
The Duggan's are the top donors in the world towards the following global programs and their solution-oriented mandates:
Here is a YouTube playllist I put together that highlights many of these programs and other solutions to reverse the dwindling spiral on this planet today. As you'll see we have the solutions we need, it's just a matter of more people taking responsibility in implementing them.
I don't know enough about Pharmacyclics specifically to comment on whether it will continue its rocket ride of capital gains, but I do know that Bob Duggan is a world class business leader who is responsible for enhancing the lives of millions of people the world over.
Until my next post...
Flourish and prosper,
Craig Brockie - Registered Investment Advisor
Contrarian Advisors - Rational Wealth Management
Phone: 1-800-996-4657 - Email: invest@contrarianadvisors.com
Address: 433 North Camden Drive, Sixth Floor, Beverly Hills, CA 90210
Disclosure: The author has no positions in any stocks mentioned, and no plans to initiate any positions within the next 72 hours.