This article is an update to one I wrote on September 19th of a similar name: "Has the Tesla Motors Bubble Burst?" The only difference between the titles for the two articles is a question mark. In September, it was plainly obvious that Tesla Motors (NASDAQ:TSLA) was in a bubble, but it was questionable as to if it had peaked. Less than six weeks later, there appears to be no question.
Here's a quick look at what Tesla Motors has done this year.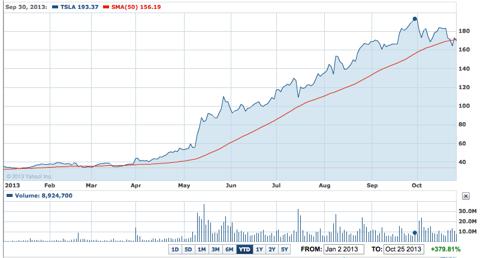 As of today, TSLA has fallen 21% from its bubble peak of September 30th, has closed below its 50-day moving average twice and has been setting a bearish pattern of lower highs and lower lows. Even after this major slide, TSLA is still up 379.81% on the year. That's one hell of a run, don't you think? Perhaps not enough to excite my friend Jesse Stein of Superstocks fame, but I'd be happy to catch even half of a move like that.
I'm not a technical trader, but rather a contrarian and value investor. Leading up to its peak, the mass psychology was one of excitement towards Tesla Motors, its electric cars and their future. Now we have headlines of Tesla car fires predominating the news. While very little has fundamentally changed in the past few weeks, the market's perception certainly has. This interview with Jim Cramer, explaining how billion dollar fund managers influence news stories is certainly interesting and could perhaps be relevant.
The future may indeed look bright for Tesla and I hope the company continues to succeed. I love Tesla's purpose and its cars. While this article makes a fundamental argument for a $500 future share price, Tesla's 20 cent per share earnings in Q2 make even its current share price outrageous.
I'm not going to suggest how to profit from a falling TSLA stock price. After falling 21% in less than a month though, I certainly wouldn't rush into buying short term put options right now, as bounce could be forthcoming. Third quarter earnings are due to be announced on November 5th and if positive, could lead to a double top above $190. If that were to occur, I think playing the short side could prove very lucrative for those experienced in doing so.
Thank you for following me here on Seeking Alpha and sharing your comments.
Disclosure: I have no positions in any stocks mentioned, and no plans to initiate any positions within the next 72 hours. I wrote this article myself, and it expresses my own opinions. I am not receiving compensation for it (other than from Seeking Alpha). I have no business relationship with any company whose stock is mentioned in this article.