Contrarian investing is a lonely game. Oddly, most investors prefer buying high, when almost everyone else is buying. These same retail investors also have a reliable track record of selling low, again when most others are selling.
With the US stock markets clearly near another bubble peak, the average investor is again getting lured into an economic collapse. The 20-year chart for the S&P 500 index below is worth a thousand words and billions of investment dollars. Notice the seven year cycle, with peaks in 2000, 2007 and 2014.
S&P 500 index: 1994-2014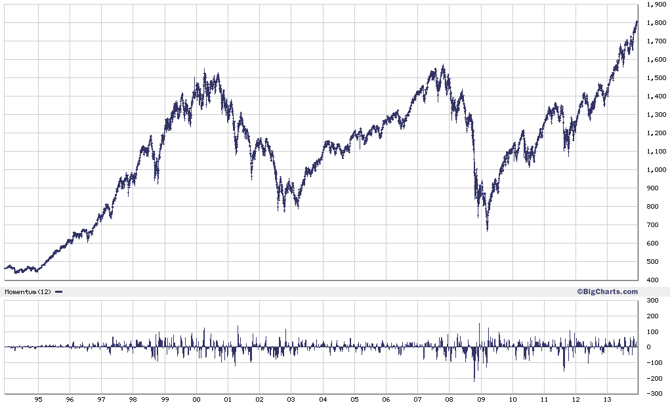 The only question right now is how irrational the current US stock bubble will get before it pops. Will we see a new all-time high in the Nasdaq to completely suck everyone in before it begins its collapse? Will the S&P 500 shatter 2,000 before it again punishes the masses?
With bond prices falling, it's possible that the massive amount of money flowing out of bonds will drive US stock prices even higher before they begin what will surely end up in a free fall.
That said, it appears that the VIX bottomed last March, defensive stocks began their bear markets last spring and the recent plunge for retail giant, Best Buy could be warning signs that time is running out on the biggest short-term stock market rally since the Great Depression.
Contrarian investing, although unconventional, is proven to be consistently profitable over the long term. For that reason, I'm not completely alone in my current outlook. Here are some viewpoints from others that are similar to my expectations.
If you lost money when the dot com bubble burst, real estate bubble popped or in 2008 financial crisis, please take this opportunity to prepare BEFORE the current stock market bubble pops.
My free report, "How to Protect and Grow Your Money in 2014" can help you do just that. Get your copy today!