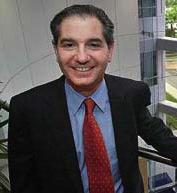 Bryan Zwan, with a doctorate in space physics, founded Digital Lightwave in 1990. He took the company public in 1997 and by 2001, was recognized by Forbes magazine as one of the 400 richest men in America.
Over the past few months, I've had the pleasure of speaking with him a few times and hold him in very high regard.
Now privately held, Digital Lightwave continues to provide high quality test equipment to the global communications market.
Bryan Zwan grew up in the East Texas town of Tyler and later lived in Houston, where he graduated from the University of Houston. He then moved on to Rice for his Ph.D. This was around the time that Neil Armstrong first walked on the moon, which helped push him into space physics. "This was a great time for the country, advancing into space, and it certainly sparked my desire to be a part of that," he says.
He eventually found himself drawn to the study of optics. After the 1983 breakup of AT&T, he saw "enormous opportunity" in the newly dynamic telecom sector. Eventually he founded Digital in Santa Monica, California, later moving it to Florida.
Philanthropy is a significant part of Bryan's life. He and his wife, June Zwan have contributed millions of dollars to support initiatives in the areas of scientific research, religious tolerance, and sustainability.