As a contrarian investor and registered investment advisor, sharing my insights as to what's going on in the markets is definitely my top priority.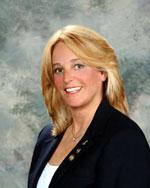 Ever now and then though, I like to write a post about someone related to the finance industry. Today, I'd like to introduce you to Joan Perry of Los Gatos. Joan is the author of a great book titled, "A Girl Needs Cash: How to Take Charge of Your Financial Life."
The book summary states: "The easiest way to lose control of your life is to lose control of your financial life. Joan Perry's spectacularly successful Wall Street career shielded her from that truth--until a failed love affair and a lost nest egg jolted her into rethinking her priorities and then acting on them. Today Perry helps women gain control of their money and their lives by building long-term financial well-being through smart investing."
I think this is an important book since financial education is missing from our school systems. I'm a big fan of Robert Kiyosaki and his financial learning materials. My sons and I love playing their board game, "Cashflow" that teaches financial intelligence in an entertaining way.
Furthermore, finances have traditionally been the responsibility of men, so having a book tailored to women is great in my opinion.
I've had the opportunity to speak to Joan Perry a few times now and am impressed with her experience in regards to the investment profession.
In her book, Joan Perry shows you step by step how to review your spending habits and develop new sources of income to create the kind of life you want to live--now and well into your future.
Perry also shows how to build a personal "money machine" to generate real cash flow with the right investment choices for you--stocks, mutual funds, real estate--and understand the tax choices that affect your cash flow.
These are concepts that every investor should understand, especially since taxes can play such a significant role in any transaction.
So if you are a woman looking for practical information about investing, or you looking for a dynamic speaker in Los Gatos or the San Jose area, I highly recommend getting in touch with Joan Perry.