Discussion
The sale of its Enertec subsidiary will improve the Company's balance sheet by adding cash and reducing debt thus enabling Micronet to execute on its MRM growth plans.
The ELD Mandate will be a multi-year windfall for Micronet making it a tempting acquisition target as the sector is undergoing heavy consolidation.
With the current record backlog, ongoing implementation of the ELD Mandate, projected customer and product expansion and diversification, Micronet will become consistently profitable.
Micronet plans to fuel growth organically and through acquisitions.
The company has been preparing for the separation from Enertec for several quarters by strengthening its management team and laying out an aggressive growth plan.
On January 2, 2018, Micronet-Enertec Technologies (NASDAQ:MICT) announced that CooliSys Technologies, a subsidiary of DPW Holdings, Inc. (NYSE:DPW), agreed to buy the company's Enertec Systems subsidiary for $5.25 million in cash and the assumption of $4M bank debt, for a total of $9.25 million. The transaction is scheduled to close the later of 60 days or 15 days after delivery of Enertec's audited financials and is expected to close in Q1 2018. The news caused a significant gain that has since gradually evaporated as investors wait for the closing of the deal, and the effect of recent general-market decline, as seen in the following chart: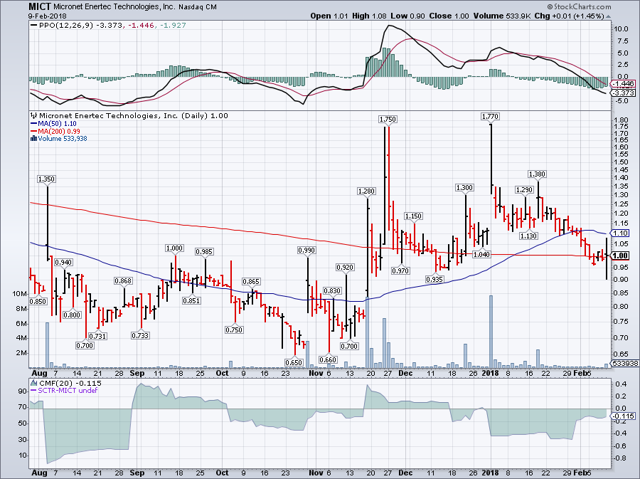 If all goes according to plan, I expect news about the closing of the deal within the next three weeks. One hint that this is a done deal is that the buying entity's new website, Coolisys Technologies Inc | Home, will be "launched soon," presumably merging the existing, and new products and services offered by the Enertec Division. I believe this transaction will show in time to be a win-win scenario for both companies.
Currently, New Jersey-based Micronet Enertec Technologies, Inc., operates through two companies, Micronet Ltd. and Enertec Systems.

Micronet operates primarily in the growing commercial Mobile Resource Management (MRM) market. The company designs, develops, manufactures and sells rugged devices, tablets, computer-based instruments that provide fleet operators and field workforces with computing solutions in challenging work environments.
Enertec operates in the defense and aerospace markets and designs, develops, manufactures and supplies various customized military computer-based systems, simulators, automatic test equipment and electronic instruments. Enertec's solutions and systems are designed according to major aerospace integrators' requirements and market technological needs and are integrated by them into critical systems such as command and control, missile fire control, maintenance of military aircraft and missiles for use by the Israeli Air Force, Israeli Navy and by foreign defense entities. The company has recently entered the more profitable medical-device sector and has gained significant traction very quickly. This can be seen by the recent $1.6M contract win from an undisclosed Fortune 50 medical-device company.

David Lucatz, President and CEO of Micronet Enertec Technologies commented on this win:

"These purchase orders mark the largest orders ever received by Enertec in the medical device space and, we believe, further illustrate Enertec's expertise in automated testing systems for critical applications. To date, Enertec has received over $3,000,000 in orders in the medical device space for the last year. Even more encouraging, Enertec has recently received indications from its customer that they intend to increase its testing capacity and capabilities and plan to use Enertec's solutions in additional applications beyond heart rhythm disorders."
I believe this new trend was a key reason that enticed Coolisys/DPW to buy the Enertec subsidiary.
CEO Lucatz had this to say about the sale of the Enertec subsidiary:
"We are extremely excited to enter into this agreement, which strongly supports and is fully-aligned with our roadmap to increase the value of our Company by focusing all our resources on the MRM space. As the second phase of the Electronic Logging Device (ELD) mandate is now in effect, we believe 2018 will produce an even greater market demand, which we believe may  increase the revenues and profitability of our MRM business in the coming years."

"This transaction fortifies our balance sheet by increasing our cash position and significantly reducing debt, while improving our income statement by eliminating all General and Administrative costs associated with Enertec. In addition, we believe our improved cash position will enable us to expand our MRM offerings,"
"The sale of Enertec to Coolisys empowers the Company to grow its MRM business more aggressively both organically and through acquisition. As our MRM revenues continue to increase each quarter, we aim to use this momentum and further invest all our focus and efforts to become a leader in the MRM space."

What is the ELD Mandate?
In 2012, the United States Congress enacted the bill entitled: "Moving Ahead for Progress in the 21st Century." That bill, which also outlined the criteria for highway funding, included a provision requiring the FMCSA to develop a rule mandating the use of electronic logging devices (ELDs). In its simplest form, an ELD is used to electronically record a driver's Record of Duty Status (RODS), which replaces the paper logbook some drivers currently use to record their compliance with Hours of Service (HOS) requirements.
The FMCSA describes the ELD Rule as "The electronic logging device (ELD) rule is intended to help create a safer work environment for drivers, and make it easier, faster to accurately track, manage, and share records of duty status (RODS) data. An ELD synchronizes with a vehicle engine to automatically record driving time, for easier, more accurate hours of service (HOS) recording."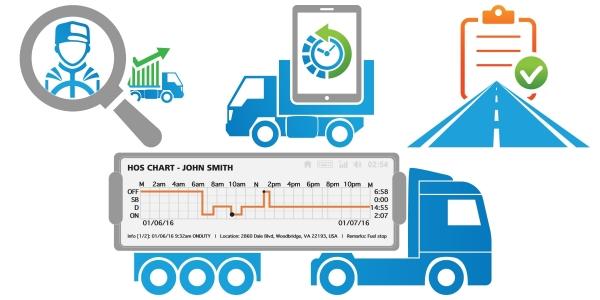 ELD is technology that automatically records a driver's driving time and other aspects of the hours-of-service (HOS) records. This allows easier, more accurate HOS record-keeping. An ELD monitors a vehicle's engine to capture data on whether the engine is running, whether the vehicle is moving, miles driven, and duration of engine operation (engine hours). The following is an image of one the company's logging devices mounted in the cabin of a truck: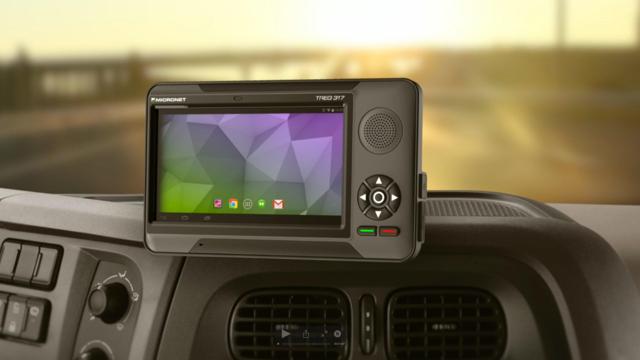 Fleets had until December 2017 to implement certified ELDs to record HOS. Fleets already equipped with electronic logging technology will have until December 2019 to ensure compliance with the published specifications. While the Mandate has already officially taken effect, enforcement will be gradually phased in.  However, as of April 2018, truck drivers could be put out of service if found to be non-compliant. Besides improving safety on the roads, compliance with the mandate can benefit fleet operators in several ways:

Start immediately building ROI: slash fuel costs, drastically reduce paperwork, increase driver communication, and charge for detention time
Make life easier for commercial truck drivers by letting them focus on driving, not driver logs
ELD compliance to minimizes potential liabilities
Eliminate HOS-compliance fines which have amounted to over $300M since the start of 2017!
Also note, that the demand for Micronet's ELDs will not end with the December 2017 implementation deadline since many fleets might be using outdated ELDs that will need to be replaced/upgraded before the December 2019 final deadline. Furthermore, many ELDs will have to be replaced in years ahead because of wear and tear to remain in compliance with the Mandate.
As the December, 2017 ELD 1st-phase implementation deadline approached, the Micronet Division won several large contracts throughout 2017 as shown on table 1 below:

Table 1. Micronet Division 2017 Contract Wins (Most Recent First)
| | | | | |
| --- | --- | --- | --- | --- |
| Number | Date | Amount | Application/Product | Expected Shipments |
| 1 | November 17, 2017 | $1.9M | Telematics Provider/TREQ-317 | 1Q – 2Q 2018 |
| 2 | October 30, 2917 | $3.1M | Telematics Provider/SmartHub-TREQr5 | 4Q 2017 – 2Q 2018 |
| 3 | September 14, 2017 | $1.65M | Fleet Management/TREQr5 | 4Q 2017 & 1Q 2018 |
| 4 | September 11, 2017 | $1.6M | Fleet Management/TREQ-317 | 4Q 2017 & 1Q 2018 |
| 5 | August 3, 2017 | $4.3M | Bulk Materials/TREQ-317 | 3Q & 4Q 2017 & 1Q 2018 |
| 6 | May 25, 2017 | $2.1M | Bulk Materials/TREQ-317 | 3Q & 4Q 2017 |
| 7 | May 1, 2017 | $1.1M | Fleet Management/TREQr5 | 3Q 2017 & 4Q 2017 |
| 8 | March 16, 2017 | $2.1M | Bulk Materials/TREQ-317 | 3Q 2017 |
| 9 | Feb. 13, 2017 | $800K | School buses/TREQ-317 | 2Q 2017 |
| Total | | $18.9 | Various | 2Q, 3Q, 4Q 2017 & 2018 |
Note that this total, which amounts to about twice the market cap of the entire company, does not include the $6M Enertec contribution.
As the company has been executing these contracts, it has seen its revenues increase at double-digit rates in the last four quarters. This trend is expected to continue and even accelerate in upcoming contracts. I expect revenues for the upcoming 4Q 2017 financial release to amount to about $8M, or close to the current market cap, and 100% higher than the year-ago quarter. On a year-to year basis I expect a revenue increase of 20 - 30% associated with a 30% reduction in net losses.. The company expects to enter a period of sustainable profitability and growth starting in 1Q 2018.

Trucking experts say that the industry is now in a period of "soft enforcement" and inspectors won't place drivers or vehicles out-of-service for violating the ELD rule until April 1, 2018. The expectation is that having a false ELD or no record of duty status via an ELD after April 1, 2018 will result in a driver and their vehicle being placed out of service for 10 consecutive hours. But that does not mean that failure to comply with the ELD rule won't have consequences over the next three and half months. Drivers might get citations for not having an ELD and some states will write tickets and some won't.
It is expected that every state will set their own fines for violations. This means that tickets for non-compliance could cost up to $1000 or more per violation. As with any tickets, such as speeding, some states rely on the fine-related revenues to fund various highway safety programs.
For the reasons I've just discussed, I expect a new wave of contract announcements as April 1, 2018 approaches. Since full implementation of the ELD mandate won't occur until the end of 2019, Micronet will enjoy several quarters of continued growth. But the ELD Mandate is not the only catalyst for Micronet's growth since trucking projections suggest a significant increase in the number of freight and service vehicles in years ahead, as seen in the following slide: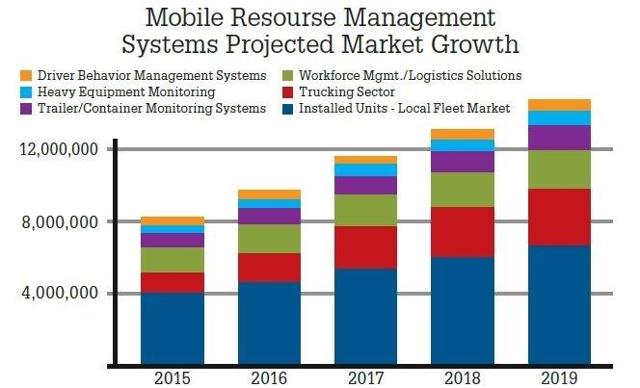 How does Micronet Technology fit with the ELD Mandate?
The following slide shows how fleets use Micronet's rugged and superior ELD's designed and manufactured to comply with the ELD Mandate (source: April 2017 Company Presentation):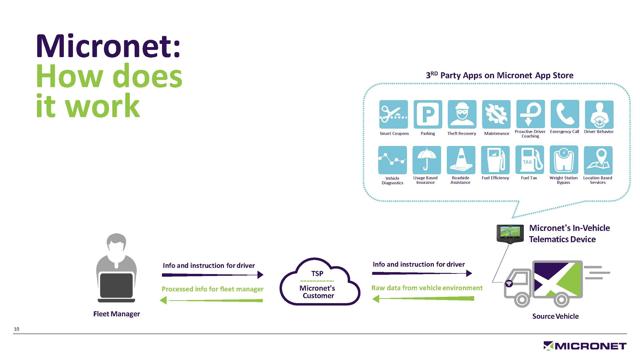 The following are the most important ELD mandate, and miscellaneous related applications, of Micronet's logging devices and cloud-based software-management sevices: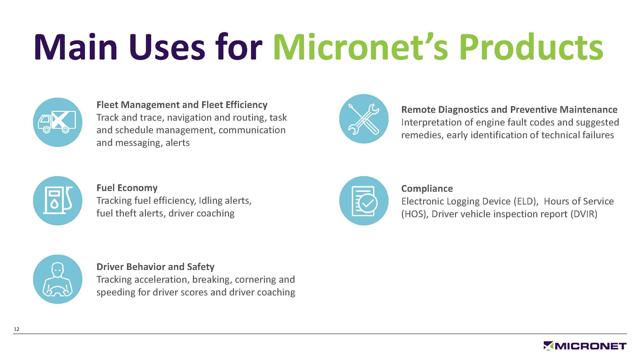 Micronet is aligned with some of the largest ELD-mandate solution providers to take full advantage of this opportunity. Some of the company's partners in this space are Teletrac, Peoplenet, Trimble, Isotrac, Mix Telematics, Synovia Solutions, Verizon, etc..
Micronet has ambitious growth plans that begun to unfold in 2017, and are likely to accelerate after the Enertec sale, as the company aims to become a significant player in larger addressable markets. This is shown in the following two slides: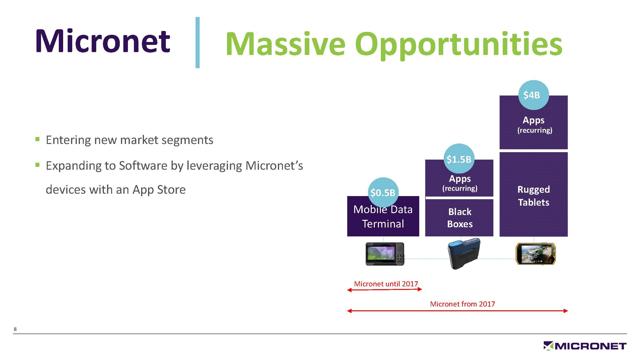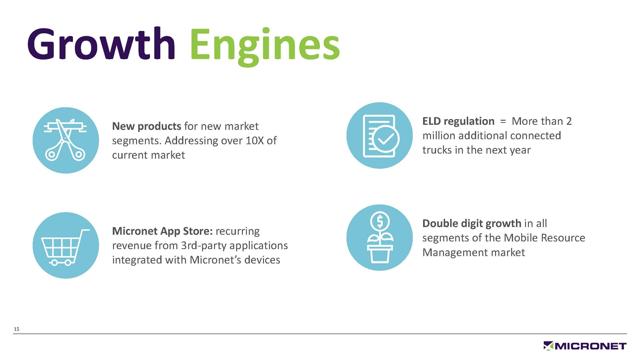 Recent contract wins show that Micronet is already implementing its growth and diversification plans. For instance, in a recent win, the company announced a $100,000 renewable yearly license add-on for Micronet's Guardian System Design (GSD), a cloud based Software-as-a-Service (SAAS) platform which enables remote management of Micronet's products while on the move via Firmware Over The Air (FOTA). These types of value-added recurrent software revenues increase the overall gross margins and profitability.
Micronet's has been beefing up its management team with several recent additions such as David Marcus, who was appointed appointed CEO of the Micronet Division effective September 3, 2017. Prior to joining Micronet, Mr. Marcus was Chief Technology Officer at Pointer Telocation Ltd (NASDAQ:PNTR). Prior to joining Pointer, Mr Marcus was R&D Group Manager at Cellocator and Vice President R&D at Cellocator.

Mr. Markus is an innovator and visionary manager as seen by some of the things that he was able to accomplish in his last assignment with Pointer:
• Forming the current and future shape of Pointer's MRM and IoT E2E solutions via ongoing products strategy and roadmap management.
• Managing continuous optimization efforts of Pointer's global technical operations.
• Responsible for software & hardware solutions introduction into Pointer's subsidiaries for successful market penetration including outbound materials, Pilot programs, POCs, feasibility studies etc.
• Planning and execution of technology due diligence processes and post-M&A technology mergers including infrastructure, products, development resources, IP etc.
• Initiated and managed the company's flagship project in 2014 to consolidate Pointer's technology infrastructure into single innovative cloud environment by Microsoft Azure.
• Forming the shape of Pointer's globally distributed development resources
• IP, technology road-map and innovation process management.
• Business strategy and product line planning.
• Business development activities including partnerships with complementary solution vendors, development of key accounts and distribution channels into new verticals.
• Leading product management activities including competitive analysis, inbound PM, product marketing, positioning and market studies.
His first comments as Micronet's CEO in the September 11, 2017 contract win announcement speaks volumes about his intentions to take Micronet to the next level:
"Micronet is continuously working to strengthen its market position by developing a new line of 'in cab telematics' products and services in order to position itself as a technology leader in today's fast changing MRM/Telematics space."

I am hoping that with Mr. Marcus contributions to Micronet, MICT stock can soon mimic PNTR's performance shown below: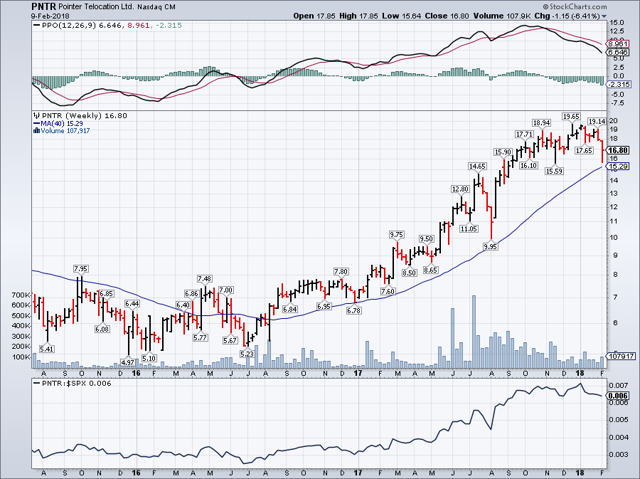 So far, MICT has been used primarily a swing trade by opportunistic investors/traders who take advantage of the huge spikes created by every contract announcement. But I believe that as the company starts showing sustainable growth and profitability, those huge spikes and falls will give way to steady, more predictable gains.
Benefits Of The Sale Of Enertec For Micronet
With more cash, up from about $9.2M to $14M following the Enertec sale, the company can accelerate, and add to the plans it set forward in recent company presentations and conference calls, namely:
Growing its technical, sales and marketing, and business development teams;
Developing new product lines to address additional market segments and verticals;
Launching new product lines;
Maximizing ELD-mandate opportunities, alone and through partnerships;
Entering the software space by integrating third-party software applications with Micronet's devices;
Identifying and pursuing new growth opportunities organically and/or through acquisitions;
Expand and diversify customer based in the US and globally;
Minimize or eliminate dilution which was necessary up to this point to increase working capital to fill the supply chain all the way to product delivery and program implementations;
Increase gross margins to the 30 - 40% range;
Improved valuation as a provider of high-value technical products and services including high-margin cloud-based applications.
As I mentioned above, the sale of Enertec will be a win-win reality for Micronet and Coolisys/DPW, as Enertec is also in a growing and diversification stage. Greater focus by Coolisys/DPW will unlock the true potential offered by Enertec's products and services shown below (not shown is the growing medical-device vertical):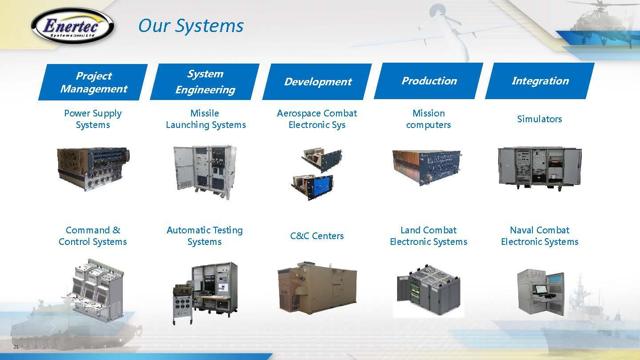 Risks and Uncertainties
In addition to the risks and uncertainties discussed in the most recent filings with the SEC, the following are potential risks that investors interested in MICT should be aware of,

The sale of the Enertec Division could fall through;

Pricing pressures could cause margins to be reduced;

Excessive dilution due to mismanagement and lack of focus;
Loss of key talent to the competition.
Products become obsolete, or unattractive to prospective clients;
Acts of terrorism, war, or natural disasters (Micronet has one of its manufacturing sites located in Israel).
Conclusions

I expect the future of Micronet to be one of growth, profitability, market recognition, and increased value for shareholders. CEO Lucatz comments on the Enertec sale sums it well;
"The sale of Enertec to Coolisys empowers the Company to grow its MRM business more aggressively both organically and through acquisition. As our MRM revenues continue to increase each quarter, we aim to use this momentum and further invest all our focus and efforts to become a leader in the MRM space."
I should note that DEO Lucatz has very good reasons to be bullish about the company's future as he is by far the largest shareholder. He owns almost 3M shares or about 40% of the current total outstanding shares.
Based on recent contract wins, the current backlog, and increase in gross margins to the 30 - 40% range, and a conservative 15% CAGR, I estimate 2018 revenues ranging from $22M - 26M, and net income ranging from 20 to 30c/share. The balance sheet will show about $14M in cash and cash equivalents and roughly $9M in debt. Based on these estimates, my 12-month price target is $5 - 7/share.
The ELD Mandate is not a one-time wonder as many believe it is. The initial implementation deadline is December 2017. However, that covers only a couple of million trucks that do not currently have electronic logging devices. Over 4M more million trucks need to be Mandate-compliant by December 2019. Additionally, there is long-term revenue potential as logging devices will need to be replaced and maintained and/or upgraded.
With a stronger management team, including former PNTR executive David Marcus, a solid balance sheet, growing markets, a well-laid out growth roadmap, the future looks bright for Micronet.
Finally, with the sale of Enertec, Micronet becomes a tempting target as the MRM space has been consolidating in recent years. This has been rumored before, but it is believed that separating Micronet from Enertec was a deterrent for those entities interested in Micronet.
MICT, as any stock in the market, and mainly because of its relatively low public float, can be a very risky investment despite its significant upside potential. Investors should always review in detail all the risks and uncertainties as listed in the company's filings with the SEC.
Disclosure: I am/we are long MICT.