pSivida Corp., (NASDAQ:PSDV), specializes in the development of sustained-release drug devices to treat debilitating diseases of the eye and other localized, chronic conditions elsewhere in the human body.
pSivida's proprietary and proven Durasert Technology is a miniaturized, injectable, drug delivery system for small molecules that can last for up to three years. The implant, only 3.5mm in length with a diameter of just 0.37mm as seen in the image below, can be administered in an office setting.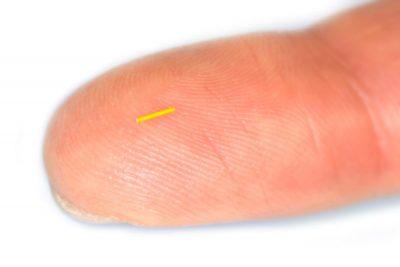 To date, three products utilizing the technology have been approved by the FDA to treat serious back-of-the-eye diseases. These products include Iluvien, licensed to Alimera Sciences (NASDAQ: ALIM), and Retisert and Vitrasert, licensed to Bausch & Lomb which was acquired by Valeant Pharmaceuticals International Inc.'s (NYSE: VRX) for $8.7B in cash. These products address different types of eye conditions which fall under the uveitis category. Uveitis is a general term that refers to inflammation of the part of the eye known as the uvea.
pSivida has already received FDA approval for three of the four sustained release drugs approved for back-of-the-eye diseases. Currently, patients with posterior segment uveitis have limited treatment options and the standard of care is frequent injections of steroids or an implant that lasts only two to three months with a list price of $1400 per device. Over a three-year period this approach would cost nearly $17,000. And uveitis is the third leading cause of blindness and a disease that impacts approximately 80,000 to 100,000 patients in the U.S.
There are three types of uveitis, classified according to the part of the uvea that is affected. Anterior uveitis, which affects the front part of the eye, is also sometimes called iritis since the iris is part of the front of the eye. Intermediate uveitis, also known as pars planitis or cyclitis, refers to inflammation of tissues in the area just behind the iris and lens of the eye. Posterior uveitis, also known as choroiditis, refers to inflammation of the choroid, the back part of the uvea. Posterior uveitis may affect the retina and/or the optic nerve, and may lead to permanent loss of vision.
pSivida's has completed two successful Phase 3 studies to support U.S. registration of its Durasert three-year treatment for posterior uveitis. The recently-announced second Phase 3 study achieved its primary efficacy endpoint with high statistical significance (p < 0.001). The study involved 153 patients and the primary endpoint was prevention of recurrence of posterior uveitis at six months with patients continuing to be followed for 36 months.
The data at 12 months demonstrated the durability of the treatment effect; 27.6% of Durasert treated patients had a recurrence at 12 months compared to 85.7% of patients in the sham group. For those new to biotechs, the "sham group" is a group of participants that receives a procedure or device that is made to be indistinguishable from the actual procedure or device being studied but does not contain the active medication.

Dr. Jyotirmay Biswas, Professor of Ophthalmology and Director of Uveitis & Ocular Pathology Department, Sankara Nethralaya Ophthalmic Center, Tamil Nadu, India and primary investigator of the study commented on the results:
"The results of the second Phase 3 study confirm the efficacy and safety profile of the Durasert three-year insert demonstrated in the first Phase 3 study. Consistent, durable control of chronic posterior segment uveitis is a critical goal of treatment. The three-year Durasert insert has the potential to be the first product approved to help prevent the recurrence of this devastating condition for up to three years with a single intravitreal injection."
Dr. Glenn J. Jaffe, Robert Machemer Professor of Ophthalmology at Duke University School of Medicine in Durham, NC and one of the world's leading uveitis experts added:
"Chronic posterior uveitis is challenging to treat as the disease tends to wax and wane over time. Durasert three-year insert is a single-injection office-based treatment that can last 2-3 years. Therefore, it addresses the need to help prevent recurrences over an extended time period, rather than to treat them episodically, and may represent an exciting new approach to manage these patients."
CEO Lurker concluded:
"The data from this trial confirms previous clinical research demonstrating our three-year Durasert insert for posterior segment uveitis may significantly help patients suffering from this devastating disease -- the third leading cause of blindness. Our market research indicates strong interest in using the product driven by the results of our first Phase 3 clinical trial."
The first Phase 3, 129 patient, multi-center, randomized and double-blinded trial was highly statistically significant in meeting its primary efficacy endpoint of prevention of recurrence of disease at six months (p < 0.00000001; intent to treat analysis). Safety results were positive and manageable as in the second Phase 3.
NDA Filing For Fourth Commercial Product And Related Issues

pSivida, under its new CEO Nancy Lurker has made significant progress since her arrival in September, 2016. pSivida has enjoyed enthusiastic analyst and institutional support in recent months as they appreciate the progress being made in several fronts. Her latest accomplishment was announced on January 4, 2017, whereby the FDA granted the company's request for a small business waiver of the Prescription Drug User Fee Act (PDUFA) fee of approximately $2.4 million for its upcoming NDA application.
CEO Lurker commented on this important development:
"FDA's grant of this waiver enables us to continue to focus our resources on initial preparations for our U.S. posterior segment uveitis launch anticipated in early 2019 and R&D activities in our product development pipeline."
As expected, the company filed its NDA application on January 8, 2018 for posterior segment uveitis next week. Nancy Lurker, President and CEO commented"

"We have previously developed and out-licensed three sustained-release treatments for other back-of-the-eye diseases, all of which received FDA approval. This positive track record is an asset as we enter this next phase of development for our company's first commercial product. Durasert is our lead product candidate for the treatment for posterior segment uveitis, the third leading cause of blindness. Our goal with Durasert is to provide relief to the thousands of patients suffering from this debilitating disease for which today's standard of care is frequent injections of steroids or an implant that lasts up to three months with much higher costs. We look forward to the FDA's review process for our submission."
Per normal procedure, the FDA is expected to review whether the NDA is complete and acceptable. This procedure is typically completed within 60 days from the original NDA submission date.

There is a very high probability that the NDA will be approved for the following reasons: 1) It is based on 2 successful Phase 3 trials, 2) the company knows how to navigate through the process since they've had 3 drugs approved already. And for these very reasons I believe Durasert will be eventually approved for the treatment of posterior segment uveitis
On a tactical move to accelerate the Durasert-related revenues, the company announced on July 10, 2017 that it had out-licensed Durasert EMEA rights to Alimera. Alimera is familiar with the complexity of the EU reimbursement environment and already has the sales and marketing resources targeting key European specialty physicians through Iluvien. Smartly, pSivida is keeping the US rights for Durasert.
The company estimates that the EMEA revenue opportunity for Durasert is estimated to be $30 to $50M, and in the US it is estimated to be $80 to $120M.
Posterior segment uveitis affects people of all ages, producing swelling and destroying eye tissues, which can lead to severe vision loss and blindness. In the U.S. and EU, posterior uveitis affects approximately 200,000 people, annually.
Regarding the company's marketing plan for Durasert once approved, Deb Jorn, Executive VP of Corporate and Commercial Development made the following comments during the 2Q 2018 CC, held on February 7, 2018:
"With the submission of our NDA, the team is now solidifying our go-to-market plan in the U.S. with the Durasert three-year product for posterior segment uveitis. We continue to receive a very high level of interest in the product from retina and uveitis specialists."
"During the fiscal first quarter, we opened our commercial offices in New Jersey, a strategic location necessary to recruit a sales team where major Pharma companies have their global headquarters. Our plan is to hire the internal sales and marketing management teams in the coming months. Once these teams are in place, we will finalize selection of a contract sales organization, referred to as a CSO."

"Initially, the CSO will hire eight to 10 representatives. Given the limited size of the target audience, the maximum number of representatives we foresee being needed will be in the 15 to 20 range. We have also begun our pricing and reimbursement assessment and feel confident the product will likely be covered by a broad range of payers following approval by the FDA. There is high unmet need in the posterior uveitis area and steroids are still considered main stage of therapy. Our launch in the U.S. will also allow us to reach our goal of transforming pSivida into a fully integrated commercial Ophthalmology company."
Meanwhile, leading retinal specialists and Key Opinion Leaders (KOLs) are busy raving about the benefits of Durasert for the treatment of posterior segment uveitis at prestigious ophthalmology conferences. the following are examples of this important activity which paves the way for a speedy and successful commercialization of this technology once approved by the FDA:
On August 13, 2017, Dr. David Callanan, MD., a leading ophthalmologist with Texas Retina presented a paper entitled, "An Injectable Fluocinolone Acetonide Intravitreal Insert is Effective in Patients With Noninfectious Posterior Segment Uveitis," at the American Society of Retinal Specialists (ASRS) annual meeting being held in Boston, MA.
On September 8, 2017, Dr. Carlos Pavesio, MD, Consultant Ophthalmic Surgeon, Moorfields Eye Hospital presented: "An injectable fluocinolone acetonide intravitreal insert in patients with chronic non-infectious uveitis affecting the posterior segment of the eye: Effects on macular edema at 6 months," at the 17th EURETINA Congress held in Barcelona, Spain.
On November 12, 2017, Dr. Careen Yen Lowder MD PhD, currently works in Cleveland Clinic, Cole Eye Institute presented data in a presentation entitled, "Fluocinolone Acetonide Intravitreal Insert in Noninfectious, Posterior Segment Uveitis: Twelve-Month Safety Results," at the American Academy of Ophthalmology (AAO) annual meeting held in New Orleans, LA.
Regarding these presentations, CEO Lurker commented,
"Having our data presented at these conferences, by leading authorities on uveitis is impressive and important as we prepare to submit and launch Durasert in the US and with our partner Alimera in the EU, Middle East and Africa."
I believe that once the FDA approves the Durasert NDA application in the next few days, the stock behavior might resemble that of Aradigm (NASDAQ: ARDM) following FDA acceptance for its NDA. The graph below only shows ARDM's performance following its NDA approval for drug candidate Linhaliq for the treatment of non-cystic fibrosis bronchiectasis until its collapse caused by the receipt of a CRL from the FDA: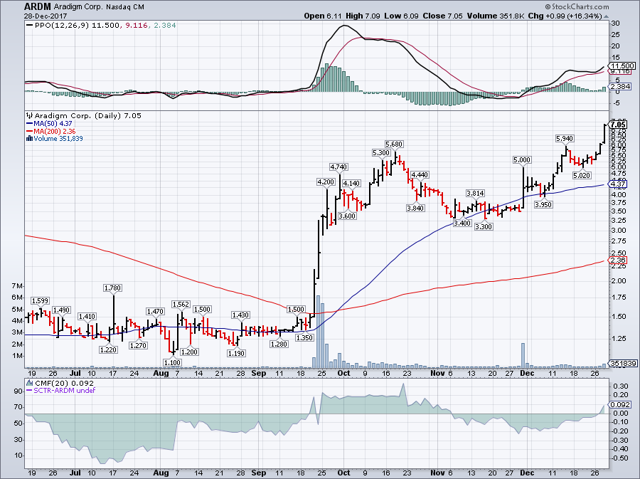 Expected PSDV Stock Performance Following NDA Application
I've analyzed the behavior of several <$300M biotechs that have submitted NDAs. This is what I found on the average:
NDA application has a negligible immediate effect on share price. However, after a few days the stock price begins to rise gradually but steadily gaining about 50% in a month following NDA submittal.
About 1 month before NDA approval by the FDA the stock flattens and moves sideways.
About two weeks before the expected FDA decision on the NDA the stock begins to raise again gaining 100 -150% relative to the day following NDA submittal.
If the FDA approves the NDA without observations the share price gains from 50% - 200% depending on the size of the float and other factors.
If the FDA makes observations and sends the company back to the drawing board, the share prices plunges 30 -50%. But at this point it's significantly higher than the day following NDA submittal.
If the NDA rejects the NDA, the stock price plunges to a point that can be supported fundamentally based on rest of pipeline, ongoing programs, financial status, etc.
Once the NDA is approved by the FDA following the 60-day review deadline and the stock had its significant spike, the share price usually declines a bit and moves sideways with few spikes up and down depending on whether the company raise equity which is usually the case, and response to other events such as earnings, buyout and other speculations, etc.
The stock starts to rise again ahead of its PDUFA date gaining from 100 – 200% during the month preceding this key event.
If the FDA approves the drug the stock flies as in the recent case of Dynavax (NASDAQ: DVAX), or plunges like ARGM if the company receives a Complete Response Letter (CRL) or a denial from the FDA.

In my opinion, $1.1 is an inflection point for PSDV and it will be up from here following the typical behavior of most biotechs going from NDA application to the PDUFA date as described in the previous paragraphs. .
The Significant Knee Osteoarthritis Opportunity
A significant recent new departure of the Durasert technology was the successful application to patients suffering of painful and debilitating osteoarthritis (OA) of the knee. Although this was a Phase 1 trial with only 6 patients, it is an important entry into significantly larger markets that could eventually involve OA of the elbow, shoulder, and hip.
On December 14, 2017, the company together with the Hospital for Special Surgery (HSS), the national leader for orthopedics, announced positive results of a Phase I safety and exploratory efficacy pilot study for a sustained release implant integrating pSivida's Durasert delivery technology and an HSS-designed implantable device. The implant was designed to deliver a continuous-low dose of dexamethasone into the knee joint for several months.
Knee OA is a degenerative joint disease that results from the breakdown of joint cartilage and underlying bone, with joint pain and stiffness the most common symptoms. More than 10 million people have knee OA and there is a high unmet need for a non-narcotic treatment option given the potential risk of addiction with opioids. No current cure exists, but pain and movement restriction associated with the disease are currently treated with oral analgesics, non-steroidal anti-inflammatory drugs, corticosteroids taken orally or injected into the knee, or hyaluronic acid injected into the knee. With degeneration, damage and pain from knee OA can become severe, making it the leading cause of total knee replacement surgery.
More than 600,000 of these surgeries were performed last year in the U.S. and the number is expected to grow. Given this anticipated increase a longer-term option is desirable. The Durasert product together with the HSS-designed implantable devices offers a potential new approach for the longer-term management of knee pain associated with OA. In addition, the implant has the potential to treat patients who are unable to undergo total knee replacement surgery for medical reasons or those who need more time to improve their health prior to knee replacement.
The press release summarized the results as follows"
"Subjects experienced an average 3.8 point reduction in average weekly pain by week 4 that did not diminish over the 24 week period (4.7 and 5.0 point reductions at weeks 12 and 24, respectively). Based on OMERACT-OARSI strict responder criteria using the average weekly pain score, four subjects were considered strict responders by week 4, while all six subjects were strict responders on weeks 12 and 24. Plasma dexamethasone concentrations were found to be lower than those reported by other standard-of-care treatments and no adverse events were reported. The implant was well tolerated and showed potential analgesic effects through the six-month study period."
Dr. Mark P. Figgie, principal investigator, study sponsor and Chief of the Surgical Arthritis Service at HSS commented:
"This system has the potential to fill a much-needed therapeutic gap for knee OA patients."
Dr. Robert N. Hotchkiss, co-inventor of the implant and Medical Director of Innovation at HSS added:
"This is a very promising start of a collaboration, combining the know-how, experience and technology of the pSivida team with the clinical expertise and insight of HSS. With the ageing and more active population, we are in need of novel and perhaps superior treatment alternatives for pain relief in arthritis."
Nancy Lurker, pSivida's President and CEO further added
"The positive Phase I data demonstrates that Durasert™ technology has applications beyond our core back-of-the-eye disease markets," "We believe patients suffering from severe knee OA deserve better non-narcotic, non-opioid options to help manage their pain, and our collaboration with HSS to apply our technology to these patients has the potential to provide longer-term relief of their pain."
Ironically, the day these results were announced, the stock sold off opening at $1.2 and closing at $1.06 on heavy volume. I believe this is because on the same day, Ampio Pharmaceuticals (NYSE: AMPE) reported positive Phase 3 results for the same indication. You may call it an strange coincidence, but the knee-jerk reaction was probably caused by the belief that PSDV-HSS are late and Ampio solution could corner this niche market by being closer to commercialization.

But giving Ampio's OA knee (OAK) Ampion drug a clear edge is very premature. I don't believe the FDA would approve a drug for OAK without other trials with other comparators, one of them being saline solution. In fact, I believe saline solution would be a tough comparator to beat. Ampion, which acts as a lubricant, is is a low-molecular weight fraction of human serum albumin and may in fact need the support of a corticosteroid to provide results that could ultimately be approved by the FDA.
pSivida Pipeline
The following slide shows the current pipeline besides the three already FDA-approved commercial products mentioned above: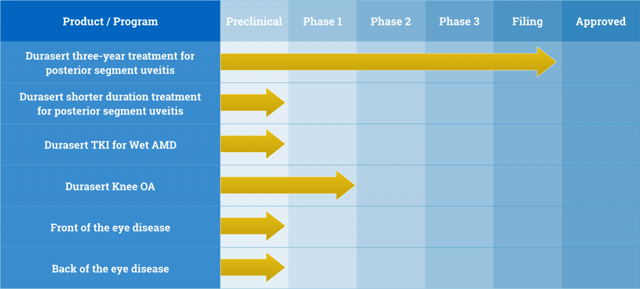 In my next article on pSivida I will discuss the other exiting pipeline opportunities and recent collaborations as well as updates on the NDA filing and progress of the knee OA program.
Analysts' Opinion On PSDV Stock
The company now enjoys a consensus outperform rating from 5 Wall Street analysts having placed a $4.75 price target on PSDV stock. This suggests a potential 350% gain from recent close. But market participants haven't yet recognized the significant intrinsic value the company offers today as they haven't forgotten the miscues of the past. The market clearly has a "prove me" attitude towards the stock. But I believe the share price is at a key inflection point and will rally significantly going forward.
Valuation
Assuming good execution of the company's plans to roll out the Durasert program after FDA approval, I expect revenues of $9M, $15M, and $25M in 2019, 2020, and 2021 respectively assuming a gradual market share increase from the $120M US market expected beyond 2019. These figures do not include Durasert revenues from Alimera's sales in the EU, Middle East and Africa nor revenues from current and future collaborations with Alimera and others on the remaining commercial products.
Assuming also that there will be a 50% dilution from current levels, I am assigning a 12-month $5/share price target to PSDV stock.

Risks and uncertainties
As with any biotech in the clinical-development stage, there are several potential risks that should be considered:
Failure of clinical trials.
Large collaborators opting out of current agreements for several reasons like restructuring, buyout, disappointing clinical results, etc.
Collaborator exit could cause and increase cash burn that would cause the company to seek equity financing thus diluting shareholders.
Excessive dilution required to bring products to market.
Inability to raise funds in terms favorable to the company and its shareholders.
Loss of key talent to the competition.

Conclusions
I hope that the discussion above created interest in investing in sPivida and encouraged you to do your own due diligence before investing in the stock. At current prices and with significant short and long-term catalysts, it offers a significant upside with moderate risk.
Personally, I don't know of any $1 biotech with less than $100M market cap having three FDA-approved drugs already and working to get its 4th approved following its recent NDA filing. I believe the major reasons for the disparity between the current share price and the $4.75 consensus analysts' price target are: 1) The company did not execute well in the past with previous management teams, 2) the market cap is too small to enter the radars of major biotech investors, 3) the fear that there will be excessive dilution as the company prepares to launch Durasert for posterior segment uveitis in the US.
I will focus on the third reason because I believe in the primary reason for investors' fears and for shorts and market makers to take advantage of this fear. CEO Lurker has done an excellent job minimizing dilution by using relatively small and well-placed ATMs to keep the clinical programs moving forward.
During her January 8, 2018 presentation at Biotech Showcase, CEO Lurker reported that the company had about $15M and no debt. Assuming that the recent average cash-burn rate of about $5M/Q, the company may have to raise funds by mid 2018. At that time, I expect the share price to be North of $3/share based on expected upcoming catalysts including NDA acceptance by the FDA. After the equity raise, I expect the stock price to keep moving North because there are positive reasons for raising funds, like approaching commercialization of a high-margin product (over 90% GM). This has happened to many stocks I follow such as Bellerophon (NASDAQ: BLPH), Savara (NASDAQ: SVRA), and others. Usually, biotech stocks get hit hard when they raise funds just to keep their pipelines moving forward such as Contravir (NASDAQ: CTRV), Argos Pharma (NASDAQ: ARGS), Ritter Pharma (NASDAQ: RTTR), Atossa (NASDAQ: ATOS), Delcath Systems (NASDAQ:DCTH) and others like them. pSivida clearly does not fall in that category.
Additionally, having a strong product getting to market in the near future may open the doors for bank and other type of non-dilutive funding. I also would not be surprised if the company becomes a tempting acquisition target such as competitor Allergan (NYSE: AGN) and partner Baush & Lomb, a division of Valeant, and perhaps others outside the eye community such as osteoarthritis. Finally, there is a possibility of merging with partner Alimera which is better funded, has higher revenues, and are currently working together on other products including Durasert in EU, the Middle East, and Africa.
For the reasons I have discussed above, I believe the days of trading around $1/share will end soon, and most certainly after the FDA accepts the Durasert NDA. Other catalysts such as starting Phase 2 Knee Osteoarthritis with HSS, partnership news, etc., are likely to boost the share price even further.

Investing the stock market is inherently risky. I encourage investors interested in PSDV stock to do their own due diligence and to review carefully the company's 10-K and 10-Q filings with the SEC.
Disclosure: I am/we are long PSDV.