Dividend Yield: 1.48%
Payout Ratio: 25.4%
5-year Dividend Growth: 10.84%
Apple's dividend yield is a paltry 1.48% (compared to my portfolio's 5% yield); however, at a payout ratio of only 25%, the dividend could easily double in the next three to five years. Even if earnings stay constant from here, that would only bump the payout ratio to 50%, which is still a healthy and safe amount.
But it's unlikely that Apple sees no growth in its earnings. We're talking about the most recognizable brand in the world. And while iPhone sales are in a bit of a slump lately, the Services segment is starting to hit its stride.
When the second quarter fiscal results were reported, Apple showed record Services revenue, increasing by 16% year over year. Aiding the segment were the double-digit revenue growths across the App Store, Apple Music, Apple Care, Apple Pay, and cloud services.
The subscription model, which seems to be the craze for many businesses and consumers nowadays, is also heating up for Apple. From 270 million just 12 months ago, Apple reported 390 million paid subscribers at the end of the quarter, a 44% increase. Additionally, Apple Pay transactions doubled from the same quarter last year.
All this while announcing another addition to the Services business in the form of Apple TV Plus, with plans to air original TV shows and movies, a la Netflix. The headliners for said streaming service are some of Hollywood's biggest stars: Steven Spielberg, J.J. Abrams, Oprah Winfrey, etc.
Needless to say, Apple has the means for huge dividend growth in the coming years (provided there's no economic recession). Their intention, however, is less known. The company has preferred buybacks more so than increasing its dividend payouts. Nevertheless, good earnings growth will be reflected in the share price as well, so the tradeoff with the dividend will be higher capital appreciation and equally awesome investment returns.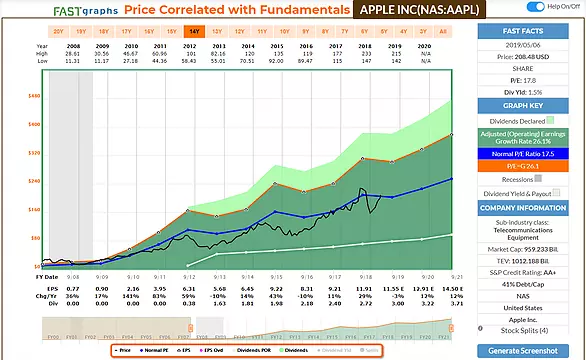 Apple (AAPL) trading at fair value currently. Anything under $200, and especially $180, seems a good buy. 
Eastman Chemical (EMN)
Dividend Yield: 3.21%
Payout Ratio: 29.6%
5-year Dividend Growth: 13.0%
Eastman is another company with lots of room for dividend growth, and with a dividend yield already over 3%, it's a stock dividend growth investors should be keeping an eye on. Eastman has shown their commitment to dividend growth as well with their 5-year growth average at 13%, while keeping their payout ratio less than 30% of earnings.
Eastman has some potentially great things going for itself, too, with breakthrough innovations in the world of plastic waste and recycling. In March, the company announced plans to launch an advanced circular recycling technology that breaks down unrecyclable plastics to basic polymer building blocks, which can be reused even within their own business.
And in April, Eastman introduced a second innovation called carbon renewal technology, capable of recycling the most complex plastic waste such as non-polyester and mixed plastics, which will eventually divert these away from landfills.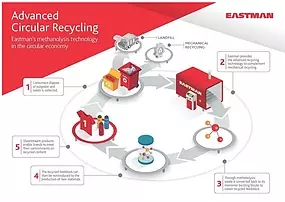 While Eastman is a company that's never demanded a premium valuation (The materials sector hardly ever does), the strength of this company's innovation strategy makes it a solid investment idea, especially at the current valuations. I actually did a full stock analysis on the company last month, including a Discount Cash Flow analysis to assess its fair value, and you can read that here.
With the low valuations and its dedicated dividend growth history for 9 years as well as a very safe payout ratio, investors have the opportunity for doubling their yield or their investment through capital appreciation--or both!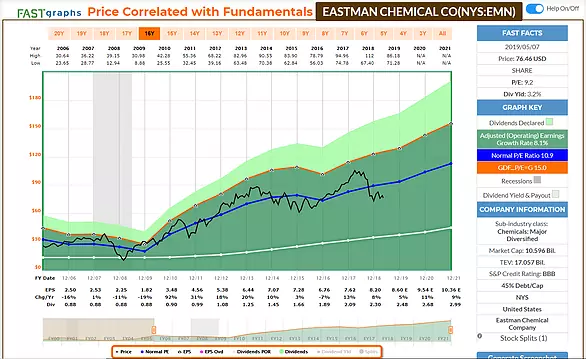 Eastman Chemical (EMN) looking undervalued.
Cummins (CMI)
Dividend Yield: 2.72%
Payout Ratio: 30.0%
5-year Dividend Growth: 8.0%
These days, it's all about Tesla when talking about the future of automobile electrification. But what about the lesser known but, dare I say, profitable companies that are pushing for future EVs. That's Cummins for you.
Sporting a decent 2.72% dividend yield that Tesla wishes they could even claim as income (yes, I said it), Cummins' payout ratio sits very safely at 30% with a respectable 5-year growth of 8%.
I don't actually mean to bash on Tesla; I actually dream to own one and believe that Elon Musk is a genius. But the EV market will have room for more than one company, and Cummins is targeting a spot in that playing field.
Already a world leader in diesel engine and full powertrain manufacturing, Cummins' engines power everything from agriculture and construction equipment to generators, marine vessels, and heavy-duty pick up trucks such as the Nissan Titan and Dodge RAM. And it's in this heavy vehicle and equipment industry that Cummins is positioning itself in the driver seat of the electric vehicle evolution.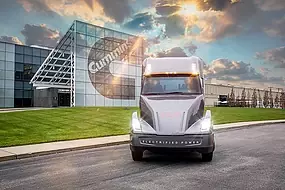 AEOS - Cummins heavy duty electric concept truck
Case in point, Cummins announced last March that they delivered fully-electric Cummins PowerDrive-equipped vans to the United States Postal Service. Additionally, they have plans to produce electric school and transit buses as well as cargo and utility trucks.

Cummins offers the PowerDrive™ 7000 EV to quickly create electric school bus solutions
All said, I like Cummins for both its dividend yield and its growth opportunities. (And I love the fact that they increased their dividend during the Great Recession by a whopping 40%, a huge statement at the time.)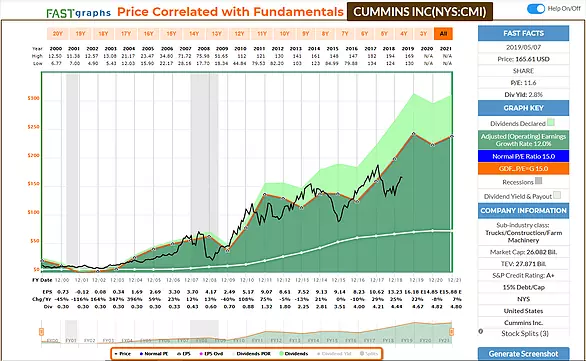 Analysts expect 22% earnings growth for Cummins' 2019 fiscal year. If accurate, dividend hikes may well match that.
Disclosure: I am/we are long EMN, AAPL, CMI.