Osmotica Pharmaceuticals: The Only FDA-Approved Drug For "Droopy Eye" Will Bring In $211M
Jul. 11, 2020 3:57 PM ET
RVLP
Please Note: Blog posts are not selected, edited or screened by Seeking Alpha editors.
Summary
Oxymetazoline Hydrochloride (RVL-1201) Approved for Blepharoptosis on July 9th by FDA.
RVL-1201 has effectively treated mild/moderate Blepharoptosis.
Large potential for expansion in developing countries.
OsmoticaPharmaceuticals still has some financial hurdles to overcome.
On July 9th 2020, Osmotica Pharmaceuticals PLC (OSMT) received FDA approval for the only non-surgical therapeutic to treat the so called "droopy eye" disorder. Their easy eye-drop application can help over 100 million people worldwide including those in developing countries. This Ireland based biopharmaceutical company focuses on developing and commercializing therapies for countries in the western hemisphere. To date, the company offers 40 different products; 6 of them being developed and commercialized directly by Osmotica.
Blepharoptosis and Oxymteazoline Hydrochloride (RVL-1201)
Two main muscles are responsible for opening the eyelids: the levator palebrae superior and the superior tarsal muscle. Blepharoptosis (Ptosis) occurs when there is nerve damage or muscle defects to these muscles. This results in too much muscle relaxation and the eyelid hanging down over the eye, which ultimately reduces field of vision. If left untreated, the patient can develop amblyopia (lazy eye) and will need to wear a patch over the droopy eye. Currently, the only treatment for Blepharoptosis is surgery, which is a service that many developing countries are unable to offer. RVL-1201 stimulates activation of the superior tarsal muscle resulting in a 1 to 2 millimeter lift in the upper eyelid. It is an easy eye drop application. Due to the lack of treatment options, Blepharoptosis commonly goes underdiagnosed in developing countries.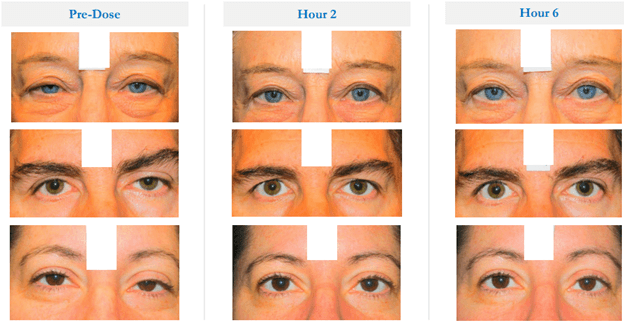 Taken from Osmotica Pharmaceuticals PLC presentation
Osmotica has completed three separate phase III clinical trials testing the efficacy of RVL-1201 in Blepharoptosis patients in the US. In these trials, improvement was measured by two methods: the Leicester Peripheral Field Test (LPFT) and the MRD1. LPFT is a visual field test and MRD1 is a measurement from the pupil (center of the eye) to the upper eyelid. In 2015, the first phase III study (NCT02436759 - Study 201) was initiated to investigate the efficacy of RVL-1201 in Blepharoptosis. Data from this trial was reported that the RVL-1201-treated patients had significantly better LPFT and MRD1 scores than the placebo patients. These improvements were observed at 1 day (p=0.0004) and 14 days (p=0.0004) post treatment. In 2018, the second phase III (NCT03565887 - Study 202) was initiated and showed positive topline data that complemented results from Study 201.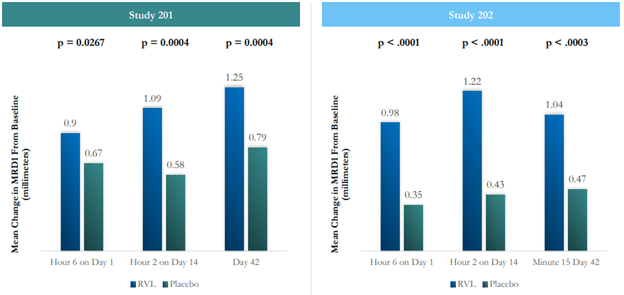 In 2018, the safety of RVL-1201 was tested in blepharoptosis patients as part of Study 203 (NCT03536949). In this study, it was noted that patients treated with RVL-1201 showed mild adverse effects, which had also been reported in the Study 201 and Study 202. In May of 2019, Osmotica submitted a new drug application to the US FDA. A little over a year later, on July 9th of 2020, the FDA finally approved the drug.
Financials
In 2018, Osmotica Pharmaceuticals (OSMT) had their initial public offering trading at $9/share. From 2018 to 2019, Osmotica's revenues dropped by 8.75%. The company largely attributes this mischance to a drop in sales of several of their products. They project the sales of these products will continue to decrease as a result of two new generic drugs that have been approved for the same indications. In 2019, the company's losses deepened by 171.36% compared to the previous year. The company reported $283.7 million in intangible asset impairment charges for 2019. Nonetheless, the approval of RVL-1201 is projected to bring approximately $211 million in sales over the next 6 years, which can bring OSMT back to its former height in revenue.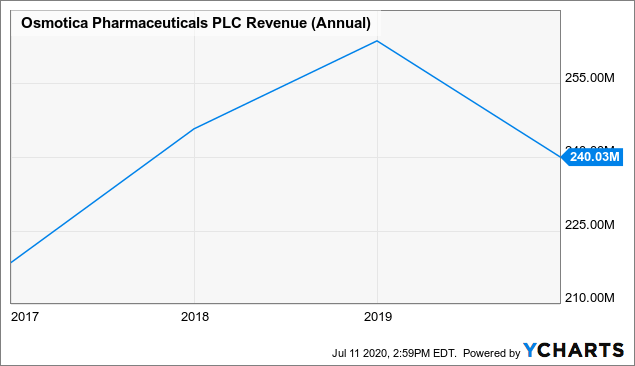 Discussion
Osmotica Pharmaceuticals has a good track record and just gotten a FDA approval for a disease that does not have any therapeutics other than a surgery. RVL-1201 has shown fast results in increasing the field of vision by 35-45% in clinical studies. The easy application will also make it accessible for developing countries, as well as those that are not receiving surgery. On top of this, OSMT is currently working on another promising drug called Arbaclofen ER. On the non-therapeutic side, Osmotica has developed a state of the art drug delivery system (Osmodex®), which is able to control the time interval and rate of release of the drug(s). However, despite all these promising outlook, one should not ignore the fact that the company's pipeline in recent years has sharply declined in sales and will probably continue to do so. It might take much more than RVL-1201 to steady this company's financial turmoil.
Written by: Josiah M. Flaming
Edited by: Seon Hye E. Park 
Analyst's Disclosure: I/we have no positions in any stocks mentioned, and no plans to initiate any positions within the next 72 hours.
I am consultant with BioHealth Consultants, this report encompasses my personal views and were preformed independently of my professional obligations. I have not, nor plan to use this article to supplement my reports written for my profession as a consultant. I do not work with or represent any of the companies mentioned in the article.
Seeking Alpha's Disclosure: Past performance is no guarantee of future results. No recommendation or advice is being given as to whether any investment is suitable for a particular investor. Any views or opinions expressed above may not reflect those of Seeking Alpha as a whole. Seeking Alpha is not a licensed securities dealer, broker or US investment adviser or investment bank. Our analysts are third party authors that include both professional investors and individual investors who may not be licensed or certified by any institute or regulatory body.