Does EGRX Have What It Takes To Be The First Approved Therapy For EHS?
Please Note: Blog posts are not selected, edited or screened by Seeking Alpha editors.
Summary
EGRX PDUFA date August 8th for Ryanodex in EHS.
Ryanodex easier application and higher potency.
Ryanodex will not reverse EGRX's financial issues.
Eagle Pharmaceuticals, Inc (EGRX) is a New Jersey based small-cap pharmaceutical company that specializes in injectable therapeutics. EGRX currently has 3 commercialized products in the market, one of which is Ryanodex (a ryanodine receptor 1 antagonist).This drug inhibits abnormal calcium release resulting in muscle relaxation. In 2014, it was approved for malignant hyperthermia. Eagle Pharmaceuticals is now looking to expand the use of Ryanodex for the treatment of exertional heat stroke (EHS)-a disease with no FDA approved therapeutics as of now. The FDA is expected to decide whether Ryanodex is approved for EHS by August 8th.
Ryanodex and EHS
Eagle Pharmaceuticals uses nanocrystal technology to make a more efficient form of dantrolene sodium called Ryanodex. One vial of Ryanodex is equivalent to 12.5 vials of dantrolene sodium in other forms and requires 91.6% less sterile water for reconstitution, which allows medical professionals to reconstitute and administer the treatment under 1 minute. Eagle Pharmaceuticals is expanding the use of Ryanodex into the EHS market. EHS commonly occurs in outdoor activities due to hot temperatures and often result in muscle cramping, hyperthermia, and in some severe cases, neurological damage and even death. Ryanodex has shown to relax muscles and facilitate neurological recovery in hyperthermia patients. In 2015, 2018 and 2019 clinical trials were conducted on EHS patients from the Hajj pilgrimage (religious celebration held during the summer) in Saudi Arabia to test the efficacy of Ryanodex. In the 2015 study (NCT02513095), patients who received Ryanodex in combination with standard of care reported clinically meaningful improvements in consciousness and neurological levels shortly after treatment. Patients treated had temperatures over 104 °F and took 21% less time to cool down to normal temperatures when treated with Ryanodex. In January 2020, Eagle Pharmaceuticals submitted a new drug application (NDA) with a pooled analysis from the 2015, 2018 and 2019 studies that entailed a total of only 41 patients to the FDA. In March the FDA accepted the NDA and set a decision date for July 8th. On July 8th, the PDUFA (decision data) was postponed by the FDA to August 8th, due to reallocation of personal due to COVID-19.
Financial
EGRX reported $195.9 million in revenue for 2019, $17.4 million less than 2018. They reported a 45% decrease in net income for 2019. In fact, since 2017, EGRX has dropped $41 million in sales and decreased $38 million in net income. Looking deeper into the financial history of EGRX will tell you that the financials have been spiraling downward for the last 5 years. However, due to their impressive pipeline that includes several approved therapies, EGRX is estimated to grow 11% in sales year over year until 2026. Included in this projection is the assumption that Ryanodex is approved for EHS.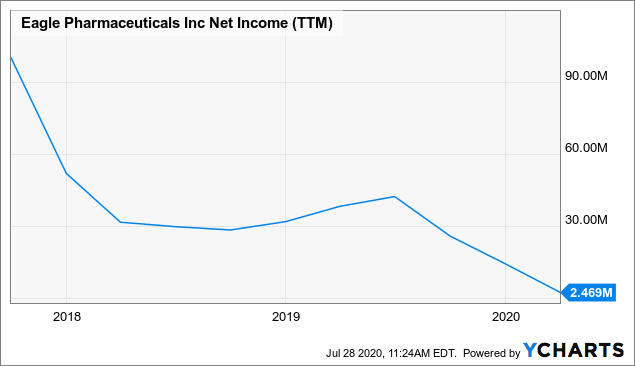 Discussion
The FDA is due to decide on Ryanodex by August 8th. Based on the clinical trial data, Ryanodex looks effective in EHS, however one should be wary of that the sample sizes in the clinical trials are extremely small. In fact, in 2017 the FDA initially rejected the NDA for Ryanodex due to insufficient clinical trial data. Another drawback is that Ryanodex is more expensive and has a shorter half-life than other forms of dantrolene. Nontheless, one should not ignore the fact that, Ryanodex has absolutely no competition in EHS because there is no EHS specific approved therapeutic in the market right now. EHS is the leading cause of death in young athletes and also one of the leading causes of death in non-combat military personnel. Ryanodex will be the treatment of choice for both these populations across the world due to effectiveness and easy application. In addition to these two markets, emergency responders will need Ryanodex for severe patients requiring immediate medical attention. All these can work in favor of Ryanodex's approval by FDA. As for the production pipeline, in addition to their own expansive pipeline, EGRX has entered into collaborations with SymBio and TYME Technologies to bolster some additional therapeutics. Ryondex seems effective and has a significant chance at FDA approval. However, one should note that if Ryanodex does get approved, EGRX will only have until 2023 before generics will begin to encroach on their market. Given the short exclusivity for Ryanodex, EGRX will most likely continue to suffer financially, unless additional therapeutics are approved.
Written by: Josiah M. Flaming
Edited by: Seon Hye E. Park
Analyst's Disclosure: I/we have no positions in any stocks mentioned, and no plans to initiate any positions within the next 72 hours.
I am consultant with BioHealth Consultants, this report encompasses my personal views and were preformed independently of my professional obligations. I have not, nor plan to use this article to supplement my reports written for my profession as a consultant. I do not work with or represent any of the companies mentioned in the article.
Seeking Alpha's Disclosure: Past performance is no guarantee of future results. No recommendation or advice is being given as to whether any investment is suitable for a particular investor. Any views or opinions expressed above may not reflect those of Seeking Alpha as a whole. Seeking Alpha is not a licensed securities dealer, broker or US investment adviser or investment bank. Our analysts are third party authors that include both professional investors and individual investors who may not be licensed or certified by any institute or regulatory body.