Most people can familiarize Booking Holdings Inc. as formally known Priceline Group Inc. If you can't familiarize Priceline Group Inc. by its name, i'm sure you can their iconic commercials with William Shatner and Kaley Cuoco. Booking Holdings Inc. provides online travel and related services in the United States and as of December 31, 2017 operated in approximately 220 countries and territories. It operates websites such as priceline.com, Booking.com, rentalcars.com, and agoda.com. Also operates services like KAYAK and OpenTable. 
Based on Booking Holdings Inc. all time chart, it has been hitting all time highs with it just recently touching $2,228.99 and currently trading at $2,171.49 as of March 16th at day close. It's tough to evaluate stocks during this time with also seeing all time highs from S&P 500 and NASDAQ indexes. In determining on weather or not I would like to trade a specific stock I first look at their price-earnings ratio (P/E ratio). When looking at Booking Holdings Inc. P/E ratio, I also examined its competitors because it carries more meaning in comparison across the sector. Booking Holdings Inc.(BKNG) P/E ratio of 46.34  looks high but when compared to its competitor like Expedia (EXPE) with a P/E ratio of 47.76 it looks like the norm and doesn't look as overpriced as just looking at BKNG alone. I also take in consideration whether the company pays a dividend. I usually prefer only stocks that pay a dividend but they're definitely some exceptions and Booking Holdings could make the list to the exceptions. On December 31st, 2017 Booking record revenue of 10,314,692,000 and on December 31st, 2017 it was 12,436,545,000, which is a jump of 18.04% and basic earnings per share jumped 10.76% from $43.14 to $47.78. Booking is expected to report earnings on May 8th, 2018. 
The Following Graph represents a $100 dollar investment that is hypothetically made five years ago. The RDG internet Composite index of stocks represents the internet industry, including internet software, service companies, and e-commerce companies.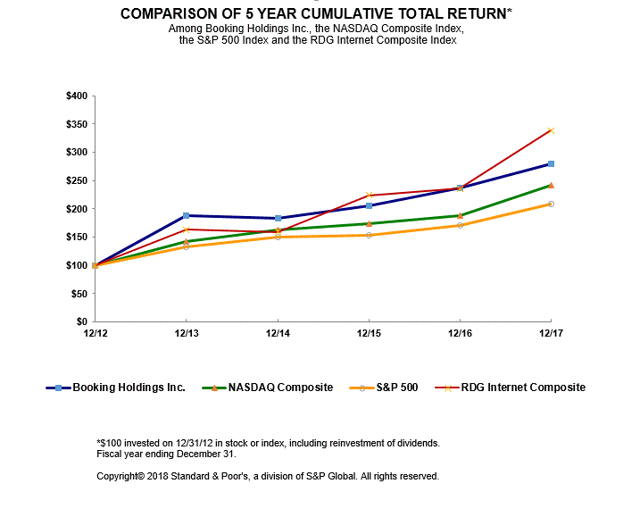 https://www.sec.gov/Archives/edgar/data/1075531/000107553118000015/pcln-20171231_10k.htm
This graph doesn't indicate that these companies or indexes will continue with their uptrend. As you can see Booking Holdings Inc. only trails RDG Internet Composite Index, while beating the Standard & Poor's and the NASDAQ Composite over the last five years. This represents that Booking Holdings Inc. has a well established business that could flourish in improving economic times. The historical average of the Standard & Poor's 500 is 7% annually adjusted for inflation. Most companies in the market can't outperform the market over long periods of time. Companies that have moats are in the running to compete with the markets in the long-term. A economic moat refers to having and holding a competitive advantage in business over its competitors in attempt to maintain profits and market share.At this point it seems that Booking.com is very much on its way to a moat, if not already attains it in its international markets. 
In investing, one must first determine how long they intend to hold on to that specific investment. One could use the short term approach, which in my opinion a lot riskier, that includes anything from day trading to one year or to a few years. The long term approach can be 5 years, 10 year, 20 years, or even a lifetime. The market is a volatile place and if you're not ready for it short term investing it will be a nightmare more times than not. That's why I prefer the long term approach a lot more because in my opinion it's less risky. If you choose a companies like Booking Holdings Inc to hold long term or even if you just invest in the S&P 500 as a whole and get a 7% average return rather than gambling on stocks in the short term you will likely produce better results. People with a long term approach will think a dip as of a hiccup in their journey and a short term approach will think a dip is a start of a long propel down. If you take the long time approach a dip might be a good entry point. 
Disclosure: I/we have no positions in any stocks mentioned, and no plans to initiate any positions within the next 72 hours.
I wrote this article myself, and it expresses my own opinions. I am not receiving compensation for it (other than from Seeking Alpha). I have no business relationship with any company whose stock is mentioned in this article.