ESSA Pharmaceutical (NASDAQ: EPIX) is a preclinical-stage pharmaceutical company focused on developing novel and proprietary therapies for the treatment of prostate cancer in patients whose disease is progressing despite treatment with current FDA-approved therapies. The company focuses on the development of small molecule drugs that selectively block the N-terminal domain of the androgen receptor (NYSE:AR).
Essa Working On The frontiers of Prostate Cancer Technology And Biotechnology
This is the bold statement that Essa's CEO David R. Parkinson, President and Chief Executive Officer made at the Bloom Burton & Co. Healthcare Investor Conference 2018 on Wednesday, May 2nd, 2018. in Toronto, Canada.
I believe he is right, and for this reason if the company succeeds in its approach it will command significantly higher valuations.
Despite the advances and approvals over the last 4 – 5 years in anti-androgen development for prostate cancer there remains a huge unmet medical need.
Essa's drug candidates are unique in that they shutdown androgen biology in a manner very distinct from the 60 years of anti-androgen development. The company focuses its research on the opposite side of the androgen receptor thus blocking the resistance mechanisms which eventually render current therapies ineffective.
Specifically, Essa's compounds act by disrupting the androgen receptor (AR) signaling pathway which is the primary pathway that drives prostate cancer growth. This is accomplished by preventing AR activation through selective binding to the Tau-5 region of the N-terminal domain (NTD) of the AR.
The AR is composed of three distinct domains:
Ligand-binding domain – Binds to androgen hormones
DNA-binding domain – Binds to DNA in cells
N-terminal domain – Controls the ability of the AR to regulate gene transcription
All nine FDA-approved drugs for prostate cancer  target the AR  Ligand-binding domain as shown on the following slide from the Bloom Burton & Co. Healthcare Investor Conference 2018 presentation: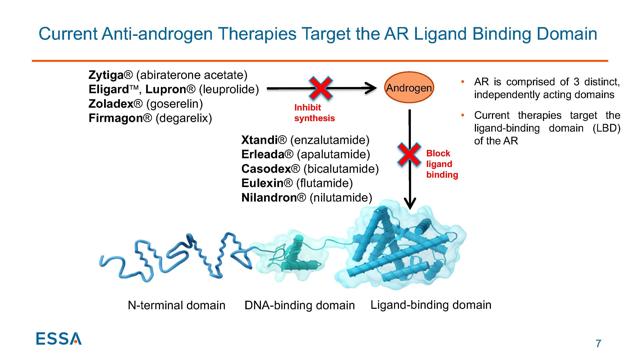 The estimated global sales for these therapies exceeds $5B. The current FDA-approved drugs for prostate cancer are the result of 60 years of investigation focused on shutting down or control the AR that promotes this type of cancer.
Current hormonal therapies work by either depleting levels of androgen, inhibiting the synthesis of androgens, or by preventing androgen from binding to the AR. However, prolonged treatment to current therapies can render cancer resistant to existing therapies over time. 
The development of resistance can involve a multitude of mechanisms, however these commonly involve the development of mutations in the AR ligand-binding domain, allowing the AR to remain active. By targeting a different segment of the AR, the N-terminal domain, the company's compounds may bypass these resistance mechanisms.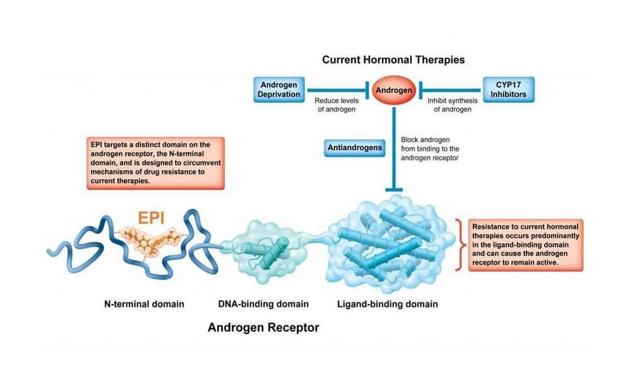 Essa is the ONLY company that has found small molecules (EPI) that work in the NTD end of the AR, and thus add a potential significant hope for prostate-cancer patients.
Essa's therapeutic goal, as stated in its most recent yearly financial update, is to develop a safe and effective therapy for prostate cancer patients whose tumors have progressed on current anti-androgen therapy. However, the action of Essa's NTD-inhibiting Aniten compounds suggests that there may be additional therapeutic advantage to combining these agents with FDA-approved anti-androgens at an earlier stage of treatment. Therefore, while the first priority is to advance its NTD-inhibitor candidates, Essa is also conducting preclinical studies of combination therapy with academic and industry collaborators.
Ultimately, Essa's drugs will likely be used in conjunction with other FDA-approved drugs to promote complete shutdown of androgen biology, extend progression-free outcomes, and induce deeper responses to improve the overall quality of life of prostate-cancer patients.
With that in mind, Essa's drug-development philosophy is to execute all the necessary steps that would make its drugs attractive to large pharma according to CEO Parkinson.
Speaking of Essa's CEO and President, David R. Parkinson, he has served a venture partner at NEA, led oncology clinical development activities at Novartis, Amgen and Biogen, has worked at the National Cancer Institute, serving as Chief of the Investigational Drug Branch. He is a past Chairman of the FDA Biologics Advisory Committee and has authored over 100 peer-reviewed publications. 
Before joining Essa, former CMO, Frank Perabo, was at Astellas, where he was instrumental in the development and approval of one of the world's major prostate cancer treatments, Xtandi. Mr. Perabo continues to support the Company in an advisory role, and as a member of our medical advisory committee.
The Chairman of the Board is Richard Glickman, who is better known as the CEO and Chairman of Aurinia Pharmaceuticals (NASDAQ: AUPH). 
The following slide summarizes the extensive experience of Essa's top three executives: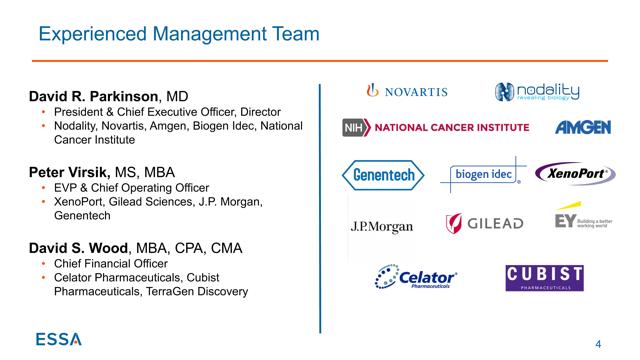 Similarities To Edison's "The Agony Of Defeat And Eventual Thrill Of Victory"
EPIX traded as high as $250/share in June 2015, and even a year ago it traded at $50+/share. Currently it's trading at all-time lows at $3.2/share.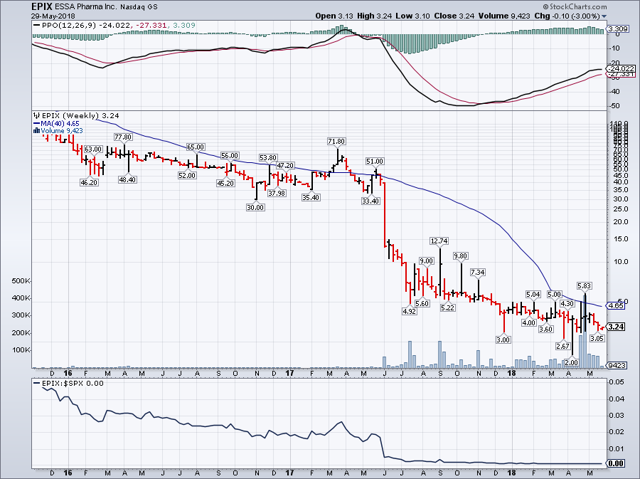 Ironically, EPIX is likely in a better position now than it was a year or three years ago. You will understand what I mean after you read (and understand) this article. 
Essa's fortunes have been associated with the victories (ASCO 2015) and eventual defeat in September 2017 of it's lead drug candidate EPI-506. Investors appear to think that the company had no future after the September 11, 2017 announcement that the Company made the strategic decision to advance its next-generation Aniten program for mCRPC over further clinical development of EPI-506.
But, as in the case of Thomas Edison who failed over 5000 times in his effort to invent the incandescent light, Essa identified the many shortcomings of EPI-506 thus enabling them to formulate, what CEO Parkinson believes, several drug candidates that he expects could become blockbusters in the fight against prostate-cancer.
The two biggest lessons-learned from the EPI-506 program were:
1) It wasn't potent enough to overcome the challenges related to elderly patients whose disease progressed despite having been treated with current FDA-approved drugs.
2) A short half-life that left patients unprotected while the AR did its harmful work.
The following slide summarizes all lessons learned from EPI-506 Phase 1 results: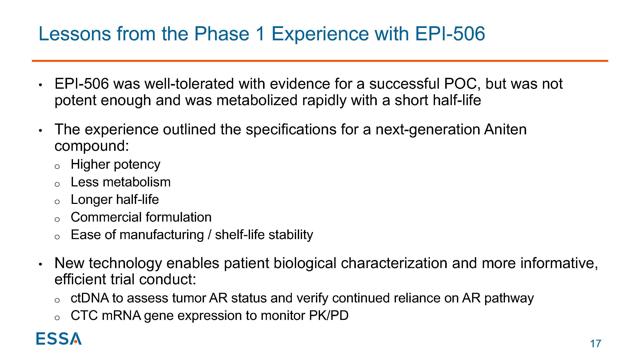 From those lessons, Essa focused on overcoming all the known EPI-506 drawbacks and to enhance the positives of that program as follows: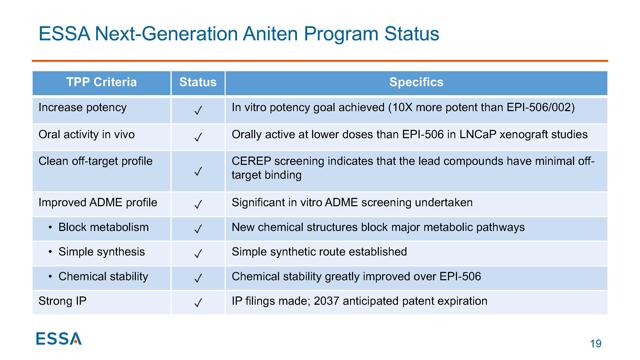 Fast forward to today, CEO Parkinson reported at Bloom-Burton 2018 that after screening several hundred molecules against the above criteria it has identified three strong candidates that meet or exceed all their requirements. CEO Parkinson stated that the company will announce one and probably two of the following compounds to advance them through clinical trials in the next few weeks: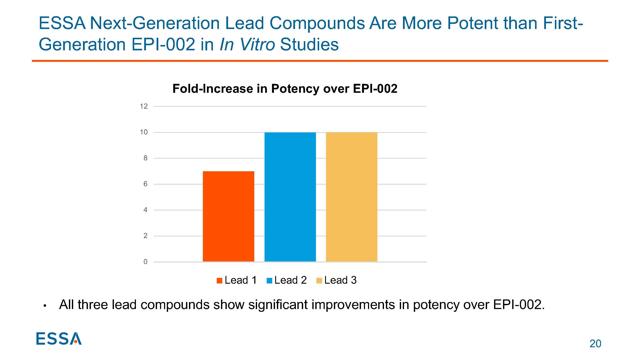 To avoid confusion, EPI-002 was the active drug that derived from EPI-506 (a tri-acetate prodrug) upon ingestion. 
The slide shows that lead products 2 and 3 have 10-times the potency of EPI-506. Why is this important? It is because prostate-specific antigen ("PSA") declines ranging from 4% to 29% were observed in five patients, which occurred predominantly in the higher dose cohorts (≥1280 mg) in Phase 1 EPI-506 clinical trials. Doses as high as 3600 mg were used in these trials. At the highest dose, gastrointestinal adverse events (nausea, vomiting, abdominal pain) were observed. 
Financial Position
Essa is well-funded with a reported cash position of $22M at the end of 1Q 2018 as reported on May 14, 2018. During the May 1, 2018 Bloom & Burton Healthcare Conference, CEO Parkinson stated that the current cash burn runs between $800K and $900K/month.
Institutional Ownership
Several well known institutional investors own over 60% of the company. They've participated in the January 2018 $26M equity raise. The number of shares shown on the link were before the April 25, 2018 20 for 1 reverse split. Following the reverse split the company reported 5.8M outstanding shares. The resulting current public float is about 2M shares
Analyst Ratings
On May 15, 2018, H.C. Wainwright & Co. reiterated its Buy rating on the stock and assigned a  $14/share price target. This price target represents a 300% upside over the stock's most recent closing price of $3.23/share.
Risks and Uncertainties
Investors should review all the risks and uncertainties as detailed in the Company's most recent yearly filing with the SEC.  Additionally, the stock is subject to significant spikes up or down because of its tiny 2M share public float
Conclusions
The company is grossly undervalued because investors might believe the company is dead as it's only prostate cancer drug undergoing clinical trials was discontinued. I believe Essa is in the strongest position in the company's history because it is well funded and because it is about to unleash the power of drugs having 10 times the potency of EPI-506. Actually, Essa's market cap of $18M is below the $21M cash the company has to operate well into late 2019.
There are four significant institutional investors, BVF, Clarus, Omega, and Eventide, that have invested $26M earlier this year at higher prices than today's. This is because they believe Essa provides a unique and compelling investment opportunity because its science is strong and its IP protected through 2037. 
The addressable market for prostate cancer is huge as over 160,000 new cases of prostate cancer are reported yearly in the US alone with global sales in 2017 exceeding $5B.
CEO Parkinson is very cognizant of the potential interest of large pharma as the company's next-generation drug candidates are advanced through the clinical process. He recently stated that he will make sure that clinical trials will be executed with all the details and data quality that large pharma requires to enter into partnership agreements or buyout scenarios.
Essa's next-generation drug candidates will enjoy IP protection thorough 2017 making it difficult for other companies to enter its reign over the NTD domain of the androgen receptor.
H.C. Wainwright & Co. has a $14/share price target which I believe is conservative.  Based on the company's strong financial condition and first-of-its-kind technology to combat prostate cancer, I believe a PT of $30/share is reasonable based on biotech companies with similar characteristics.
Finally, Essa's management team is first class with members having participated in the development and launch of several blockbuster FDA-approved drugs.
Disclosure: I am/we are long EPIX.