Discussion
ESSA Pharmaceutical (NASDAQ: EPIX) is a pharmaceutical company focused on developing novel and proprietary therapies for the treatment of prostate cancer in patients whose disease is progressing despite treatment with current FDA-approved therapies. The company focuses on the development of small molecule drugs that selectively block the N-terminal domain of the androgen receptor [AR]. The company has offices in Vancouver, BC; San Francisco, CA; and Houston, TX.
There have been several significant new developments in recent weeks that prompted me to write this update.  Instead of discussing them here, I will incorporate them in the body of my previous update to make it less distracting to new readers.
After several delays that caused the share price to tank, the company announced in its 2018 Annual financial release dated December 13, 2018, the following specific information about its next-generation prostate cancer drug candidates:
"Achieved significant progress in advancing the Company's next-generation aniten program toward identifying a lead clinical product candidate and submitting an Investigational New Drug Application to the U.S. Food and Drug Administration."
"Lead compounds are at least fifteen times more potent and five times more stable in vitro compared to the first-generation aniten N-terminal domain inhibitor compound, EPI-506."
"Two poster abstracts accepted for presentation at the American Society of Clinical Oncology Genitourinary Symposium (ASCO-GU) in February 2019, which will be the first public presentation of preclinical data from ESSA's new aniten compounds."
The GenitoUrinary Cancers Symposium (ASCO-GU) will be held in San Francisco, California from February 14 to February 1, 2019. The website states that the abstracts will be released on February 11, 2019.
The following are the two Essa Pharma posters listed on that website. Both posters will be presented on February 14, 2019 by Ronan Le Moigne, PhD, Senior Director, Preclinical Development and Translational Medicine at ESSA Pharmaceuticals: :
Abstract 220: Next generation N-terminal domain androgen receptor inhibitors with improved potency and metabolic stability in castration-resistant prostate cancer models.
Abstract 257: Lessons learned from the metastatic castration-resistant prostate cancer phase I trial of EPI-506, a first-generation androgen receptor N-terminal domain inhibitor.
Doctor Le Moigne, and Han-Jie Zhou, Ph.D joined the company on April 24, 2019. I believe these key hires were pivotal in the planning and execution of an exhaustive and successful pre-clinical program. I also believe these two scientists played a key role in the delay in announcing the next-generation drug candidate that was originally expected in mid summer. This delay, although detrimental to the share price for the last 6 months, will prove to be a significant benefit for long-term shareholders and prostate cancer patients alike.
Recent comments in filings and company presentations leads me to believe that the effort led by Le Moigne and Zhou has resulted in a stronger and more robust IND candidate, which will be announced soon prior to ASCO-GU. These two highly-regarded scientists came from Cleave Biosciences, a private biopharmaceutical company pioneering the development of novel protein homeostasis inhibitors for the treatment of cancer. I don't believe it is a coincidence that Clarus Ventures, Essa Pharma's largest institutional investor, is also an investor in Cleave, which is backed by several well-known biotech funds. 
In the December 13, 2018 corporate update, David Parkinson, Essa Pharma's President and CEO commented:
"We will make a final IND candidate selection following full compound selectivity characterization and in vivo animal model results, which are expected in the first calendar quarter of 2019. We look forward to preparing our lead candidate efficiently in order to enter the clinic as expeditiously as possible after our IND submission."
The press release and associated filing further highlighted the following information which I believe it's very significant:
"The ability of the first in the series of these next-generation molecules to reduce tumor growth was confirmed in a human prostate cancer xenograft model. In this preclinical study, the next-generation compound reduced tumor growth compared to the control using low daily doses of the drug."
"This next- generation compound also inhibited in vitro cellular proliferation of an enzalutamide-resistant cell line."
I should note that enzatulamide is the generic name of Pfizer (PFE) billion-dollar prostate cancer drug Xtandi. Sales of Xtandi are expected to quickly grow to about $5 Billion in 2020.
Essa Pharma's Aniten Prostate Cancer Technology Is Unique And Potentially Disruptive
Despite the advances and approvals over the last decade in anti-androgen hormone therapy for prostate cancer, there remains a huge unmet medical need. The estimated global sales for these therapies exceeds $6B and it's expected to exceed $10B by 2021. The current FDA-approved drugs for prostate cancer are the result of 60 years of investigation focused on shutting down the Androgen Receptor growth mechanisms that promote tumor growth in this type of cancer.
ESSA's drug candidates are unique in that they shutdown the Androgen Receptor's biology in a very unique and potentially disruptive way as will be discussed in some detail later.
It is known that the Androgen Receptor is composed of three distinct domains:
Ligand-binding domain – Binds to androgen hormones
DNA-binding domain – Binds to DNA in cells
N-terminal domain – Controls the ability of the AR to regulate gene transcription
All ten currently FDA-approved drugs for prostate cancer target the Androgen Receptor's Ligand-binding domain, or at the right end of the AR as shown on the slide below (Source: January 7, 2019 Company Presentation):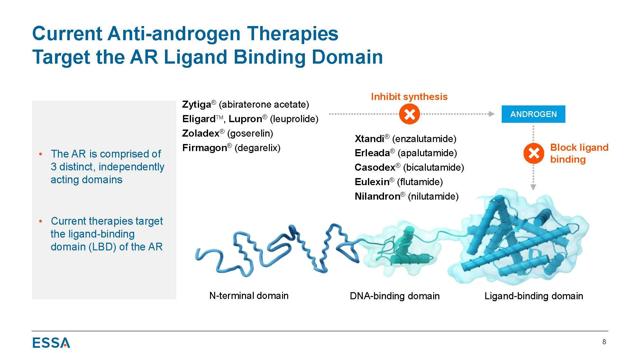 It is known that extended use the currently approved drugs shown on the above slide (and the table below), causes the development of resistance which can involve a multitude of mechanisms. The most common one involves the development of mutations in the ligand-binding domain, allowing the AR to remain active. By targeting a different segment of the AR, the N-terminal domain, the company's compounds may bypass these resistance mechanisms shown in the following slide: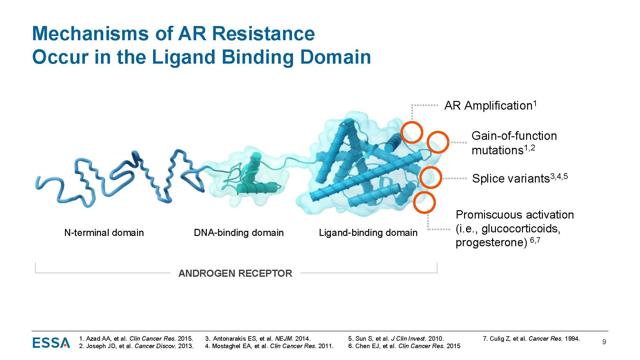 Essa Pharma is the ONLY company that has found small molecules (EPI) that offer a significant alternative and hope for prostate-cancer patients with progressive disease. Essa' small molecules are formulated to disrupt the Androgen Receptor (AR) signaling pathway by selectively binding to the N-terminal domain (NTD) of the AR (left end of the AR as shown on the following slide (Source: Bloom Burton Healthcare Conference, May, 2018):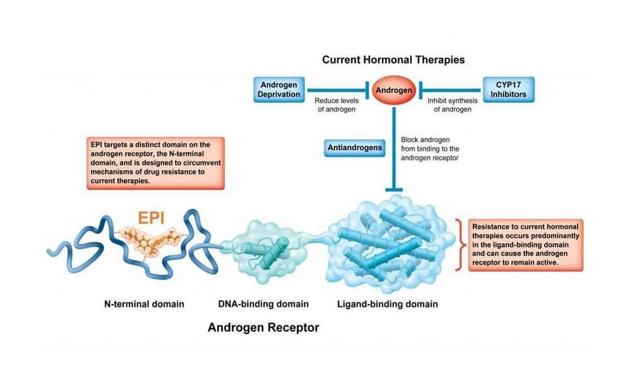 More specifically (Source: January 7, 2019 Company Presentation),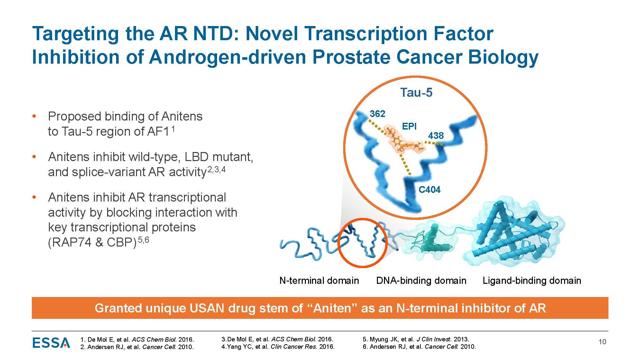 Because Essa Pharma's prostate cancer technology is so unique, it was granted a unique USAN drug stem of "Aniten" as an N-terminal inhibitor of AR. Receiving a new USAN designation is not a trivial matter. The American Medical Association which grants USANs describes them as follows"
"The United States Adopted Names (USAN) Council's goal is to provide meaningful designations for compounds, enhancing prescribing and patient safety. Excessive stem creation diminishes the usefulness of the system. The council strives to use existing stem whenever possible. The burden of proof falls on the applicant to show it is warranted for a new stem to be assigned."
"In the opinion of the council, a new stem may be coined if substantial data shows a substance is unique and cannot fit existing nomenclature."
Prostate Cancer Facts
Almost 10% of all new cancer cases and 5% of all cancer deaths are related to prostate cancer. Despite a significant progress made in the last 10 years in getting prostate cancer drugs approved by the FDA as will be explained below, it remains a significant unmet need as those using approved drugs develop resistance to those drugs over time.
The global market for prostate cancer drugs is expected to grow from $7B in 2017 to close to $20B in 2025. One of the lead drugs is Pfizer (NYSE: PFE) enzalutamide which is the generic name for Xtandi. FiercePharma projects Xtandi sales to grow from $1.78 billion in 2015 to almost $5 billion in 2020.
The FY 2018 annual report stated regarding one of the next-generation drug candidates that made it to the final selection round: "This next- generation compound also inhibited in vitro cellular proliferation of an enzalutamide-resistant cell line. I find this to be a very significant and compelling finding thus far. I will discuss this in more detail later in this article.
Here are some compelling, and scary, statistics about prostate cancer for us men (Source: NIH):
164,690 new cases in 2018
29,430 deaths estimated for 2018
Lifetime Risk of Developing Cancer: Approximately 11.2 percent of all men will be diagnosed with prostate cancer at some point during their lifetime.
Prevalence of This Cancer: In 2015, there were an estimated 3,120,176 men living with prostate cancer in the United States.
Table 1  FDA-approved drugs for men with metastatic castration-resistant prostate cancer (mCRPC ):
| | | | | |
| --- | --- | --- | --- | --- |
| Drug Name | Molecule Name | Action | Target Location On Androgen Receptor | Drug Company |
| Zytiga | Abiraterone Acetate | Inhibits AR synthesis | Ligand-binding domain | Janssen/ Johnson & Johnson (JNJ) |
| Eligard | Leuprolide Acetate | Inhibits AR synthesis | Ligand-binding domain | Tolmar Pharma (Private) |
| Lupron | Leuprolide Acetate | Inhibits AR synthesis | Ligand-binding domain | Abbvie (ABBV) |
| Zoladex | Goselerin Acetate | Inhibits AR synthesis | Ligand-binding domain | TerSera Therapeutics (private) |
| Firmagon | Degalerix | Inhibits AR synthesis | Ligand-binding domain | Ferring Pharma (Private) |
| Xtandi | Enzalutamide | Blocks ligand binding | Ligand-binding domain | Pfizer (PFE) |
| Erleada | Apalutamide | Blocks ligand binding | Ligand-binding domain | Janssen/ Johnson & Johnson (JNJ |
| Casodex | Bicalutamide | Blocks ligand binding | Ligand-binding domain | AstraZeneca (AZN) |
| Eulexin | Flutamide | Blocks ligand binding | Ligand-binding domain | Schering-Plough (SGP) |
| Nilandron | Nilutamide | Blocks ligand binding | Ligand-binding domain | Roussel (Private) |
Brief Review Of First-Generation, Proof-Of-Concept EPI-506 Drug Candidate
The company advanced its unique Aniten-designated prostate cancer program  using its first-generation EPI-506 drug candidate. Having spent over $100M over the years in the development of EPI-506 all the way to the end of Phase 1 was both disappointing was fruitful.  It was disappointing because the company announced that it would discontinue its development on September 11, 2107. Conversely, it was fruitful because it provided the company with solid data and excellent proof-of-concept (POC), and a myriad of useful lessons learned to incorporate them into it's next-generation Aniten program.
The Phase 1 trial revealed that the drug was not potent enough and was significantly more metabolized in humans than in animals, leading to an unwanted short half-life of only about 4 to 5 hours of circulating drug. Consequently, very high doses were required to achieve the desired overall exposures as seen in these results from Phase 1: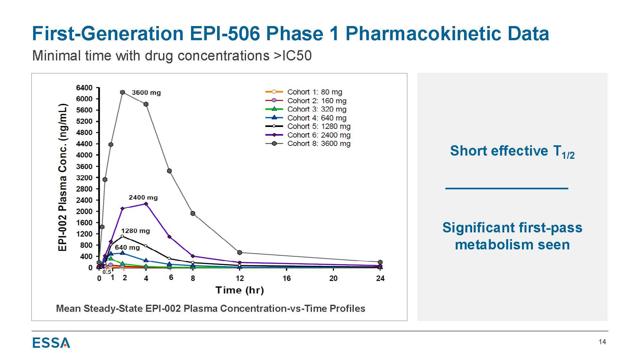 It is obvious that a 4-hour half life treatment is not adequate to control a disease that works 24 hours. In Phase 1 it was necessary to administer doses from 1000 to 3600 mg/day to achieve significant reductions in prostate specific antigen (PSA) levels. 
Despite the very high doses of EPI-506, it was well-tolerated even at the highest daily dose as ween in the following slide: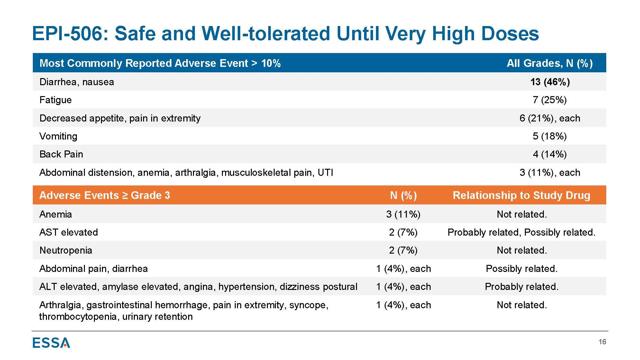 To summarize, the three biggest lessons-learned from the EPI-506 program are shown on the following slide from the January 7 2019 Company Presentation:

Next-Generation Prostate Cancer Drug Program
Throughout 2018, the Essa Pharma team has been focused on developing this next generation drug candidates based on lessons learned from the EPI-506 program. 
The following slide summarizes the progress the company had made through September 2017 when it presented an update at the 20th Annual Global Investment Conference sponsored by H. C. Wainwright & Company: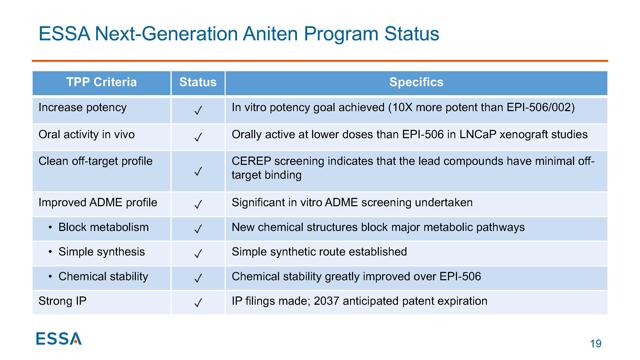 From September, 2018 to January 2019 the company made significant progress on several fronts according to the January 7, 2019 Company Presentation: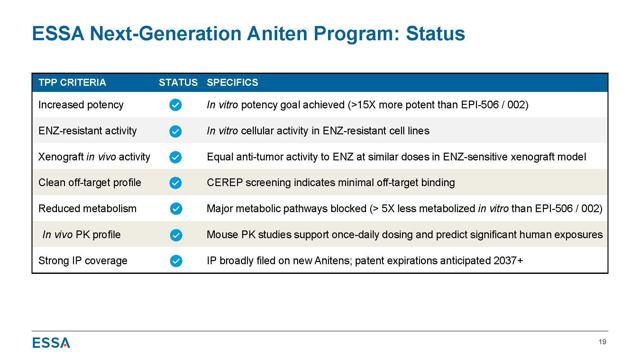 When I compare the two tables, the most important next-generation program improvements were made in the following areas:
Higher Potency - In January 2019 the potency of the final candidates exceeded 15 times the potency of EPI-506, the Phase 1 Proof-of-Concept formulation.
Reduced Metabolism/Longer Half Life -The best next-gen candidates are over 5 times more stable, or less matabolized, than EPI-506. This in turn will increase the half-life of the chosen formulation to about 24 hours compared to only 4 - 5 hours of EPI-506 as discussed above.
Stops Resistance to Xtandi Therapy - The best next-generation candidates demonstrated excellent in vitro cellular activity in ENZ-resistant cell lines. Remember ENZ (enzalutamide) refers to PFE's multi-billion prostate cancer blockbuster drug Xtandi.
Anti-Tumor Activity Equal to Xtandi - Next-gen candidates exhibited similar anti-tumor activity to Xtandi at similar doses.
Significant Human Exposure - Once daily dosing results in significant human exposure.
In the the company's annual report, (December 13, 2018) the company made  the following statements regarding the status of its next-generation EPI compounds:
"The Company is focused on the advancement of next-generation Aniten NTD inhibitors designed to improve upon the properties of the first-generation compound, EPI-506. A series of oral small molecule compounds have been identified which, while retaining the common mechanism of action to interfere with AR-mediated signaling, hold the promise of improved properties such as enhanced potency, reduced susceptibility to metabolism and improved drug-like properties. Several of these compounds are currently being characterized in more detail with the goal of selecting a next-generation development compound based on certain established criteria. The Company also continues to conduct preclinical combination studies (with FDA-approved drugs attacking the opposite end of the Androgen Receptor as listed in Table 1 above)."
"These next-generation compounds were discovered through chemical modification of the first-generation drug. Specific chemical changes to the structure of the first generation drug have resulted in increased potency in an in vitro AR-based gene transcription assay, exhibiting greater 15 times higher potency than first-gen drug.
"The ability of the first in the series of these next-generation molecules to reduce tumor growth was confirmed in a human prostate cancer xenograft model. In this preclinical study, the next-generation compound reduced tumor growth compared to the control using low daily doses of the drug."
"This next- generation compound also inhibited in vitro cellular proliferation of an enzalutamide-resistant cell line."
"In addition to higher potency, the next-generation compounds are designed to reduce the metabolism of these agents following oral dosing compared to EPI-506. Importantly, the next-generation compounds exhibiting less in vitro metabolism were tested against off-target screening. Broad characterization of these compounds has demonstrated minimal non-specific binding properties in this screening, indicating a favorable selectivity profile for further development. The most promising of these next-generation compounds are in the final stages of preclinical characterization, as required to select a final IND candidate."
According to the latest corporate update, the Company screened over 500 molecules throughout 2018 in its effort to identify significantly more potent drug candidates with increased resistance to metabolism as well as improved pharmaceutical properties. Besides overcoming all major EPI-506 limitations, to be considered "commercial grade," next-gen drug candidates had to have improved manufacturability, stability, and likelihood of successful commercial formulation that would generate significant gross margins. I believe the company is there now and we will be hearing details in the following weeks when it announces the selected candidates and when they report important pre-clinical results at ASCO-GU in Mid February 2019.
Executive Team
Essa Pharmaceuticals' Chairman of the Board is Richard Glickman, who is better known as the CEO and Chairman of Aurinia Pharmaceuticals (NASDAQ: AUPH). The BOD includes two activist shareholders: 1) Scott Requadt, who is Managing Director of Clarus Ventures (one of the Big Three institutional Investors), and 2) the recently appointed Otello Stampacchia, who is the founder and Managing Director of Omega Funds (another Big Three institutional investor).
The following slide summarizes the extensive experience of Essa's top three executives: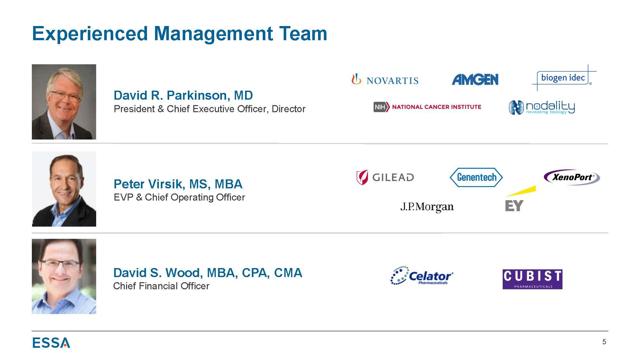 Essa Pharma A Potential Acquisition Candidate?
Essa Pharma's CEO David Parkinson is very cognizant of the potential interest of large pharma for the company's next-generation drug candidates as they advance through the clinical process. He recently stated that Essa is making sure that clinical trials are being executed with all the details and data quality that large pharma requires - to enter into partnership agreements or buyout scenarios.
CEO Parkinson commented at the May 2018 Bloom and Burton Healthcare Conference:
"We keep big pharma educated about what we are doing because there comes a time in the affairs of small biotech companies where you have taken a drug and developed it as far as it makes sense and a number of options start opening up."
"But is better if you've positioned the drug in such a way to make it easy for large pharma to understand what the drug means to them, for them to have confidence in how the drug has been developed, that it is to their kind of specifications so that there is opportunity for cooperation, coordination, (acquisition, partnership), or whatever."
"We have actually been interacting with some of the big companies."
Very wise words and approach in my opinion. Let me guess what "those big companies" might be: 1) Pfizer (NYSE:PFE), because Essa has been using ENZ/Xtandi as the high bar to compare their results and compatibility to; 2) Johnson & Johnson (NYSE: JNJ) owner of blockbuster drugs Erleada & Zitiga; 3) Abbvie (NYSE:ABBV) owner of multi-indication drug Lupron; AstraZeneza (NYSE: AZN), and others. 
Why would all those large pharma be interested into what tiny Essa Pharma is doing? Because all of them act on the Ligand-Binding Domain of the Androgen Receptor as discussed above and shown on table 1 above. To get a competitive advantage it would make sense to partner or acquire Essa Pharma to control both ends of the Androgen Receptor.
According to CEO Parkinson, Essa Pharma's Aniten drugs will likely be used in conjunction with other FDA-approved drugs to promote complete shutdown of androgen biology, extend progression-free outcomes, and induce deeper responses to improve the overall quality of life of prostate-cancer patients.
Large pharma companies jump at the opportunity of acquiring promising prostate cancer drug candidates even in early stages of clinical development. This was the case in 2013 when JNJ paid $1 Billion to acquire private company Aragon which was developing its prostate drug candidate ARN-509. The drug was in phase 2 at the time of the acquisition. Since many of us are fascinated with the race to the Super Bowl this year, acquiring Essa Pharma as a mid-stage clinical trial for its prostate cancer drug candidate would be similar to what Kansas City did last year to draft Patrick Mahomes. In other words a home-run. Although we are far from that point in time, it is a very real possibility that only ultra-longs will get to benefit from.
Also recall that Essa is not a typical pre-clinical stage biotech company. It has spent over $100M in the last few years advancing its Aniten EPI program all the way to the end of Phase 1. By applying all lessons learned from EPI-506, and incorporating new technologies to enable improved patient biological characterization, it will more efficiently conduct this new phase of the program. These technologies are: 1) ctDNA to assess tumor AR status and verify continued reliance on AR pathway, and 2) CTC mRNA gene expression to monitor PK/PD.
Additionally, CEO Parkinson stated at the May 2018 Bloom and Burton Healthcare Conference that they plan to work with collaborators to address breast cancer using its next-generation EPI drugs because the AR also plays a role in this type pf cancer.
The CPRIT Factor
The uniqueness and high potential Of Essa Pharma's Aniten program led The Cancer Prevention & Research Institute of Texas (CPRIT) to grant the company $12M in February, 2014 to develop the EPI-506 program.
"Texas voters overwhelmingly approved a constitutional amendment in 2007 establishing the Cancer Prevention and Research Institute of Texas (CPRIT) and authorizing the state to issue $3 billion in bonds to fund groundbreaking cancer research and prevention programs and services in Texas. CPRIT's goal is to expedite innovation in cancer research and product development, and to enhance access to evidence-based prevention programs throughout the state."
"All CPRIT-funded research will be conducted in state by Texas-based scientists and reflect CPRIT's mission to attract and expand the state's research capabilities and create high quality new jobs in Texas."
The Company's December 13, 2018 Full Year 2018 filing with the SEC stated,
"The total of the CPRIT Grant was US$12 million, of which ESSA has received a total of US$11.7 million to date,"
"The CPRIT Grant is subject to various requirements, including ESSA's compliance with the scope of work outlined in the CPRIT Agreement and demonstration of its progress towards achievement of the milestones set forth in the CPRIT Agreement."
One of the CPRIT grant requirements is that the company should maintain an operating office in the state of Texas. According to the most recent filing and the CEO's HC Wainwright presentation, the Company has offices in Vancouver, BC, Houston, Texas, and in San Francisco. Also a stipulation of the CPRIT agreement is that Essa Pharma must repay the grant once the drug is commercial.
Because several companies have received multiple grants from CPRIT, I believe Essa Pharma lobbyists in Houston might already be working with CPRIT to receive a follow-on, non-dilutive grant to continue the program. I believe the odds for that to happen are good because the next-generation program is significantly more advanced and strong than in 2014 when the EPI program was only a promise.
Stock Price and Trading Volumes
Despite its potential disruptive approach to prostate cancer, the stock price not far from its all-time. I believe this is because management has repeatedly failed to deliver on its self-imposed deadlines to announce the next-generation EPI drugs. But as I've discussed above; those delays were justified, and in retrospect, a blessing for long-term investors as well as for prostate cancer patients.
The persistent delays in announcing the next-gen drug candidates and the 4Q 2018 market meltdown have contributed to a valuation of 30% below cash on hand at the start of 2019.  The stock price has since recovered to a level similar to pre-October levels as seen in the chart below.
The chart also hows how the stock price has fared in the last two years. The biggest drop seen in June 2017 was related to hints at ASCO that EPI-506 might not be strong enough to lower PSA significantly unless very high doses were used despite the drug being well-tolerated and very specific.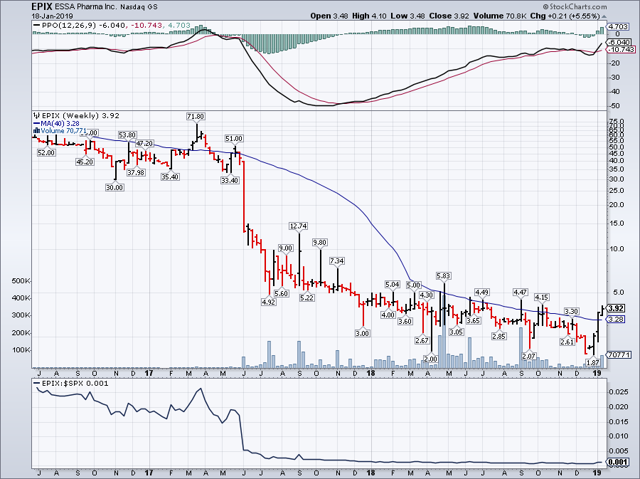 I believe EPIX is in a better position now than it was three years ago when it traded at an equivalent $250/share. This is because of the significant amount of work that has been accomplished since then to position the company for a potential significant rally going forward.
Institutional Ownership
Clarus Ventures and Clarus LifeSciences, Omega Fund management, BVF, and Eventide all participated in the $26M equity offering executed in January 2018. Altogether, the institutional ownership  is very large (85% fully diluted) for a company of Essa's size. I must add that there is significant discrepancy in the number of shares owned by each institution depending on the source. I've tried my best reconciling those differences and relying mostly of Essa's filings with the SEC:
Table 2. Institutional Holdings
| | |
| --- | --- |
| INSTITUTION | SHARES HELD |
| CLARUS LIFE SCIENCES & CLARUS VENTURES COMBO | 3,549,242 |
| OMEGA FUND MANAGEMENT, LLC | 1,084,848 |
| | 576,771 |
| EVENTIDE ASSET MANAGEMENT, LLC | 481,950 |
| | 94,126 |
Analyst Ratings
On August 25, 2018, an analysts' price target on EPIX stock was increased to $24/share. This price target represents a 600% upside over the stock's most recent closing price of $3.9/share.
Risks and Uncertainties
Investors should review all the risks and uncertainties as detailed in the Company's most recent yearly filing with the SEC. Additionally, the stock is subject to significant spikes up or down because of its tiny 1.5M share public float. Additionally, the following are potential risks that investors must weigh when investing in an ultra-low floater like EPIX:
As the company advances its next-generation program it will need to raise equity if it does not obtain a follow-on grant from CPRIT,
Next-gen drugs might not reflect in humans the success shown in preclinical animal testing
Loss of key talent
Inability to maintain a functional office in Houston causing CPRIT to penalize the company
Selloff by one of the major institutional holdings
Others
Conclusions
I believe the market is starting to realize the significant upside going forward for EPIX stock. This is reflected by the 100% recovery in share price since the start of 2019.
The company will unveil its next-generation IND prostate cancer candidate before the ASCO-GU conference scheduled to be held in San Francisco, California in mid-February 2019.
The ASCO-GU website lists the following two posters for February  14, 2019: 1) Abstract 220: Next generation N-terminal domain androgen receptor inhibitors with improved potency and metabolic stability in castration-resistant prostate cancer models, and 2) Abstract 257: Lessons learned from the metastatic castration-resistant prostate cancer phase I trial of EPI-506, a first-generation androgen receptor N-terminal domain inhibitor 
The April 2018 addition of  Doctor Le Moigne, and Han-Jie Zhou, Ph.D were key to advancing the next-generation program to a point where Dr. Le Moigne will be presenting positive data for the next-gen candidate both by itself, and in combo with PFE's blockbuster prostate cancer drug Xtandi. Before they were hired, shareholders were only looking forward to the naming of a next-gen candidate, and now we look forward to significant pre-clinical data in about three more weeks.
The company's research focus emphasizing doing everything necessary to ensure that data, methodology, strategy, etc., are in line with what large pharma looks for when either acquiring or signing partnerships is brilliant in my opinion.
Because Essa Pharma's Aniten program is so unique and highly differentiated than what other small biotechs offer gives the company and edge when negotiating a potential buyout or partnership.  Recall that JNJ paid $1B for an also-ran drug candidate which is after the same area of the Androgen receptor that all the approved drugs, and those in the clinical, act upon - the Ligand-Binding Domain of the Androgen Receptor.
The company is funded to 4Q 2019 assuming no new grants from CPRIT are received by then. CPRIT will announce the winners to this year's grants in August, 2019.
Institutional support is very strong, and keeps growing as Clarus continues to increase its percent ownership in the company.
Buying sizable number of shares is very difficult because longs who accumulated throughout 2018 waiting for next-gen drug announcements are not likely to sell since the price they paid is likely similar to what it is today ($3.9/share). I also expect institutions to hold on tight to their shares because they have done so even when the company was having significant difficulties as the EPI-506 clinical trials begun showing weaknesses and was eventually discontinued. I personally buy at the ask when I have cash available because I don't have the time to wait the entire day to receive a tiny fraction of my order. I believe volume, liquidity, and price will increase significantly going forward as the stock appears in traders' radars.
Many investors are expecting that EPIX will behave like Microbot Medical (NASDAQ: MBOT) recently did having a similar float and expecting significant news. I believe EPIX will gain significantly after the announcement of the chosen IND candidate, and the share price might go even higher when pre-clinical data from ASCO-GU is announced. That was not the case with MBOT which gained up to 800% at one point and quickly lost 60% of that gain. I was not surprised with MBOT's trading behavior because the European patent news that triggered the massive rally could not reasonably support those gains. After all, patents could sit for years until something tangible is done about them. MBOT issued a second press release three days after the first one which appeared to me to be the proverbial "fluff news" aimed at preventing a massive collapse in share price. Essa Pharma is very conservative and would never use those tactics to maintain or increase shareholder value.
As any investment in the stock market investing in EPIX stock could be very risky. Particularly with a public float of about 1M shares. I encourage investors to read the risks and uncertainties discussed in detail in the most recent filings with the SEC
Disclosure: I am/we are long EPIX.