Executive Summary
Tesla (TSLA: NASDAQ) manufactures and sells electric vehicles and solar panels within the United States. The company has experienced rapid growth; their innovative products and strong brand have launched them into an industry leading position in both luxury and electric vehicle markets. Unfortunately, they have also been plagued with production problems, recalls, and chronic under-delivering. These issues resulted in a recent credit downgrade by Moody's, a major operational threat to a company that bleeds cash flows and relies on debt to fill the gaps. We predict that Tesla's revenue will grow roughly 50% annually between 2017 and 2022, but rising debt expense, continued production issues, and high research and development expenditures will erode profits. As a result, net income will fall annually by roughly 40% a year. The bull case for Tesla relies on improvements in production efficiency, lowering cost of revenue, and strong sales in emerging business sections such as solar and semi trucks. If the company reaches their stated goals of production, there is significant upside potential, but we believe that the company's track record of delays makes this highly unlikely. Based on a DCF valuation, we believe Tesla's shares have an intrinsic value of $234. Despite recent falls in the stock price, we believe Tesla shares remain overvalued. As a result, we place a sell rating on the stock.
Business Summary
Tesla has three main sources of revenue: vehicle sales and leases, vehicle service, and solar energy from their newly acquired company Solar City. Tesla currently sells three different models of electric vehicles, and they plan to begin selling their new Roadster and Semi-Truck in 2019. We see Semi-Truck and Model 3 sales as critical components to Tesla's continued growth. The Model 3 was released in March of 2016 and saw extremely strong demand immediately after launch. Currently, Tesla has over 200,000 orders for the Model 3, but has only been able to fill just over 6,000 orders. They have repeatedly over-promised and under-delivered on their production abilities. Unlike their competition, Tesla cannot seem to master mass production. In fact, Tesla has only recently been able to produce 2,000 Model 3's a week. Their current stated goal is 2,500 a week, but they had previously promised up to 6,000 a week in communications with investors. Tesla hopes to meet their goal of producing 5,000 Model 3's a week by Q3 2018, but recent stops in production and other hold ups are making this goal seem less and less likely.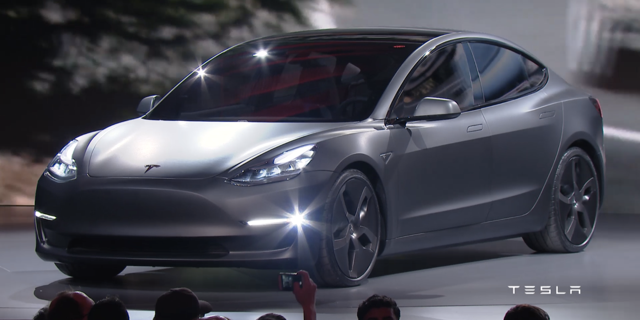 Tesla primarily operates within the luxury electric vehicle market segment. Demand for Tesla vehicles is impressive, and the new Model 3 production can't even come close to its orders. A first for an electric vehicle, Tesla's Model S was ranked first among all large luxury vehicles. As is standard among luxury product manufacturers, Tesla makes significant margins on their vehicles, ranging from 18%-22%. Unfortunately, these margins have been under stress over the last three years as Tesla continues to make large expenditures on new factories, R&D, and personnel. While Tesla has been able to increase revenue by 50% a year on average, costs have similarly ballooned. As a result, Tesla has not had a single year of positive net income. As we see it, Tesla will need to dramatically reduce its costs or increase its production to become profitable in the future. Decreasing margins with continued production constraints are a recipe for disaster.
Tesla recently released their newest marvel, the Semi-truck. It will come in two versions, to help Tesla attempt to charge customers the most they are willing to pay. The first version is a less equipped vehicle with a 300 mile range. The second is a slightly more outfitted version with a 500 mile range. The Semi is estimated to save owners an attractive $200,000 a year in fuel and maintenance costs. Tesla has already received orders from Fedex, UPS, Bee'ah, and Anheuser-Busch. These high-caliber companies making orders for the semi truck have seemingly proved the "naysayers" wrong, for the time being. Depending on the costs and success of production, the semi-truck represents a major opportunity for Tesla. The question for investors is: how much of this hope is already priced into the stock?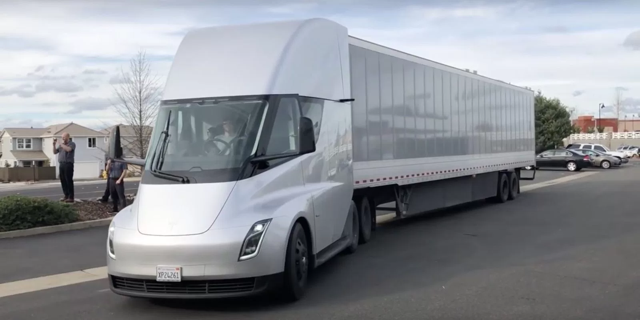 Unfortunately, the bad news for investors doesn't end at operational issues. Tesla is likely to face major financing challenges as a result of a credit-rating decrease. Moody's recently reduced Tesla's unsecured note rating from B3 to Caa and their CFR from B2 to B3. This means that Tesla's debt expense will increase when they need to raise more capital as a result of widening credit spreads. Unfortunately, it's unlikely Tesla will be able to weather the storm by holding off on issuing debt. They are strongly cash-flow negative and have historically relied on debt to fill that gap. As such debt becomes more expensive, we believe that Tesla will likely have to issue new shares, diluting current shareholders ownership, as they look to raise funds for their new models.
In the past three years, Tesla has consistently increased their total revenue by over 40% YoY. However, Tesla's expenses have also increased and their gross margin has reduced. In the past four years, Tesla's gross margin has decreased almost 10%. Tesla's general expenses including selling and administrative expenses has increased 6% in the last five years. As a result, Tesla has yet to have a year with a positive net income since going public. Last year, Tesla was in the red $1.9 billion, a 65% YoY decrease in net income.
We predict that Tesla's revenue will continue to grow between 40%- 50% in the next five years, and we are hopeful that over the next five years Tesla will be able to reduce their general and administrative expenses from 21% to 18% by 2022. However, we anticipate high R&D expenses in 2019 and 2020 as Tesla prepares to put the Semi Truck into mass production and the innovation team begins development of the Model Y this coming year, and begins production in 2020. Our predictions are in line with R&D costs for previous model launches. Unfortunately, we do not see Tesla getting out of the red anytime soon. We project Tesla's net income to continue to plummet over the next five years. By 2022, we anticipate that Tesla's net income will be -$5.9 billion. The chart below depicts this anticipated decline in earnings on a per share basis.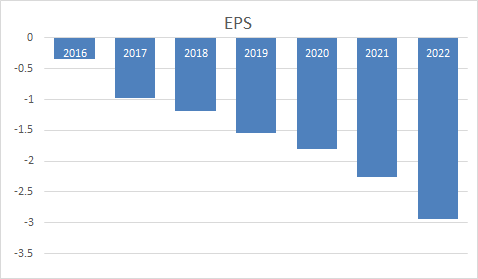 Investment Risks
Investments in Tesla stock carry significant risks for investors.
Production Goals: Tesla has repeatedly failed to meet its own projections. While our model (and likely the current market price) expects significantly lower expectations for production than Tesla suggests in their press releases, it is still possible that Tesla will fail to meet these lower expectations. While production failures have had limited effect on the stock historically, at some point even true Tesla believers will begin to doubt the company.
Raising Capital: Moody's recent credit rating downgrade from BB to Caa will have a negative impact on Tesla's ability to raise capital. This places them firmly within junk bond status and may limit the number of investors willing to lend the company more money. With a lower credit rating, Tesla will be forced to issue new debt at a higher credit spread and likely have more restrictive covenants. To make things worse, interest rates, in general, are rising and will likely continue to rise over the next few years. This will make debt even more expensive for the company. Because Tesla is cash flow negative, we believe that there is a strong risk that they will be forced to sell more shares in the near future. This will dilute current shareholders and accelerate the current decline in the stock price.
Key Man Risk: In many ways, Tesla's success centers around the personality and brand of Elon Musk. He is the visionary leader of the brand, and his presence is almost synonymous with Tesla. He is Tesla's Wizard of Oz. He's also under fire for the company's recent struggles and there are measures on the ballot for shareholders to remove him. In our opinion, losing Elon Musk is a major risk for a company whose value is largely derived from branding and his visions of the future.
Regulatory risks: Tesla's heavy involvement in self-driving car technology opens them up to regulatory oversight. Recent self-driving crashes and public outcry have increased the probability of increased regulation. This would cause increased compliance-related costs and exacerbate production issues. Automobiles are a highly regulated industry, and Tesla faces the risk of disadvantageous regulation across all of its revenue lines. On the upside, the current administration appears unlikely to increase regulations and it's possible that regulations will further relax in the near future.
New Tax Policy: The current administration and Congress have eliminated tax advantages for purchasing electric vehicles and solar. American Tesla buyers will no longer receive the full $7,500 tax credit for their purchase, which may decrease the national demand for Tesla's vehicles. Further tax implications could occur that could have similarly negative effects on Tesla's cash flow.
Tariffs: As an American manufacturer using both steel and aluminum, Tesla is likely to be negatively affected by increased tariffs on both products. The possibility of trade wars with Europe and China is a risk for Tesla, which benefits from raw goods being as inexpensive as possible. In addition, nationalizing trade policy may have strong negative effects for a company which operates in a business segment that is most popular overseas.
Consumer Demand: Electric vehicle adoption in the US remains low, and there may be a lower-than-anticipated cap on Tesla's growth. This represents a major threat because a significant portion of the company's valuation is based on expectations of strong growth.
Valuation
Tesla's valuation has been at the center of endless debate since the company's temporarily exceeded that of both GM and Ford. Tesla is a growth stock, and a large part of its current market value is based on expectations of growth and belief in its innovation and disruptive potential. Both of its rivals are traditional blue-chip, value stocks with steady dividends. For these reasons, it's difficult to compare Tesla's valuation to that of its peers.
We used a DCF model to value Tesla's shares. Using the 5 year projected financial statements, we projected Tesla's FCFE for each year and divided it by estimated number of shares for that year. We calculated Tesla's FCFE by subtracting capital expenditures from Cash Flow from Operations and then adding net borrowing. We discounted each year's FCFE by a required rate of return of 11.47%. This was calculated using CAPM with a risk free rate of 1.77%, Beta of 1.309, Equity Risk Premium of 5.5%, and an extra operational risk factor of 2.5%. We estimated Tesla's long-term growth rate after 5 years to be 8%. We acknowledge that this is above the long-term historical return of equity, but we believe this is reasonable given the company's strong growth to date.
The risk free rate used is the 3-month T-Bill rate. Historical Beta was calculated using Bloomberg. The ERP used is sourced from KPMG market predictions for the upcoming 5 years. We decided to use this rate instead of the return of equities – the risk free rate because we believed unusually strong equity performance over the past year skewed this number too high. The extra operational risk factor reflects the risk of Tesla shares above the standard risk of equity above debt in the market that we discussed earlier.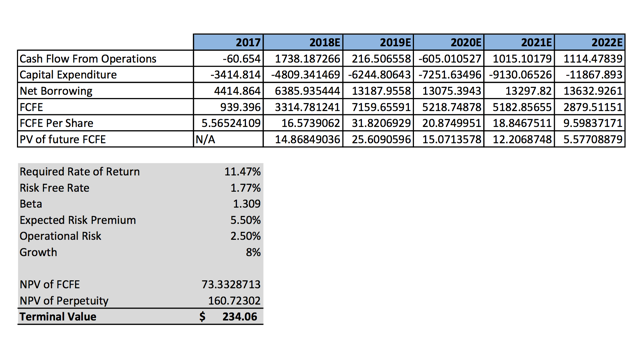 By our calculations, the NPV of projected FCFE per share is $73.33. The PV of the perpetuity is $160.72. Adding those together, we reach our estimate of terminal value of $234.06.
Conclusion
Tesla's revenue growth is impressive, but their bottom line continues to deteriorate. They continue to break promises and miss goals all while research & development spending balloons and production remains inefficient. Their CEO is distracted by chasing ever-less-practical dreams. His visions are impressive, but they don't make up for the operational shortcomings of the company. There are real risks of shareholder dilution and massively increasing debt expenditures in the near future, and therefore investors should be vigilant in regards to Tesla. We place a strong sell recommendation on the stock.