First Solar Inc (NASDAQ: FSLR) has struggled since last May when it reached an intraday high of $207.51, which occurred on a bearish engulfing day and has been stuck in a severe downtrend ever since. On September the 2nd we saw a bottom set in FSLR reaching an intraday low of $112.09 a full 46% drop from the May top.
September has been proven to be phenomenal for First Solar (NASDAQ: FSLR), as it has been ripping higher since setting the short term bottom at the beginning of the month resulting in a whopping 40% gain.
As you can see in the chart below, FSLR has recovered almost 50% of its multi-month decline in a span of three weeks,  and it is precisely this rapid move to the upside that setups a cloudy forecast for the coming days. An indication of the bad weather ahead occurred the day that FSLR reached the 50% Fibonacci level, since we saw the stock fail and put a tail in top signaling a top to its September run.
FSLR price action is now in the 'limbo zone', which is nothing more than the gap between the 200 day exponential and simple moving averages. We call this 'limbo' just because of the market dynamics that result from traders following the simple vs. the exponential moving average.
The perfect example of this dynamic presented itself last Friday, when we saw a small bounce in FSLR from traders that consider the 200 day simple moving average support. A move below the $146.25 will be result in selling pressure that could send FSLR to the low $140s and with possible continuation into the low $130s.

On the other hand, the line in the sand for further upside is $160. The longer it takes for FSLR to get above this level, the higher the likelihood of additional weakness.

The technical indicators are not in favor of FSLR, additionally you need to consider the overall weakness in oil, which broke support at $67 a barrel.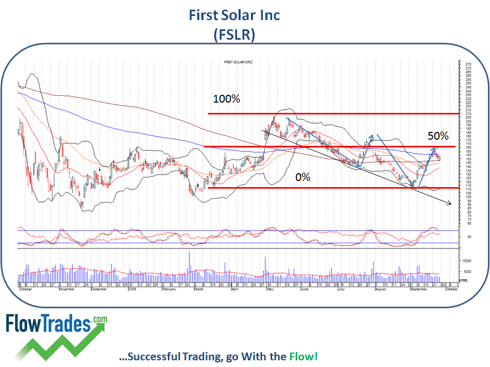 At the time of publication FlowTrades.com has no positions on FSLR.