Tucows (NYSEMKT:TCX): We believe TCX is worth $90 per share.
TCX is a deeply undervalued company with best-in-class management, assets, and return on capital metrics.
2017E Return on Common Equity ("ROE") is +45%, adjusted for 4Q17 sell side estimates.
2017E Return on Invested Capital ("ROIC") is +30%, adjusted for 4Q17 sell side estimates.
Sell side forecasting record 2018 EBITDA of $60 million from 2017 EBITDA of $40 million.
TCX's Ting holds the #1 industry rating by Consumer Reports.[1]
Hidden Assets: RealNames.com and Tucows Domain Portfolio: $10+ per share
"Union Square Ventures has made a substantial investment in Tucows."[2] Brad Burnham, Co-founder of USV and former Executor in Residence with AT&T ventures, is on TCX's board.
TCX in the top 1% of public peer group for ROE and ROIC[3]
TCX deeply undervalued at 9.8x[4] vs. GDDY 14x 2018 EV/EBITDA
We believe, Copperfield's report is riddled with significant errors*, by its implied math. We think analysts will agree with us that the business is worth closer to $90.
Copperfield errant report has driven the TCX short interest, which would take over 50+ days to cover assuming short sellers bought 50% of average daily volume, which at $53 represents a $125,000,000 short position or 22% of the outstanding shares
For our full report: https://www.scribd.com/document/371359229/We-believe-TCX-is-worth-90-per-share-Tucows-Is-A-Deeply-Undervalued-Company-With-Best-In-Class-Management-Assets-And-Return-On-Capital-Metrics
In our opinion, the Copperfield analysis was significantly flawed, contained many inaccurate statements and was reliant on sensationalism, all of which has tainted and confused investors.  We hope to set the record straight.
While there is a lawsuit TCX CEO[5] has stated that it is neither secret nor will it affect TCX cash flows.
[January 2017] "On stage at NamesCon, Tucows CEO Elliot Noss said:
he was aware that Namecheap was moving off the platform.
But that doesn't hurt the deal from Tucows' perspective.
Namecheap negotiated very low rates because it was so big. If you measure your business on revenue growth (as Rightside does) then losing Namecheap is a big loss.
In Tucows' case, however, it hopes to add about $20 million EBITDA/year from the business.
Losing Namecheap shouldn't negatively impact that because it was so low margin.[6]"
Copperfield's math for 2018: Sell side analysts estimate TCX's total 2018 Adjusted EBITDA of $59.75 million. Copperfield estimates 2018 EBITDA for domain services to be $24.8 million, which implies Ting Mobile and Fiber EBITDA of $35 million or $3.30 per share. Copperfield estimates a value for Ting Mobile and Fiber of $50 million, or 1.5x EV/EBITDA.
MVNO's are great businesses, as industry reports state EBITDA margins run between 15-25%. Google, Comcast, and Walmart all have MVNO's. The MVNO business is also very attractive to carriers as well: "MVNOs help MNOs to drastically improve their EBITDA margins by reducing SAC costs with only a slight reduction in ARPU."
(See page 8 & 15 http://www.nereoconsulting.com/pdf/MVNOBusinessEssentials.pdf  ).
We believe Ting Mobile is a far above average unit economic MVNO with a 20% 5-year average growth rate, highest rating by Consumer Reports, a business with 30%+ EBITDA margins, lowest customer acquisitions costs we can find, and the best price/customer service in the industry with LTV/CAC ratio of 4x. Ting Fiber is building and owning the fiber-optic network infrastructure, currently passing 13,100 homes and serving ~3,900 customers, and continuing to expand existing and new markets.   Yet Copperfield assigns a non-sensical value of both businesses of 1.5x EBITDA. We believe they missed the decimal point and Ting Mobile and Fiber should be valued at 13-15x EBITDA but certainly not 1.5x. Since the launch of Ting 5 years ago, ROE and ROIC have tripled.
Copperfield cites several ancient comps in an attempt to cherry pick and distort the truth:

Virgin Mobile: Virgin Mobile MVNO sold for a low valuation was in 2009, because a) it was 2009 (a period of near trough multiples for every business. The Russell 2000 is +150% since this deal was announced, or in other words, a 6 multiple in 2009 would be a 12+ multiple in 2018) b) Virgin had two years of shrinking revenue, and c) Virgin's net debt was a staggering $240 million with just $12 million in cash.
Leap Wireless: Leap Wireless sold at a low valuation because a) the company had $2.7 billion in net debt, b) Leap's had subscribers decline of -22% combined w an -36% decline in EBITDA with d) 8 consecutive years of significant losses including a $180 million operating loss in 2013 and the business still sold for 8.6x EBITDA.  
MetroPCS deal worked out very well for MetroPCS shareholders who received $1.5 billion in cash and 26% of NewCo stock. Therefore, MetroPCS shareholders compounding period did not end in the transaction. Since 2013, MetroPCS shareholders own 26% of T-Mobile, which has turned $4.3 billion at the time of announcement to $13.1 billion in TMUS stock as of Feb 9th, plus $1.5 billion in cash, for a total of $14.6 billion.  "The (Metro)PCS deal is now the template for almost any proposed telecom merger" says longtime industry analyst Craig Moffett. This is confirmed with shareholder value since the MetroPCS & T-Mobile that since 2013 the real MetroPCS has increased in value by +236%.

Ting has EBITDA margins that are 30-35% vs. comps referenced of 8% (Virgin Mobile), 11% (Leap Wireless) and 29% (MetroPCS).
Copperfield assets Sprint has competitive offering to Ting pricing. If this is the case, why is Sprint ARPU for service only $51.26 a month as of 12/31/17 vs. Ting average bill of $23 a month? This does not seem competitive.
We estimate Ting Fiber is burning $2-3 million a year, which means core EBITDA for 2018 is likely closer to $63 million.
If the Domain Business has 2,100 competitors and is so hyper competitive, then why does the #3 competitor behind Tucows have nearly 20,000,000 fewer than Tucows or -80%[7]? Why does Google Domain business have only 1/15th of Tucows after nearly 4 years in business. Why does the #1 and #2 competitors have nearly 50% of the .com and .net domains under one roof? Michael Porter would suggest that an oligopoly is not an expected market structure in an industry with no barriers to entry.
A new leg to Ting is rural Fiber: Why is investing capital in a project with 25+ year life with a cost of capital under 7%, cash on cash returns of 40%+, annual churn of 5%, and the opportunity to invest $100 million in an essential service/infrastructure that has less than 3.7% rural market penetration a good thesis to short? Furthermore, in an industry report homes with 1GBPS fiber speeds see a 3% increase in sale price vs. homes without 1GBPS. In other words, Ting is providing what many would deem an essential utility in the 21st century for $2-2.5K for potentially $20K over the life of the asset.
Copperfield states that Xfinity, Centurylink, and AT&T operate in all Ting markets that offer 1GBPS speeds and have lower prices. This is false! AT&T is not within 10 miles of Holly Springs, NC. A search of over 100 addresses and AT&T Fiber coverage map proves this out. This goes for all of Ting's markets, NONE offer 1 GBPS speed at fully loaded costs less than Ting.
Copperfield misrepresented expenses that are clearly disclosed on Ting's customer facing website.
Copperfield cited 78 footnotes and a 68 a page report of what they deemed a highly promotional management team, they apparently missed two significant hidden assets:
Tucows Domain Portfolio and RealNames.com (Surname business) which we believe are worth an additional $10-15+ per share
Copperfield implies accounting gimmicks so executives could get their bonuses: these "windfall" bonuses amounted to approximately $60,000 average for the top 5 executives. While this same management team owned over 1000x the bonus amount or $60 million in TCX common stock.
Copperfield's price target for TCX is approximately 4X 2018 EV/EBITDA  2018 Sell Side analyst consensus estimates which also forecast:
+50% ROE   +30%+ ROIC   +17% EBITDA margins +10% Revenue growth
We believe most analysts will find these metrics worthy of 12-15x EBITDA not Copperfield's 4x.
TCX is an easy target as the company has long flown under Wall Street's radar as the company does not do road shows nor present at sell side conferences, however the business is just begging to be discovered by highly successful investors, and has been by investors such as Fred Wilson & Brad Burnham of Union Square Ventures and a large German investment group (In January 2018, after Copperfield's report the German investment group, TGV, recently filed they purchased an additional $5 million worth of TCX shares).
By any measure, Tucows owns a collection of outstanding businesses run by a superb CEO. This bold claim can be backed up with facts:

Total compensation for the top 5 TCX executives was approximately $2 million as compared to approximately $22 million at GoDaddy for 2016. TCX is 1/5th the size of GDDY yet GDDY's management team took home 12x TCX management in compensation in 2016.
51% of TCX outstanding shares were repurchased by TCX for $5.73 a share through 8 Dutch Tenders at approximately 1X of 2018 EBITDA.
At $7.00 per share, TCX's acquisition of eNom was the lowest price paid per domain, compared to an industry average of $64.
Tucows current/former executives own $60,000,000 worth of TCX shares.
TCX CEO Noss has 60 years of annual fully loaded compensation in TCX common stock.
Shrewd capital investments and massive recapitalization resulted in EBITDA per share growth from $0.40 per share to $6.00 per share from 2008-2018[8]. We think this growth will continue, increasing to $10+ over the next 3 years.
TCX management is extremely fair with shareholders: In 2017, bonuses ranged from $26,000 to $149,000 for the top 5 executives and the CEO received total compensation of just $595,000. This is notable considering the CEO's performance.  Noss has increased TCX revenue 5X and EBITDA over 5X in 10 years, while reducing TCX outstanding stock by 51%. 
CEO Noss has a very long history of shrewd opportunistic capital reinvestment of carefully analyzing buy vs. build bets: RingPlus, PlatinumTel Wireless, eNom, internally funded Ting Mobile, Ting Fiber, MelbourneIT, and Afilias.
According to Glassdoor, 93% of TCX employees approve of CEO Noss.  74% employees have a positive business outlook.  In contrast 88% of Godaddy employees approve of its CEO and only 62% have a positive business outlook. 
There is only 1 public traded company that has 100% overlap with Tucows three business segments Domains, Fiber, and MVNO which is: Alphabet/Google (GOOG)
Union Square Ventures is a prominent Venture Capital firm in New York led by investor Fred Wilson.
 "Union Square Ventures has made a substantial investment in Tucows, a 23 year old company that has been publicly traded for over 15 years. Since we have never before invested in a public company, that requires a bit of an explanation... We are investing in Tucows because we believe they have built a great business."[9]
 These words were supported with action: Co-Founder of Union Square Ventures Brad Burnham, joined the TCX board in February 2017. Previously, Mr. Burnham was an Executor in Residence at AT&T Ventures. We estimate that Union Square Ventures cost basis is between $37-$51 a share.
Below are Union Square Ventures returns[10]:
2008 +28% annualized
2012 +42% annualized
CEO Elliot Noss Actions to Drive Shareholder Value
Point 1: Share Repurchases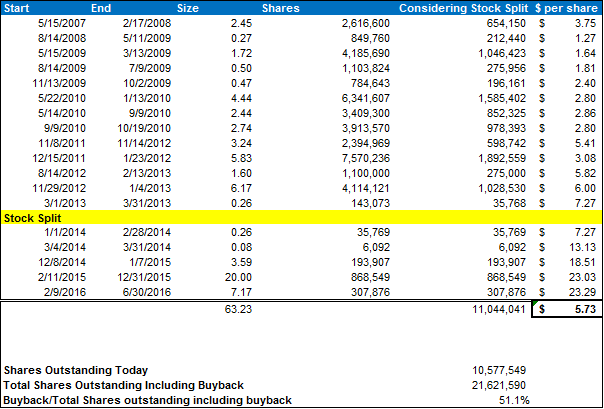 Share Repurchases: 50%+ of TCX outstanding shares were bought back for $5.73 a share through 8 Dutch Tenders at approximately 1X 2018 EBITDA. In other words, TCX bought 51% of the company for $63.23 million. Sell side analysts for 2018 expect $59.75 in EBITDA! As all good capital allocators shift gears driven by highest and best use of each dollar, Tucows is now focused on laying and owning a 1GBPS fiber network with guidance of 40-50% annual returns on invested capital.
Point 2: Domain Business
We think the domain name industry is characterized whereby the top 5 competitors average 20% EBITDA margins combined with the top 2 competitors controlling 50% of the domain registrar market (GoDaddy and TCX have approximately 50 and 25 million domains respectively, out of 142 million registered .com/.net domains at ICANN). We believe the unit economics and price/value relationship of a company with scale in this industry is an attractive market structure to invest capital. GoDaddy is mainly B2C and TCX is both B2C and has a significant B2B presence with 39,000 resellers globally.
In 2017, an industry competitor Rightside Group (NAME) was acquired in mid 2017 for 2.0x revenue. Barclays, the investment banker highlighted in their fairness opinion that the company had multiple bids for the business and after a detailed analysis of industry and public peers suggested the Domain Registry business is worth 2-2.5x sales and 13-15x current year EBITDA. [11]
Barclay's Conclusion for Domain Registrars' Valuation:

Under the leadership of Elliot Noss, TCX built has built the dominant #2 wholesale domain name registrar with over 25,000,000 domain names, in an industry where scale is essential. Once again, TCX executed this strategy with the lowest cost acquisitions we have been able to find by studying 20 years of industry data. The opportunistic purchase of eNom added 11.8 million domains and guidance suggest that eNom should ultimately add $20 million to EBITDA. The closest competitor in this respect is GoDaddy, valued at 3.6x 2018 Sales at 14x 2018 EBITDA.

In addition, TCX CEO Elliot Noss has acquired 13.5 million domains in two opportunistic transactions for an average and median price of $5.35 per domain, which is a massive 90%+ discount to the median/average $54-$64 other registrars have historically paid.

TCX has the lowest debt load of just over 1x DEBT/EBITDA as compared to 4x Debt/EBITDA for GDDY, and 3x Debt/EBITDA for Web. TCX also has 4x ROE of the peer group median.
Point 3: Hidden Assets: Part 1: Premium Domain Portfolio & Surname portfolio (dba: Realnames)
In February 2008, TCX highlighted its Key Domain Name Portfolio Assets[12] which contained color on the hidden value of its portfolio names. We believe TCX has significant hidden asset value within both the TCX premium domain and surname portfolios. 
Tucows Domain Premium Portfolio is listed at YummyNames.com
Valuation Methodology #1:
As is readily visible from where TCX lists its premium domains: YummyNames advanced search for premium domain names.  By scraping the database one can find:
Tucows current asking price for their premium domain portfolio of 23,500 domains is $71,000,000 (or approximately $7.00 per share). TCX organizes their portfolio under: Gems, Brandable Names, Direct Navigation Names, and Surnames. Yummynames lists the Gems and Brandable names with an aggregate asking price of $71.3 million. This excludes the Direct Navigation names, which we estimate is an additional 150K domains, and based on GoDaddy recent M&A, this would suggest an additional $45 million in value. Therefore, total domain value is likely $115 million and we discount this by 33-45% for illiquidity, resulting in a valuation for the Tucows Domain Portfolio ex-surnames of $50-77 million.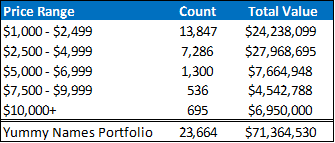 Valuation Methodology #2:
We estimate about 1 in 140 domains that expire have moderate value. M&A between registrars and owners of bulk domain portfolios suggest a valuation in the range of $167-$508 per domain. TCX now has 25 million domain names under management. An expiration rate of 20% would lead to 5 million domains that TCX, as the managing registrar, has the right of first refusal to purchase and resell (we estimate 1/140 or 70 basis points of expired domains have Portfolio Domain value). We believe Tucows is currently adding to their premium domain portfolio approximately 35,000 premium domains a year which could sell in the range of $167-508. However, Tucows sells a small fraction of these premium domain names annually. GoDaddy is the logical buyer having spent $155 million in cash buying 670,000 premium domain names at an average price of $308.

[14]
Conclusion: Using a mosaic of two different valuation methodologies, we value Tucows' Premium Domain Name Portfolio in the range of $50-80+ million or approximately $5-$8 a share. Additionally, the growth of the hidden value of the portfolio has doubled with the eNom registry business and now we believe TCX is growing its premium portfolio value in the $9 million a year range or approximately .90 a share.
Point 3: Hidden Assets Part 2: Surname Portfolio- Realnames.com
Tucows' owns a site called Realnames.com, with over 36,000 surname domains[15]. These 36,000 Surnames represent 68% of the names in US and Europe.  We believe this a very valuable asset:
Tucows owns a business called RealNames.com which owns 68% of Surnames in US and European population of over 36,000 names.
The Surname Portfolio is a one of a kind asset. There are no substitutes.
This business has high recurring revenue, no fees to ICANN, and far higher ARPU than domains.
This service allows users to obtain their personal name, for example youfirstname@yourlastname.com or David@Copperfield.com for email address.
The costs are $35/year and each additional address is $10. If only 30 Smith families apply, then this would be $900 in very high margin revenue year in and year out.
Very high margin, as TCX has the beauty of not paying fees to ICANN which typically $8.01 per domain per year.
If TCX ever sold auctioned off its Surname portfolio we are confident that that each surname would see for multiple of cost their cost of $1,000 per surname. The majority of these surnames have been acquired at approximately $1,000 per surname.  To be clear, Anyfirstnamehere@copperfield.com which is literally hundreds of potential combinations that would pay the owner $35 a year to rent the name.
To be conservative we will value each surname at cost of $1000, which equals $36 million for the surname portfolio or ~$3.50 a share. In one call with TCX CEO, he told us you could not pry the Surname business from "…my cold dead hands" as it is an absolute gem. We believe the Surname Portfolio maybe worth many times the $3.50 a share cost basis.
To conclude: We believe a) the Tucows Premium Domain Portfolio Assets are worth $5-$8 a share and b) The growth rate of Tucows Portfolio domain assets has doubled since the eNom acquisition and should be accreting value in our opinion in the .90 a share a year range and C) the Surname Portfolio is likely worth in a sale a multiple of Tucows cost basis of $3.50 a share! Therefore, we believe TCX could become vastly more profitable any time they want to sell of some or all of these significant hidden assets.
Point 4: Ting Mobile Buildout
A question for investors who are skeptical of the Ting business: Why has ROIC and ROE nearly tripled since Ting was launched in 2012, especially if Ting Mobile and Fiber are such awful businesses?? 
Ting Mobile is an exceptional business, by any measure, with the combination of low cost leadership (an average monthly bill of $23 for wireless Voice, Data, Text), Lifetime Values to Customer Acquisition at 4.0x, combined with 30% EBITDA margins, we believe Ting has one of the highest customer satisfaction ratings in the industry which is supported by the highest rating by Consumer Reports. With its high incremental margins and continued growth, Ting Mobile should drive approximately $3.00-3.50 per share in EBITDA per year. Ting Mobile should generate in 2017 approximately $80 million a year in revenue and we estimate has EBITDA of $24-26 million and believe 12x EBITDA or $25-$30 per share.

Ting Mobile was internally funded in 2012 with very little out of pocket capital/zero share dilution and is worth at least $300 million today (or about 12x our estimated 2018 EBITDA). Ting Mobile has exceptional unit economics with 2.5% monthly churn, CAC less than $100 (industry average $350), adding 10,000+ gross customers a quarter. Ting Mobile grew revenues from $4 million in 2012 to $80 million in 2017, and is currently growing revenues at ~20% with ~50% gross margins and ~30% EBITDA margins.
Ting is a Mobile Virtual Network Operator (MVNO) with an average monthly bill of $23, while there are a multitude of unlimited plans from Sprint and AT&T unlimited plans start at $60 and Verizon and T-Mobile unlimited plans start at $40. Ting has great customer service justified by Consumer Report's #1 Ranking for Cell phones & Services at 89 (above Verizon - 72, Sprint - 70, T-Mobile - 76, AT&T - 70). Beginning of 2017, Ting also signed its own carrier deal with Apple, which only a small handful of MVNOs have.
Speaking to their credibility, other MVNO carriers send Ting acquisition prospects and Ting Mobile has been able to make opportunistic "marketing agreements, NOT an acquisition of any assets or resources[16]" to migrate customers from MVNO that were shutting doors. In 2016, Ting welcomed ~7,000 customers from PlatinumTel Wireless and ~6,000 customers from RingPlus. Other carrier's look to the Ting brand when acquisition prospects arise, Apple recognizes the opportunity Ting brings, and more and more customers turn to Ting as a credible, sustainable alternative to major carrier experiences. Ting now serves 171,000 customers and 281,000 devices as of third quarter 2017.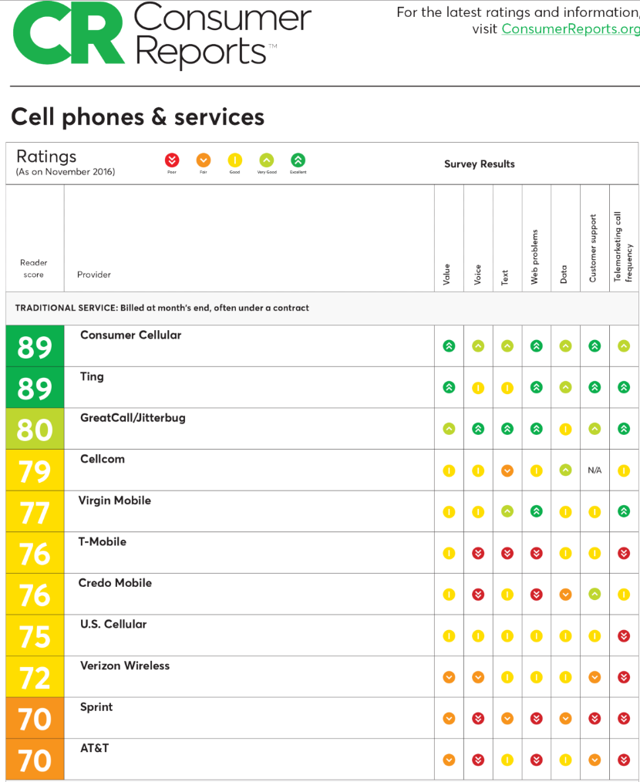 Point 5: Ting Fiber Build Out
Why short a business that will be easily be able to internally fund $100 million+ reinvestment over 4 years, for an asset with a useful life of 25+ years, with annual churn for the industry in the 3.5% range, and 40-50% cash on cash returns, where only 3.7% of rural US has 1GBPS speed, and homes with 1GPBS have a resale value 3.1% higher than homes without?
In December 2014, Ting officially entered into the business of offering fixed Internet access via Fiber to the home through their 70% majority stake investment in Blue Ridge Internet, an independent Internet Service provider in Charlottesville, Virginia. Ting Fiber targets 40-50% cash on cash returns and is now in 5 cities with a complete footprint that will pass ~85,000 homes. Currently, the Ting Fiber network is up and ready in 3 cities (other 2 are under construction) passing 13,100 homes and has ~3,900 customers.  The penetration rate is 20% in the first year and 50% in the next 2-5 years.
Monthly prices for residential are $89 and monthly prices for commercial are $139 (Installation and hardware costs are paid by the customer).  The cost to build out fiber per home is $2,000-2,500 and Ting Fiber expects an annual gross margin of $1,000. Gross margins are high, especially since majority of the fiber costs are upfront, which run through capex, and there are minimal maintenance costs into the future with scale.
Just on the roll out of these 5 cities alone, in 5 years, we estimate Ting Fiber would be in 40,000 homes (50% penetration on 85,000 complete footprint of homes in 5 cities). It would take ~$80-100 million to build and connect a home, but in year 5, there would be a very long term annuity of $40 million with approximately 80% EBITDA margins or $32 million.  The Net Present Value discounted at 15% with a terminal multiple of 20x, would value Ting Fiber at $15 a share, just on the roll out of these cities alone. TCX has guided to 15-18 cities eventually.
Why Deploy FTTH in Rural Areas?
Rural vs. Urban Fiber: Cost to deploy we have heard is $2,000-2,500 per home rural markets 65 homes per mile vs. Urban cost to deploy is $600-800 per home. Rural ARPU from what we can find is approximately $15-$19 a month higher ARPU than urban.
According to FCC, 3.7% of the US in rural areas currently has 1GBPS connection speeds and 100 MBPS is just 32.3% vs. urban 72.5%.[17] (source Page 7)
Deloitte does an excellent job explaining the a) constraints from wireline competitors on why from an economic model have their hands tied, the cost to roll out Fiber in US is $140-150 billion dollars, and the segments rural fiber segment will cost $40-50 billion [18]
Google Fiber is targeting 72% Contribution margins which looks very similar to EBITDA margins.[19]
There are plenty of third party sites that confirm that the rural deployment of FTTH is in the $2,000-$2,500 based on density of homes per mile. Dense urban markets cost to deploy Fiber are far cheaper in the $600-800 range. Finally, Google confirms their urban Fiber business has approximately 71% contribution margins with $70 ARPU (lower ARPU and lower installation costs).
Access to fiber boost Home Values by up to 3.1%[20]
Fiber lifespan: 25+ years[21]
Clearly, TCX is investing in an asset with
significant demand with only 3.2% rural customers currently with 1GBPS or faster speed,
evidence of very attractive unit economics
a very sticky and long life of 25+ years and
studies that have shown 1GBPS speeds adds 3.1% to a home value than homes without [22](study was with 500,000 home transactions conducted by Carnegie Mellon and University of Colorado).
Point 6: Lifetime Value to Acquisition Costs
With extremely light fixed overhead, industry leader in low cost leadership, combined with best in class customer satisfaction, leads to very attractive unit economics:

It is extremely important to emphasize that the domain services LTV ignores the Premium Domain Portfolio which is a benefit that accrues from owning a registrar. If Tucows ever sold the Surname Portfolio of their Domain Portfolio Assets, we believe the economics of this business would lead to a substantially higher LTV.
Point 7: Tying it all together
Tucows owns an exceptional collection and operation of digital real estate, which is able to fund the creation of two growth businesses which will generate in gross profit dollars, 3-4x their acquisition costs. We think Tucows best in class operating results, reinvestment bets deserve the following valuation:

 #1 in customer satisfaction, ROE, ROIC, with low cost leadership. Given these facts, we believe TCX does deserve at least a peer multiple for more than a decade of industry leading results and execution. This gets us to a valuation of $90.
 On January 8th Copperfield disseminated a misleading short report we believe was filled with errors and misstatements.
Point 1: Copperfield's the central risk factor that the short thesis was based on a "secret lawsuit" which will cause an immediate and significant earnings miss which was the basis for a board member to sell stock. We believe this "secret lawsuit" is both immaterial and not a secret:
January 2017| NamesCon| Elliot Noss:
"On stage at NamesCon, Tucows CEO Elliot Noss said:
he was aware that Namecheap was moving off the platform.
But that doesn't hurt the deal from Tucows' perspective.
Namecheap negotiated very low rates because it was so big. If you measure your business on revenue growth (as Rightside does) then losing Namecheap is a big loss.
In Tucows' case, however, it hopes to add about $20 million EBITDA/year from the business.
Losing Namecheap shouldn't negatively impact that because it was so low margin.[23]"
November 2017| 3Q17 Earnings Call Transcript| Elliot Noss:
On the third quarter 2017 transcript, the CEO still does not seem concerned with Copperfield's "secret lawsuit":
 "There is a lot of work, and even more opportunity. We reiterate our $50 million EBITDA number for 2017, and look forward to the huge body of work in front of us in 2018, setting up for real momentum into 2019."
Conclusion: CEO Noss flat out stated Namecheap will not materially impact earnings (May 2017 and Nov 2017), especially for 2018, given both synergies, lower tax rates, and one time charges from eNom that do not repeat.
Point 2: Insider Selling
Insider selling?  Lacuna which is run by TCX director Rawls, runs a venture capital firm that made a massive return on Tucows over the last 9 years, by our estimate approximately a 7-10x return. As is expected venture capital firms have time horizons and reinvestment opportunities. Rawls has been an investor for nearly a decade and been making stock sales between $16-65 a share. Rawls stock sales do not alarm us.  As TCX management own nearly $60 million worth of stock, German Investor TGV filed they own $60 million worth stock, and Union Square Ventures made "a significant investment" between our estimate of $39-51 per share.  
Point 3: Neo-Nazi web sites
Copperfield and the author of this report, have one viewpoint in common: we both find all the reprehensible sites mentioned in Copperfield's report disgusting and would kick sites to a new registrar. We also believe Tucows management team feels the same way about these fringe sites. However, it is not Tucows place to regulate the Internet as a third-party manager of ICANN's database. A domain registrar simply manages the registration of domain names to a registry's database and facilitates payments to ICANN, a non-profit organization responsible for ensuring the network's stable and secure operation[24]. Again a domain registrar job is not to police the internet; that is the job of law enforcement. Of course, it is prohibited both by ICANN and Tucows to register a site that does anything that breaks a law. Tucows is totally against Neo Nazi's and all the other fringe group and if they break the law their site will be immediately pulled. This clearly disclosed in Tucows terms of service. Amazon has 546 listings for Adolph Hitler, including selling an Adolph Hitler action figure. Should you shut down other utilities such as electric, water, phone service, to hated groups?
It is also important to emphasize, that the sites in question generate approximately 0.0000002% of Tucow's total revenue for 2018 or approximately $60/$360,000,000.
Point 4: Copperfield failed to read or even worse misrepresented Ting Fiber clear disclosures by stating:
Copperfield Research attempted to assert the following statement as a cost borne by the company and company's shareholders as opposed to a customer related expense.
"A close read of the footnotes reveals Tucows' misleadingly excludes the $200 cost of the internet box from their assumptions, as well as the estimated $400 of installation costs and truck rolls." 
 - Copperfield Research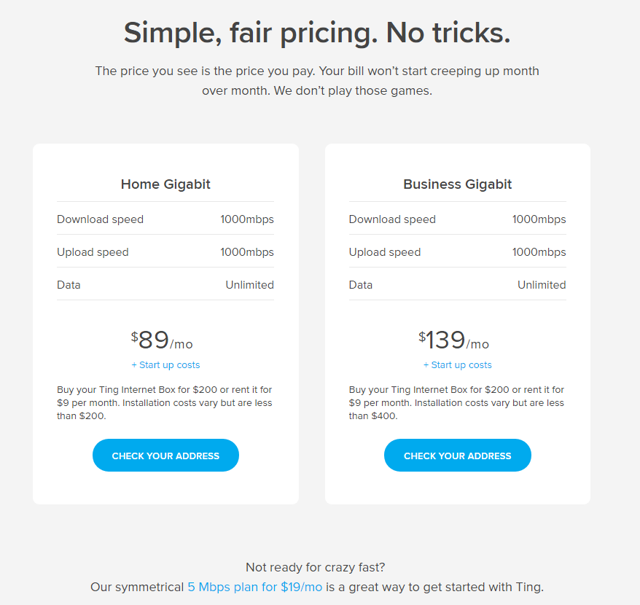 Copperfield intent here is to confuse investors on multiple fronts:
Clearly this is a CUSTOMER expense not a COMPANY expense
Clearly Copperfield is trying to use a Business deployment cost and call it a Consumer cost
Copperfield forgot to mention that Businesses ARPU is 57% higher at $1,668 a year as compared to Consumer ARPU of $1,068.
This is negligent and careless observation after their 'close read of the footnotes'. Ting footnote on their customer facing website states: "Buy your Ting Internet Box for $200 or rent it for $9 per month. Installation costs vary but are less than $200."[25] It could not be any clearer that this is expense paid by the customer not shareholders! Which once again reinforces, the thesis is right on track for $2,000-2500 cost per home to roll out with approximately $1000 in Gross profit per year per line.
Point 5: Copperfield failed to closely check market competition
"Ting Internet competes with larger, well established incumbents in every market. At $89 per month, Ting Internet is the highest priced 1Gbps service offering in every market – higher than Comcast Xfinity, Centurylink and AT&T, which are priced between $70 and $80 per month for 1Gbps of service."
-Copperfield Research
Copperfield's statement is totally false!
First, neither Xfinity, Centurylink, or AT&T sell 1GBPS fiber options in any of Ting's Internet markets. AT&T is does not have 1GBPS fiber options within 10 miles of Holly Springs. While AT&T may list this on their website they do not have any active addresses in Holly Springs. This can be verified using AT&T Fiber Network Locator (AT&T Fiber Network Map ) and checking AT&T store locations, which are nowhere in Ting's markets: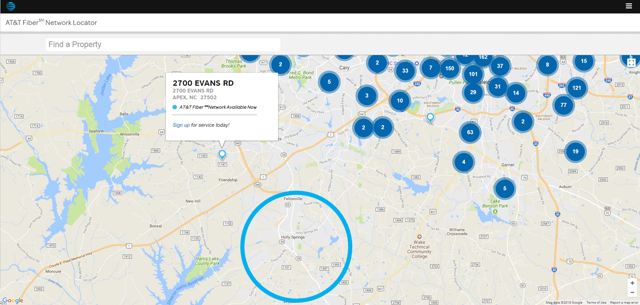 AT&T offers Fiber but it is not cheaper than Ting nor is AT&T in Ting's market. AT&T "$80" a month excludes all taxes and other fees and charges a $180 early termination fee inside a year then renews after 1 year automatically at $10 a month higher.
AT&T is actually more expensive once the hidden fees are added up while….Ting is rated #1 rated Ting by Consumer Reports has no BS pricing and best in class customer service with no hold times and outstanding service.
Comcast Xfinity can only provide download speeds up to 105mbps in Ting markets or less than 1/10th the speed
 For humor here is 27 footnotes of secret/hidden charges for an AT&T bill: https://consumerist.com/2016/04/14/the-consumerist-guide-to-understanding-your-att-u-verse-bill/
AT&T's billing and service is so complicated that there is even a "Consumerist Guide to Understanding Your AT&T U-verse Bill, which highlights 25 charges and fees, not to mention, the price hikes after lock-up expiration: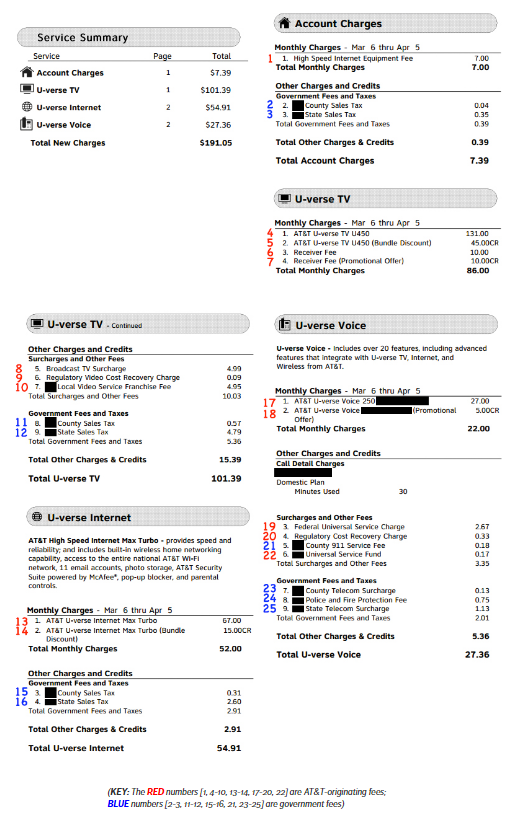 https://consumerist.com/2016/04/14/the-consumerist-guide-to-understanding-your-att-u-verse-bill/
"When you sign up for telecom services — some combination of TV, broadband, and/or phone — from your cable company, you're told you'll pay something like $49 or $99 a month… and yet the price you actually pay can be as much as 40% or more on top of that, thanks to a heap of sometimes confusing charges and fees."
-"The Conumerist Guide to Understanding your AT&T Bill" |
By Consumerist, subsidiary of Consumer Reports.
Comcast Xfinity website re: Charlottesville, VA:
"In your area, XFINITY Internet service from Comcast gives you download speeds of up to 105 Mbps — way faster than DSL — so you can enjoy everything the Web has to offer, including downloading HD movies, uploading photos, streaming TV shows or simply surfing for fun."[26]
Comcast Xfinity and AT&T will lock the customer in for a 12 month agreement and upsell you with bundled products. "After 12 months, then prevailing monthly rate applies, unless canceled by customer before end of promo period."[27] Ting has no lock-up and offer symmetrical 1gbps internet.
If AT&T ever comes to Holly Springs, remember their bill excludes taxes and other charges that amount to $13 a month+ and AT&T clearly states that after 12 months at what would be $93 that the rates automatically jumps $10 per month or $103. Ting $89 a month with all fees is clearly far cheaper than the maze and mystery of AT&T pricing, even though they do not operate in Holly Springs.
Point 6: Copperfield's asserts the CEO is highly promotional, really?
We cannot find any evidence that TCX's CEO has done any Wall Street Sell Side sponsored road shows to meet with investors.
We cannot find any evidence the CEO has presented at a single Sell Side conference, over the last decade.
The Tucows Investor Presentation has not been updated since Feb 2017
If TCX's CEO was really so promotional how did Copperfield write a 68 page short report with 78 footnotes, a miss our estimate of $10+ per share in hidden asset value?
What we can say, is Elliot is a very humble operator for a CEO who has grown value per share at an incredible rate. Specifically, EBITDA per share has grown from .40 cents to nearly $6.00 over the last decade and while the CEO's fully loaded comp is $595K a year and his net worth of $40 million in Tucows stock comes from long tenure, extremely conservative compensation, and extraordinary operating results (EBITDA per share is up nearly 10x and revenue up 5x in the last decade).
Point 7: Copperfield once again trying to twist the truth
 "Ting Mobile is one of 80 domestic, subscale MVNOs, offering low frills service plans. Ting has a structural pricing disadvantage compared to other carriers and MVNOs. For two lines or more, Ting plans are priced between a 15% to 173% premium to Sprint Unlimited plans. With severe pricing pressure from other MVNOs and national carriers, Ting was forced to cut prices and gross margins collapsed by 860 basis points in the most recent quarter. With sequential organic subscriber growth falling below 3% in the third quarter of 2017, Ting has resorted to the ill-conceived strategy of acquiring subscribers from failed MVNOs. Despite offering a $35 credit to defunct RingPlus' 85,000 subscribers, only 45,000 accounts chose to migrate to Ting in 1Q'17, with just 6,000 remaining through 3Q'17. Said differently, of the 45,000 RingPlus subscribers that migrated to Ting Mobile in 1Q'17, nearly 85% churned off within eight months."
-Copperfield Research
Tucows Q3 2017 Transcript
Again, in Q1, we acquired a base of about 22,000 customers from RingPlus, another MVNO that was shutting its doors. We expected significant churn with any involuntary migration…I had said back in Q1 that I'd hoped to hang on to 5,000 to 7,000 of them, and that is, in fact, exactly where we are now. Ting Mobile finished the quarter at 171,500 accounts, and 281,000 devices. This is a return to overall growth from 170,000 accounts and 278,000 devices that we reported last quarter. Diving deeper, those 1,500 net adds actually come from a healthy 4,500 organic net adds and a loss of another 3,000 RingPlus customers.
-Elliot Noss, TCX, CEO on 3Q17 Earnings.
Once again, Elliot calculated two options: build vs. buy option A) Pay $70-100 in customer acquisition costs or $1.3 million to acquire 13,000 customers or option B) welcome 6,000 and 7,000 net paying customers for free as the competitors were going out business. A Ting customer has a lifetime value of approximately $500 so Elliot added potentially $3 million and $3.5 million or nearly $6.5 in value for no customer acquisition cost. Copperfield termed Elliot's actions as an 'ill-conceived strategy'. We see it as a value creator taking action that others won't because it may lead to "ugly" numbers. This strategy exhibits Elliot's focus on growing cash flows and customer satisfaction.
The reason Ting is ranked #1 by Consumer Reports: Simplicity & Transparency, Value with A+ customer service:
Sprint Unlimited Plan vs. Ting:

An average Ting customer's bill is just $23: no contract or no hidden fees. Sprint is not even close!
And now onto Sprint's Unlimited Plan:
For Sprint's unlimited plan, Copperfield forgot to add the "unlimited" hidden charges at the bottom of the website:
"**Mo. charges excl. taxes & Sprint Surcharges [incl. USF charge of up to 19.50% (varies quarterly), up to $2.50 Admin. & 40¢ Reg. /line/mo.) & fees by area (approx. 5 -20%)]. Surcharges are not taxes. See sprint.com/taxesandfees. 

Activ. Fee: Up to $30/line. Credit approval req. Req. eBill & new acct. activ. Sprint Unlimited Freedom Plan: Incl. unlimited domestic calling, texting & data. Third-party content/downloads are add'l. charge. Sel. int'l. svc. incl. See sprint.com/globalroaming. Plan not avail. for tablets/MBB devices. AutoPay: $5/mo. discount may not reflect on 1st bill. Quality of Svc. (QoS): Customers who use more than 23GB of data during a billing cycle will be deprioritized during times & places where the Sprint network is constrained. See sprint.com/networkmanagement for details. Usage Limitations: To improve data experience for the majority of users, throughput may be limited, varied or reduced on the network. Sprint may terminate svc. if off-network roaming usage in a mo. exceeds: (1) 800 min. or a majority of min.; or (2) 100MB or a majority of KB. Prohibited network use rules apply --see sprint.com/termsandconditions."
Sprint Freedom Unlimited Plan:
1st phone $60 a month, 2nd phone $40 then the 3rd, 4th, and 5th additional lines are free (deal validate through 3/31/18), plus an $30 activation charge, without Autopay $5 more per line per month, excludes taxes and Sprint surcharges such as Administrative Charge, Regulatory Charge, Gross Receipts Recovery, State and Local required 911 charges, Federal and State Universal Service Fund Assessment fees, and possibly an Electronic Waste Recycling fee. Furthermore, if you use an excess amount of data, Sprint will slow your download speeds significantly. 
 As of Feb 11th after getting off the phone with a Sprint representative, there are several additional charges:
$13.99 per month per phone line for insurance if you are leasing a phone (depending on credit as well)
$10.00 per month per phone line for any phone newer than the Iphone6 or new model
$30.00 activation fee per line
 The Sprint Unlimited plan is not even remotely close to Ting Mobile average monthly bill of $23. On Sprint's fourth quarter 2017 earnings release, ARPU is $51.26[28]. Both Ting and other carriers have mandatory state and federal taxes, but at least Ting does NOT add additional bait and switch tactics like the rest of the industry.
Ting Pricing Promise:
From Ting.com "The common thread here is this. We will never build pricing on the hope that our customers are not paying attention or not willing or able to make the effort to demand their money back. Said differently, we will never inspire a Consumerist guide to understanding your monthly bill.
We won't lock you in and hike prices when you're already committed. That should be obvious enough. It hardly makes us saints. But it seemed worth putting in writing."
 (No tactics and no tricks. Here's our Ting pricing promise. )This is why they are ranked #1 by Consumer Reports. We consistently find great reviews about the service: 87% of Google reviews for Ting are a perfect 5 stars and 9% are 4 stars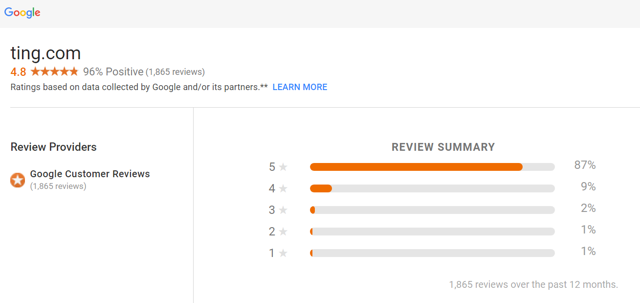 [29]
"We happen to think our billing is so simple that it doesn't require explanation, but showing off just how transparent it is gives us a chance to brag, so we'll take it. This article will walk you through how to view your bill, what's on that bill and how to drill down for more details."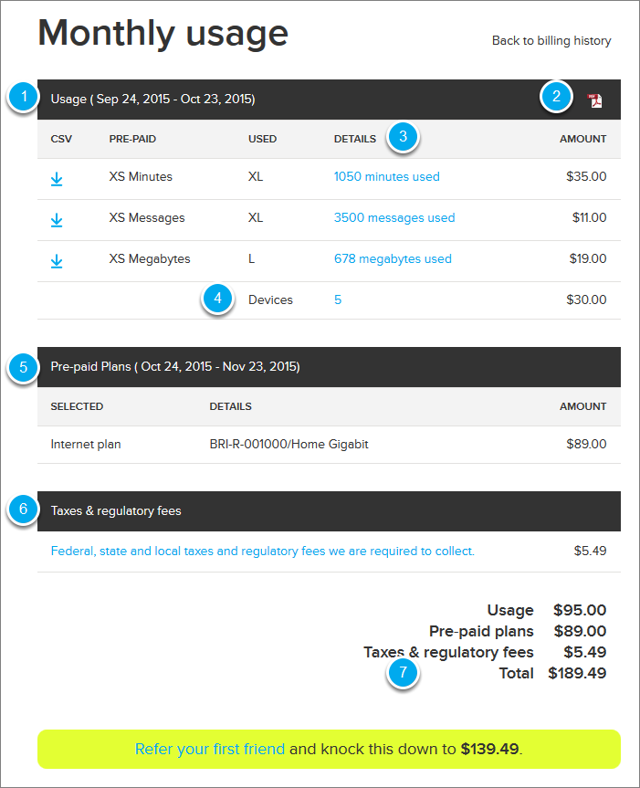 The bill above is for 4 phones plus 1GBPS speed for a home. The industry has massive fixed costs and is a commodity, therefore the industry lives by bait and switch tactics loaded with fine print that constantly disadvantages consumers. As theconsumerist.com found AT&T stated rate to what the net bill was +40% higher. Ting competitive advantage is delighting customers with no contracts, no hold times, some of the lowest cost priced services, and the highest rating by Consumer Reports. For anyone looking of the best customer experience for Mobile we highly recommend trying Ting for yourself: Ting | Save big on your monthly cell phone bill.
Point 8: Copperfield Math:
Copperfield's report states the Tucows domain business is worth $223 million or a 9x multiple in line with Web.com, "WEB". This implies Copperfield's estimate of Domain EBITDA is $24.8 million. First, Web.com has 3x Debt/EBITDA engages in marketing services for customer facing websites and has virtually no unit economic or much of an industry overlap (WEB generates $14 a month a domain while TCX is at $.75 cents a month). GDDY is a better comp but still not great, yet GDDY trades at 3.6x sales and approximately 14x EBITDA. Barclays investment bank in rendering a fairness opinion, believes on precedent and market multiples (from June 2017) that 12-15x EBITDA or 2-2.5x sales is an appropriate multiple for a domain registrar.
 Sell Side analysts are forecasting $59.75 million in EBITDA for 2018. Copperfield's math implies that Ting EBITDA is $59.75 - $24.8 or $35 million. Copperfield believes a business with 20% CAGR and 35% EBITDA margins should be worth 1.5x EBITDA….we think this misplaced the decimal point and this business is worth 15x EBITDA.
Conclusion:
 We believe Copperfield reported is riddled with distortion, mischaracterizations, and outright errors.
The lawsuit from NameCheap is likely immaterial given the CEO's comments all throughout 2017 ""On stage at NamesCon, Tucows CEO Elliot Noss said he was aware that Namecheap was moving off the platform. But that doesn't hurt the deal from Tucows' perspective. Namecheap negotiated very low rates because it was so big. If you measure your business on revenue growth (as Rightside does) then losing Namecheap is a big loss. In Tucows' case, however, it hopes to add about $20 million EBITDA/year from the business. Losing Namecheap shouldn't negatively impact that because it was so low margin.[30]"
Copperfield believes Ting is only worth $50 million or approximately by their applied math 1.5x EBITDA, as they state that Tucows domain business @ a 9x multiple is worth $224 million or implies $24.8 million in adjusted ebitda on a sell side consensus of $59.75 million for 2018. Ting EBITDA therefore is $59.8-$24.8 or $35.2 million using Copperfield assumptions. Ting has 20% 5 year revenue growth with 30%+ EBITDA margins and LTV/CAC of 5x and has the highest rating from Consumer Reports. We believe Ting Mobile/Fiber is worth more like 15x EBITDA not 1.5x.
TCX is leveraging their fixed costs of domain business to also support Ting infrastructure has led to an increase a nearly 3x increase in ROIC and ROE since 2012 to 37.2% and 50% respectively since Ting was founded in 2012!
Noss has a very long history of shrewd capital reinvestment bets: RingPlus, eNom, starting Ting Mobile in house, Afinitas, Ting Fiber, -51% share repurchase at approximately 1x 2018 EBITDA or $5.87 a share
Management is a true owner operator. They own $60 million worth of equity (or 60 years worth of annual salary) and the CEO works for total comp of $595K or 1/20th of the compensation package of the CEO of GDDY
All of TCX business have very attractive unit economics from a LTV/CAC perspective
Both ROE and ROIC will likely improve with a lower tax rate (likely) boosting net income
All of the reported value does not run through the income statement: hidden assets as in the form of Surname and Domain Portfolio's which we believe holds another $100 million in potential asset value in a sale to a strategic buyer most likely GoDaddy.
IMPORTANT Disclaimer – Please read this Disclaimer in its entirety before continuing to read our research opinion. You should do your own research and due diligence before making any investment decision with respect to securities covered herein. We strive to present information accurately and cite the sources and analysis that help form our opinion. As of the date this opinion is posted, the author of this report has a long position in the company covered herein and stands to realize gains in the event that the price of the stock appreciates. The author does not provide any advanced warning of future reports to others. Following publication of this report, the author may transact in the securities of the company, and may be long, short, or neutral at any time hereafter regardless of our initial opinion. To the best of our ability and belief, all information contained herein is accurate and reliable, and has been obtained from public sources we believe to be accurate and reliable. However, such information is presented "as is," without warranty of any kind – whether express or implied. The author of this report makes no representations, express or implied, as to the timeliness or completeness of any such information or with regard to the results to be obtained from its use. All expressions of opinion are subject to change without notice and the author does not undertake to update or supplement this report or any of the information contained herein. This is not an offer to buy any security, nor shall any security be offered or sold to any person, in any jurisdiction in which such offer would be unlawful under the securities laws of such jurisdiction.
---
[1] https://static.ting.com/shared/uploaded_images/08/04/1501851072.png
[2] Tucows | Union Square Ventures
[4] 2018 EV, adjusted for what we believe are $12 per share in hidden asset value
[5] January data show why Rightside sold eNom: Namecheap - Domain Name Wire | Domain Name News & Website Stuff
[6] January data show why Rightside sold eNom: Namecheap - Domain Name Wire | Domain Name News & Website Stuff
[7] ICANN Compliance Report | myICANN.org
[8] 2018 Sell Side Estimates
[9] Tucows | Union Square Ventures
[10] Here's a public doc that shows returns for a few USV funds: https://www.oregon.g... | Hacker News
[11] https://www.sec.gov/Archives/edgar/data/1589094/000119312517214834/d392803dsc14d9.htm
[12] Tucows Reveals Key Domain Name Portfolio Assets
[13] Webscraped data off of Yummynames.com
[14] Kevin Ham sells domain names to GoDaddy - Domain Name Wire | Domain Name News & Website Stuff
 GoDaddy paid $50 million for two latest domain portfolio acquisitions - Domain Name Wire | Domain Name News & Website Stuff
GoDaddy acquires 70,000 domain names from Florida-based Worldwide Media - Phoenix Business Journal
GoDaddy Acquired Another Domain Portfolio In Late 2015
Kevin Ham sells domain names to GoDaddy - Domain Name Wire | Domain Name News & Website Stuff
[15] Tucows 10-K filed 3/8/2017
[16] 4Q16 Earnings Call Transcript
[17]Page 7: https://www.broadbandmap.gov/download/Broadband%20Availability%20in%20Rural%20vs%20Urban%20Areas.pdf
[18] https://www2.deloitte.com/content/dam/Deloitte/us/Documents/technology-media-telecommunications/us-tmt-5GReady-the-need-for-deep-fiber-pov.pdf
[19] Exhibit 20: It's Surprisingly Inexpensive For Google To Build Its Cable-Destroying Google Fiber Network
[20] Study Shows Home Values Up 3.1% with Access to Fiber
[21] http://www.corning.com/media/worldwide/coc/documents/Fiber/RC-%20White%20Papers/WP5082%203-31-2016.pdf
[22] Study Shows Home Values Up 3.1% with Access to Fiber
[23] January data show why Rightside sold eNom: Namecheap - Domain Name Wire | Domain Name News & Website Stuff
[24] BYLAWS FOR INTERNET CORPORATION FOR ASSIGNED NAMES AND NUMBERS | A California Nonprofit Public-Benefit Corporation - ICANN
[25] Ting Internet | Crazy fast fiber Internet for US cities.
[26] Internet Service Provider in Charlottesville, VA | XFINITY®
[27] AT&T Fiber - Make High Speed Internet Even Faster
[28] http://s21.q4cdn.com/487940486/files/doc_financials/quarterly/2017/q3/01_Fiscal-3Q17-Earnings-Release-FINAL.pdf
[29] https://www.google.com/shopping/ratings/account/metrics?q=ting.com&c=GLOBAL&v=1&hl=en_US
[30] January data show why Rightside sold eNom: Namecheap - Domain Name Wire | Domain Name News & Website Stuff
Disclosure: I am/we are long TCX.