The First Innovation In The Acne Market In More Than 20 Years
Please Note: Blog posts are not selected, edited or screened by Seeking Alpha editors.
Summary
On the 1st of August 2019, Botanix Pharmaceuticals raised US$40 million at a valuation of $198.7 million.
BTX 1801: Going into a Phase 2a study for their antimicrobial platform - stating it kills MRSA (staph) bacteria within 10 minutes of exposure, and without allowing resistance to develop.
BTX 1503: A breakthrough in Acne treatment. An End of Phase 2 meeting with the FDA scheduled in July 2020. I presume they will go into Phase 3 trials.
Botanix uses a proprietary technology called Permetrex™ to enhance the topical delivery of synthetic Cannabidiol (CBD) into the skin.
Matthew Callahan is a serially successful entrepreneur*. In particular, he has a proven track record in the life science industry and is responsible for more than 4 Food Delivery Association (FDA) product approvals.
Matt Co-founded Botanix Pharmaceuticals (aka Botanix, listed on the ASX), his latest biotechnology business in the dermatology industry. Botanix uses a proprietary technology called Permetrex™ to enhance the topical delivery of synthetic Cannabidiol (CBD) into the skin to more effectively solve unmet needs of patients suffering from acne, psoriasis, and has developed into an antibacterial platform.
Botanix Pharmaceuticals President, Vince Ippolito, played a leading role in two of the largest dermatology acquisitions completed in the past decade with combined valuations of $7.8 billion.
In 2019 they announced development of a new antibacterial platform (BTX1801), and had a successful Phase 2 Acne trial (BTX1503). The Successful Phase 2 Acne results confused Mr. Market. They are using the Statistically significant Australian data from the study to go into Phase 3 Acne trials. They then had to make separate batches of the drug in the US and Australia, and hence got a high placebo effect in the US. Going forward, they do not. 
For the Phase 3 Trial, the Permetrex batches will be manufactured in bulk in the same lab by a global specialty chemicals company. Management's actions will ensure there is no inconsistency between jurisdictions, which caused the skewed vehicle response in Phase 2 and subsequent failure to meet the primary endpoint.
Regarding the successful Phase 2 data of the Acne trial, in March 2020, Botanix showed clinically meaningful results. BTX 1503 5% once a day showed statistical significance in overall lesion reduction vs the vehicle (placebo).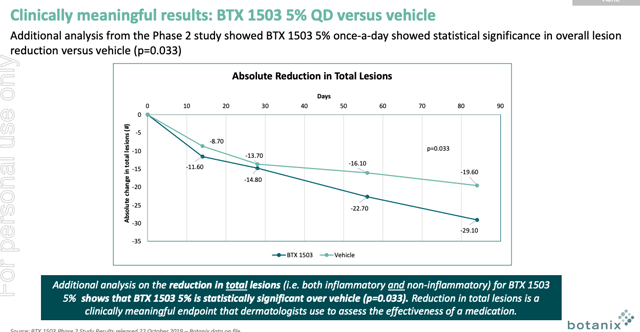 On the 1st of August 2019, Botanix raised US$40 million at 0.21c, with new shares outstanding at 946,506,191, which equals a valuation of $198.7 million.
In Q1 2020 Botanix tried an atopic dermatitis Phase 2 study. That failed because it is not related to an infection like Acne and the Antimicrobial developments are. It did not affect other product developments.
Botanix is going into a Phase 2a study for their antimicrobial platform in Q3 2020.
Regarding approximate valuations of BTX 1503 Acne alone, here are 3 diagrams regarding asset values of BTX1503 Acne at different stages. There have been no new Acne treatments in 20 years.
As the Atopic Dermatitis Phase 2 failed, I will ignore it.
As of March 2020, Botanix had breakthroughs in:
BTX 1503: Acne, going into Phase 3 trials pending a July 2020 FDA planning meeting, and
Antimicrobial development, targeting Surgical Site Infections (SSI) going into Phase 2a in Q3 2020. They state it can kill MRSA bacteria within 10 minutes of exposure, by a novel mechanism of action, and without allowing resistance to develop.
These need to be valued accordingly.
Scientific papers on Cannabidiol (CBD) & Antibiotic activity research
On the 16th of April 2020, Botanix updated the market. 
The world needs new antibiotics like BTX1801
"Never has the threat of antimicrobial resistance been more immediate and the need for solutions more urgent," says Dr Tedros Adhanom Ghebreyesus, Director-General of the World Health Organisation. Only 12 antibiotics have been approved since the year 2000.
Botanix has cash for approximately 24 months — to 2022
In the 16th of April update, Botanix stated they have enough cash for 24 months. So, I presume that Botanix gets to a Phase 3 Acne trial and finishes the Phase 2 (a and b) Antimicrobial trial.
Dermatology starting Phase 3 Acne acquisition comparative research
PellePharm: funding and option of merger of $690 million at phase 3 for topical gel
Under the terms of the agreement, LEO Pharma has initially committed $70 million comprised of equity financing and financial R&D support to fund the global Phase 3 trial for patidegib topical gel 2% for the prevention and treatment of Gorlin Syndrome, with LEO Pharma securing an option to acquire all shares in PellePharm. PellePharm and its stockholders could receive up to an additional $690 million including merger consideration, and regulatory and commercial milestone payments.
LEO Pharma and PellePharm Announce $760 Million Collaboration to Advance Innovative Therapies for Rare Skin Diseases
Acquisition / development research for antibacterial platforms. To develop ~ $190.5 million
Roivant Sciences and iNtRON Biotechnology announced that they have entered into a global licensing agreement for SAL200, a novel investigational biologic for the treatment of infectious diseases caused by antibiotic-resistant staphylococci. This licensing deal is worth a total of US$667.5M inclusive of milestone payments, with royalties on net sales in the low double digits.
Roche made a deal with Forge worth $190.5 million to work on a new antibacterial drug — to fight antibiotic-resistant gram-negative bacteria.
Studies by Botanix have shown that BTX 1801 is more effective than the market leading decolonisation agent, mupirocin, at decolonising MRSA. The global market for mupirocin is worth about US$228 million a year.
Only 12 antibiotics have been approved since 2000. In the U.S. alone, antibiotic resistance adds $20 billion to $35 billion in direct health care costs each year.
Biotech is expensive
Developing a new prescription medicine that gains marketing approval is estimated to cost drugmakers $2.6 billion.
Botanix analyst reports
After moving into a Phase 3 Acne trial in Q2 2020, 24th October 2019, 0.25c.
After moving into a Phase 3 Acne trial in Q2 2020, 14th November 2019, 0.29c.
After starting a Phase 2a Anti-bacterial trial due Q2 2020, 16th March 2020, 0.25c.
Valuation ranges from research ($US)
With a breakthrough Acne trial in Phase 3: $516m / $690m
Acquisition data for antibacterial platform development: $190m
* I am involved in the Track Record News website, which is a news source about successful entrepreneurs.
Disclaimer: I own shares in Botanix Pharmaceuticals.
Analyst's Disclosure: I am/we are long BXPHF.
Seeking Alpha's Disclosure: Past performance is no guarantee of future results. No recommendation or advice is being given as to whether any investment is suitable for a particular investor. Any views or opinions expressed above may not reflect those of Seeking Alpha as a whole. Seeking Alpha is not a licensed securities dealer, broker or US investment adviser or investment bank. Our analysts are third party authors that include both professional investors and individual investors who may not be licensed or certified by any institute or regulatory body.