Several biofuel companies had a pop in their stock price on high volume last Friday. This interest from investors was due to a decision by the EPA to increase the Renewable Fuel Standards (RFS) by 28% for 2013. This means a steadily increasing market for biofuels, as the rule mandates that refiners must use 1.28 billion gallons of biodiesel next year.
Gains ranged widely but Friday's jump put biofuel companies at an average gain of 36% since September 1 (see chart below). For example, BioFuel Energy Corp. (NASDAQ:BIOF) gained 39% on the day, on one-day volume that was greater than the whole rest of the week combined. It should be noted, though, that the average biofuel company was still down 17% year to date (BIOF is down 34%).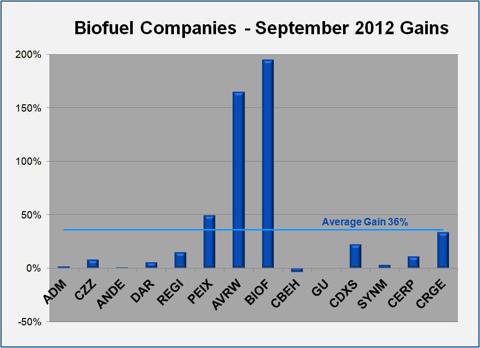 The chart is sorted by company sales for the past 12 months, largest to smallest from left to right. A clear pattern emerges, showing mid-sized companies with the greatest gains. Investors appear to be saying that these companies are best positioned to take advantage of continued growth in the biofuels market.
My take is that there are still several companies worth looking at. In particular I like the financials of Renewable Energy Group Inc (NASDAQ:REGI) and Archer Daniels Midland Company (NYSE:ADM). REGI, an integrated biofuel production company, has excellent sales growth, very reasonable debt levels and is considered by the Roen Financial Report to be trading at fair value in the 6.0 to 6.3 price range. ADM, one of the nation's largest processes and distributes of agricultural commodities, is also considered to be trading at fair value in the 27.00 to 27.25 price range, and is projected to have a 17% increase in earnings per share going forward. (click here for free company report).
Disclosure: I have no positions in any stocks mentioned, and no plans to initiate any positions within the next 72 hours. I wrote this article myself, and it expresses my own opinions. I am not receiving compensation for it. I have no business relationship with any company whose stock is mentioned in this article.