According to a recent report by
Greentech Media Research
, the electric
generating capacity
of photovoltaics should total 15 gigawatts in 2010. This is significantly higher than
just two years ago
, when solar generated electric capacity was more in the 5 to 7 gigawatts range.
Greentech predicts that number will grow to as much as 25 gigawatts by 2013! I find this one of the most compelling energy investment stories of the year.
For example First Solar FSLR, a company included in the Roen Financial Report's Paradigm Portfolio, has had balance sheet growth that approaches exponential numbers. As of the end of the third quarter, growth in sales, net income and earnings per share have all been double digits compared to where they were a year earlier, with sales increasing by 66%. In fact, year over year sales have been growing on for all 4 of the most recent quarters.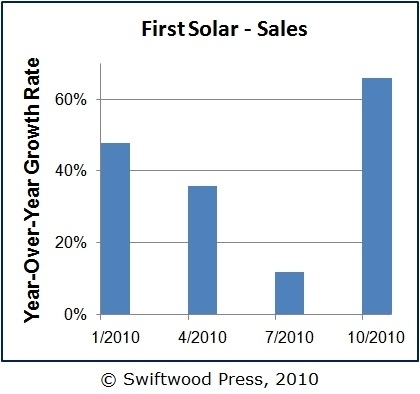 It is hard to find other examples of such robust industry-wide growth in the current lackluster economy. I will be closely following developments in the solar industry, and will be forecasting whether these growth rates can be sustained in 2011.

Disclosure: No position