The painful disaster at the Fukushima Daiichi nuclear reactor complex is gut wrenching to watch. My heart goes out to all the victims and their families of this unfolding disaster. 
I have never been a fan of nuclear energy as a low-carbon electricity source or otherwise. I seek no blame or derision, however, to the people handling this disaster - their efforts have been nothing short of heroic. The plant was designed with extreme natural disasters in mind, but simply not for an earthquake and/or tsunami of the magnitude that hit Japan last week. 
I in no way want to capitalize on this human and environmental tragedy, but one has to ask the question of how this event may affect alternative energy investments. 
Indeed, in the short-term has alternative energy stocks have been up since March 11. Two widely watched clean energy indices both posted gains as of yesterday's close: the Ardour Global Index (AGIGL) was up 4.9%, and the WilderHill New Energy Global Index (NEX) climbed 12.5%. By comparison, the S&P 500 dropped 2.3%. Though short-term trends can be interesting, I find the longer-term data much more compelling.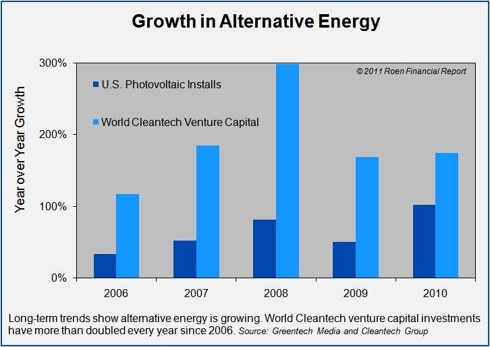 The chart above shows two measures of growth in alternative energy since 2006. The dark blue bar shows growth in photovoltaic installations in the U.S., as reported by Greentech Media. The light blue bars are figures published by Cleantech Group, showing growth in venture capital that has poured into alternative energy companies. This only lists investments for the first 3 quarters of 2010, so when the data gets updated growth will be even higher.
It is important to note that this chart shows growth. This means that venture capital has more than doubled every year since 2006, and in some cases much more. This tells me that how ever the future of energy is affected by the tragedy in Japan, alternative energy trends are already in place for continued growth in the decades to come.