Alternative energy Mutual Funds (MFs) and Exchange Traded Funds (ETFs) have had spectacular returns over the past three months. There are still risks, however, especially for ETF investors. This article summarizes changes in MF and ETF ranks for funds covered by the Roen Financial Report.
Mutual Funds
Alternative energy MFs showed improving ranks for this February update. In all, three funds were bumped up to a Rank 1: Allianz RCM Global Water A (MUTF:AWTAX), Guinness Atkinson Alternative Energy (MUTF:GAAEX) and Alger Green A (MUTF:SPEGX). This coincides with the fact that the alternative energy MFs we cover have gained an impressive 14% on average in the past 3 months. Contrarily, one alternative energy MF declined to the bottom of the heap, becoming a Rank 5.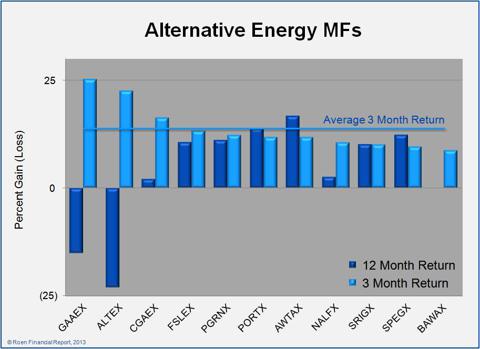 Quarterly returns have been spectacular for all of the MFs, ranging from a low of 8.8% all the way to a remarkable 25.2% for GAAEX. Many of the equities held in these funds hit bottom at the end of 2012, so these returns reflect the upward surge since that time. Because of these gains, it should be noted that 8 out of 11 MFs are at the top of the annual trading range. Therefore, I would not be surprised to see a modest pullback from here for many of these funds.
Exchange Traded Funds
All the Rank 1 ETFs retained their current top slots: Market Vectors Environmental Services (NYSEARCA:EVX), First Trust ISE Global Wind Energy Index Fund (NYSEARCA:FAN) and First Trust ISE-Revere Natural Gas Index Fund (NYSEARCA:FCG). In addition, PowerShares WilderHill Clean Energy Portfolio (NYSEARCA:PBW) increased from a Rank 5 to a Rank 3. It shows improved capital gains exposure, and a reduced turnover ratio.
As with MFs, three-month returns for alternative energy ETFs have been extremely impressive. ETFs have gained 12% on average, with Market Vectors Solar Energy (NYSEARCA:KWT) up over 38%! The one exception is iPath Global Carbon ETN (NYSEARCA:GRN), an Exchange Traded Note that tracks Barclays Capital Global Carbon Index. Unfortunately, GRN has lost over half its value in the past three months. This is due to the depressed carbon market, which has been trading at all time lows.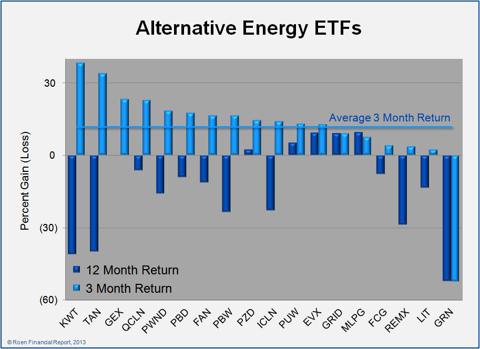 It is important to note that a fund like GRN has the potential to close up shop and liquidate its assets, not an uncommon occurrence in the over-crowded ETF world. GRN has an extremely low amount of assets under management, less than $1 million. It also trades at low volumes. These are two warning signs that its underwriter may decide to pull the plug sooner than later.
As is true with many alternative energy equities these days, they can be highly speculative on both the upside and the downside. Consequently, alternative energy investments may only be appropriate for a small portion of an investors overall portfolio.
Disclosure: I have no positions in any stocks mentioned, and no plans to initiate any positions within the next 72 hours. I wrote this article myself, and it expresses my own opinions. I am not receiving compensation for it. I have no business relationship with any company whose stock is mentioned in this article.