The recent earthquake and tsunami in Japan is heartbreaking. The devastating loss of life, dislocation of families, environmental damage and disruption of economic activity are all distressing stories that will continue to play out over the years. Additionally, Japan is facing an enormous reconstruction effort on a scale unprecedented in modern history.
According to the
Insurance Journal
, the cost of damages from the earthquake and tsunami are estimated at $185 to $308 billion (¥16 to ¥25 trillion). This makes it by far the costliest natural disaster ever to occur. Damages are more than double those of the Kobe earthquake (also occurring in Japan), which before this event was the world's most expensive natural disaster.
Japan is the third largest industrial nation in the world. It is also an island nation with no significant domestic fossil fuel resources. This means virtually all of Japans energy requirements are imported. Considering the ongoing chaos at the Fukushima Daichi reactor, mounting oil prices, and unrest in the Gulf states, it is not surprising at all that Japan is looking to renewable energy sources for reconstruction.
A very significant example of this focus on renewables is a recent announcement from Japan's Chief Cabinet Secretary Yukio Edano. In a report by
Platts News
, Edano stated unequivocally the need to rethink Japan's energy sources:
"Considering the damage inflicted this time, alternative energies will become one of the important pillars [of reconstruction].  [Solar] energy or biofuels, so to speak, clean energy, these will be boosted and beefed up in order to overcome the damage done by this disaster."
According to a recent report by the
U.S. Energy Information Agency
(NYSEMKT:
EIA
), Japan is the world's largest importer of liquid natural gas and coal, and the third largest net importer of oil. Fully 11% of energy consumption is produced form nuclear (see EIA chart below). Yet only 1% of Japan's energy currently comes from renewables. For one of Japan's highest level policy makers to talk about clean energy is a major shift in Japan's energy policy.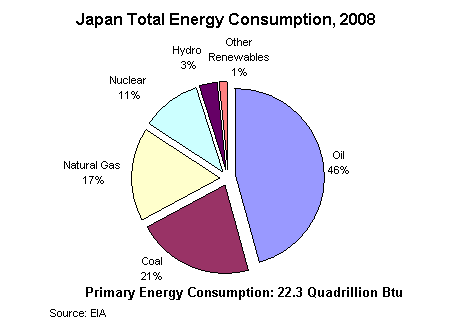 There is no question in my mind that cleanup and rebuilding efforts on the northern coast of Japan will be thorough and unrelenting. Japan's resilient people will seek to turn this disaster into an opportunity. As growth in demand for solar and other renewables is dropping in huge markets like Europe, Japan will likely be a growing market for alternative energy companies in the years ahead.