The Roen Financial Report tracks the highest quality alternative energy companies. This helps investors gain the knowledge they need to successfully choose the best stocks.
Company Profiles are listed in the

Roen Report

 
 website to give quick access to important data. The profiles include proprietary gages of value and safety. An example of the listing of one of the Large Cap Legacy companies contained in the Paradigm Portfolio is shown below. The green boxes with yellow text point to the individual components of each listing.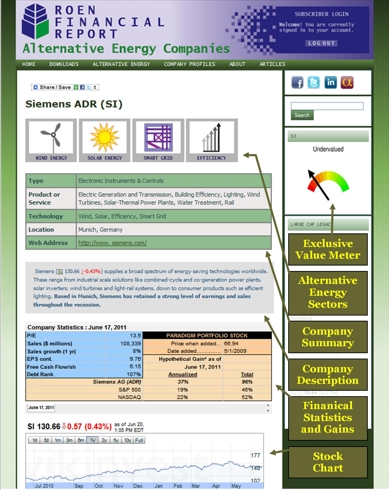 Each company listing contains an exclusive value meter. Based on past and future earnings, this meter shows where I believe a fair value is compared to where the company's stock price is trading. So in this example, Siemens is considered undervalued, and thus a good candidate for a stock purchase.
The icons at the top of the listing show the alternative energy sectors in which the company operates - Wind, Solar, Smart Grid, Efficiency, Fuel Alternatives and Environmental. Every icon links to an in depth article for each of the alternative energy sectors.
The company summary gives an at-a-glance chart of specific company information to better understand exactly what kind of business it is in. The company description that follows spells out what the company does, and gives you my take on how it is doing financially.
The blue area to the left of the financial statistics and gains box shows up to date financial metrics for each company. The gains portion on the right of the box displays whether the company is part of the Paradigm Portfolio, if it has been removed from the portfolio, or if the company is simply being tracked. The hypothetical gains of the stocks are shown compared to the S&P 500 and NASDAQ indices over the same time period.
Finally the
stock chart
is an interactive graph of how the stock has done historically.