Earlier this year, a national offshore wind strategy was published jointly by the U.S. Department of Energy and the U.S. Department of Interior. This important effort offers a compelling rational for offshore wind development, and lays out the challenges this types of large-scale marine construction will face. It also maps the most promising coastal locations in the continental U.S. and Hawaii (see below).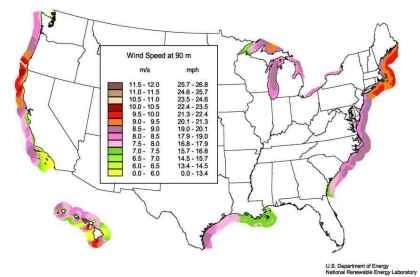 The strategy estimates a deployable offshore resource that could generate 10 gigawatts (GWt) of electricity in less than 10 years, at a cost of $0.10/kWh. This projection increases five-fold by 2020, to 54 GWt generated at $0.07/kWh. This would make offshore wind very competitive with both fossil fuel and renewable based generators.
Reaching these levels won't be easy. The farther off the coast you go the stronger the wind speeds, but his means deeper depths which increases technical challenges. Even at a large scale, offshore wind will cost more to build and maintain than its land-based counterpart.
Another challenge is that the U.S. has little or no experience building wind towers at sea. Also, permitting offshore facilities is largely untested. On the plus side, some of the best sites flank large population centers—off the Mid-Atlantic, New England and California coasts, and in the Gulf of Mexico.
To learn more about wind energy, visit the Alternative Energy section of our website at www.RoenReport.com.