The Roen Financial Report has long been reporting on whether prices of green investments are at high, low or fair value levels. A new feature, the Fair Value Chart, has been added to our alternative energy investment website for the benefit of our valued readers. This proprietary graph tracks whether a stock is overvalued, undervalued, or is trading at a fair price, and how that value has changed over time. As explained below, these figures can be very useful for investors.
---
Exclusive Feature Graphs Fair Value of Clean Energy Companies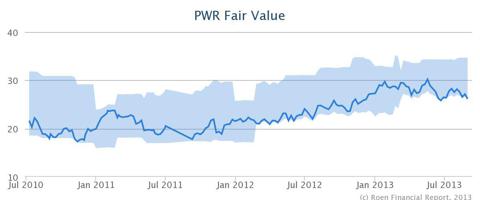 The Fair Value Chart above graphs Quanta Services, Inc. (NYSE:PWR), a large Texas-based specialty energy contractor in the smart grid business. The dark blue line shows the weekly closing stock price, and the shaded area is our estimate of the fair value range for the company. Back in early 2011 PWR was trading at upper levels of its fair value channel, so investors would have been paying top dollar for the stock in our estimate. Currently, however, Quanta Services is trading at the bottom of its fair value channel, so looks more attractive as a buy.
---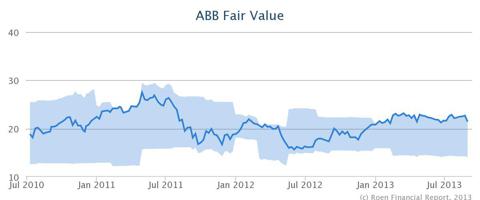 In another example, the Fair Value Chart above shows relative value for Swiss smart grid company ABB Ltd. ADR (NYSE:ABB). The chart shows that after July 2011 (when the ABB was considered above fair value to overvalued for four months), the stock dropped 39% over the next 3 months. Conversely, when ABB reached undervalued levels in both the second half of 2011, and thru spring of 2012, investors would have done well to buy when it was trading in the $16 - $17/share range. Since the beginning of 2013, the stock has jumped back into the overvalued range, so holders of the stock may want to reconsider their position.
The Importance of Fair Value
Picking a good alternative energy stock to invest in is only a first step. Once an investor has answered question such as does the company have a good income stream, does it use its assets efficiently, and is the company well placed within its industry, that does not mean you should just run out and buy the stock at any price. Understanding how a stocks relative value has changed over time is key to successfully building a clean energy portfolio.
Disclosure: I have no positions in any stocks mentioned, and no plans to initiate any positions within the next 72 hours.