First Solar is one of the biggest pure-play alternative energy companies. This solar powerhouse had $2.5 billion in sales in the last 4 quarters, and has a market cap over $6 billion, making it by far the largest U.S. solar manufacturer. So it is no wonder that investors in solar are disappointed in the 53% drop that First Solar has had in the last 6 months.
But where is the stock likely to go in the future? It is certainly possible that there may be further bad news about First Solar which will drive down the stock price, like the recent hit the stock took over missed loan guarantees. On the other hand, a technical look at First Solar's price chart shows why I believe a long-term bottom has been reached.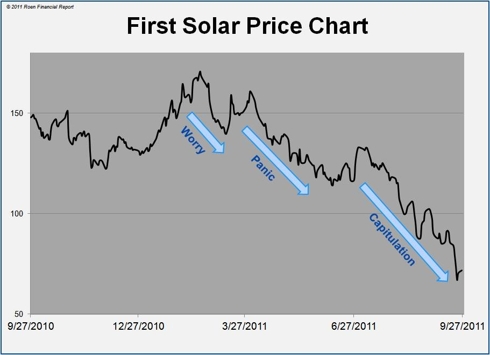 Stocks commonly move in three waves, both on the up side and the down side. This price chart shows three well developed down waves that started in February 2011. The first leg down is the "worry" phase, where investors start to get antsy but then breathe a sigh of relief when prices recover. The second phase reflects "panic." Confusion reigns – some people are selling stock, some are buying, but no one really knows what to do. The last phase is "capitulation" where investors are screaming at their brokers "get me out at any price!" Why do I think capitulation has occurred? A look at the next chart is very telling.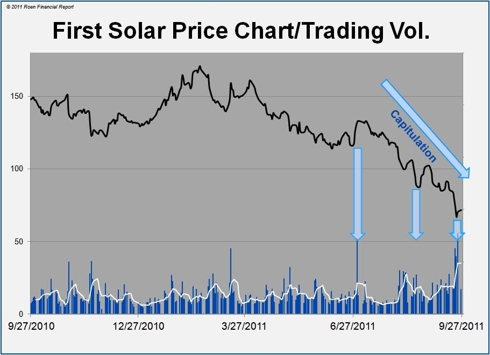 This graph shows the same price chart as before, with trading volume included (blue bars at bottom). During the most recent leg down, or "capitulation" phase, there have been three drops on steep volume – at the end of June, the end of August, and the end of September. The white line in the volume part of the chart shows the 5-day moving average. This line went higher and higher with each consecutive price drop, so in each sell-off volume was increasing. The last steep drop was on very high volume, a true capitulation event.
My conclusion is that this selloff is overdone, and First Solar will bounce back up from here. Using an average of forward and trailing earnings,
I calculate the stock to be undervalued
up to $100/share, and at fair value at around $127/share. The long-term investor should be rewarded accumulating First Solar at these prices.
Disclosure:
I have no positions in any stocks mentioned, and no plans to initiate any positions within the next 72 hours.