Despite fears of a recession and an economic slowdown, investment activity in alternative energy companies is on the rise.
 
A recent report from the
Cleantech Group
confirms that venture capital investments in renewable energy for the third quarter of 2011 were
up 12%
from this previous three months. Total investments were $1.98 billion, which was fully
23% higher
than that of the same quarter last year. 
North America had by far the largest representation, making up over three quarters of the venture capital invested. The Asia/Pacific region invested 14%, and Europe/Israel accounted for 10%.
 
What I find most interesting is that Solar was displaced as the largest area of alternative energy investment. Instead, Energy Storage topped the list of investment sectors, garnering $514 million, or 42% of venture capital spent (see chart below).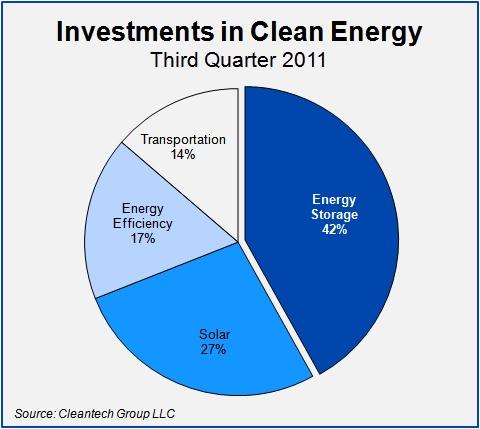 This is a significant change, pointing to a broader interest in development of the smart grid and electric vehicles. Readers of the Roen Financial Report can find good opportunities for publicly traded stocks in these areas, including General Electric (NYSE:GE) and Fuel Systems Solutions Inc (NASDAQ:FSYS).
You can read a more detailed analysis of venture capital investment by alternative energy companies in the Cleantech press release.