The Paradigm Portfolio is a select list of alternative energy companies chosen by the Roen Financial Report. This hand-picked collection of about 40 stocks are considered the best investments in energy efficiency, environmental, fuel alternatives, smart grid, solar and wind. The Paradigm Portfolio is up 39% since inception (January 1, 2013) after accounting for additions, removals, and rebalancing.
Returns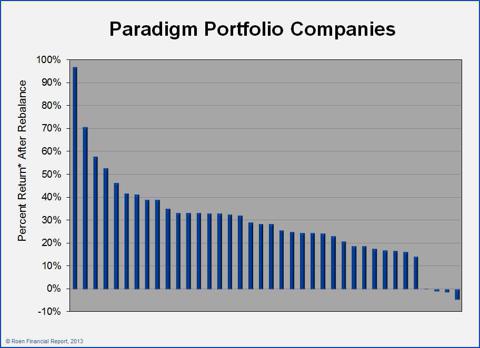 Of the companies currently in the portfolio, 92% are up since inception. In fact, with the exception of only one company, all of the gainers are up in the double digits. Four companies that have returned over 50%: Fuel Tech Inc. (NASDAQ:FTEK), SolarCity Corp. (SCTY), The Andersons, Inc. (NASDAQ:ANDE) and Google, Inc. (NASDAQ:GOOG). Only three companies trading down, and none of these stocks have lost more than 5%.
Diversification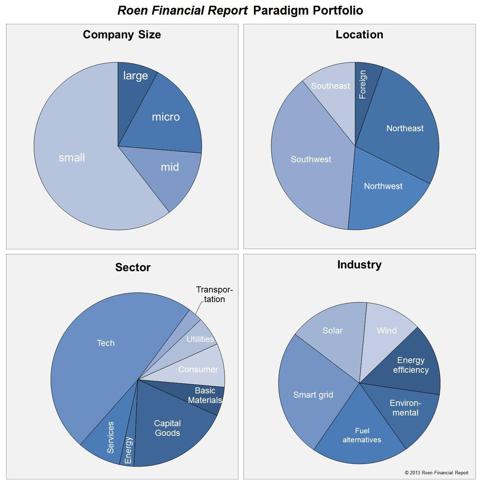 Companies are picked for inclusion in the Paradigm Portfolio using multiple criteria. We look at a large array measures including financial screens, debt levels, speculative benchmarks, stock price valuation and analyst opinions. In order to assure as much of a balanced portfolio as possible, an eye is also kept to diversification. Companies are picked that balance the portfolio across factors such as company size, alternative energy sector, location and alternative energy industry.
Portfolio Update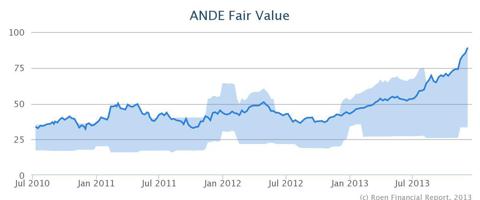 One company is being removed from the portfolio, The Andersons, Inc. (ANDE). This Midwestern biofuel company has done very well, up 58% after rebalancing.
ANDE is being removed for several reasons. It has passed fewer stock screens in the latest assessment, and is only recommended as a buy by one analyst. It is considered overvalued, trading at the very upper end of its fair value channel. There are also good political reasons to be cautious in the biofuel industry at this point in time. In addition, because the stock market in general, and alternative energy in particular, have been performing so well, taking some profits now should be a wise decision.
---
*Hypothetical gain from portfolio recommendations. It should not be assumed that recommendations made in the future will be profitable or will equal the performance of the securities on this list.
---
Disclosure: I am long GOOG.