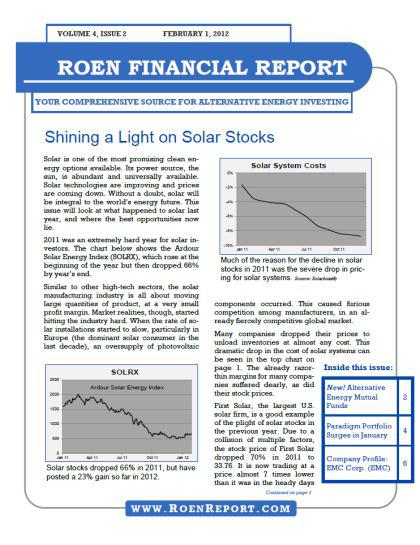 Free to Our Readers
As a thank-you to our readers, we have published a free copy of the latest edition of the Roen Financial Report. The February issue features an exciting debut, a new section on Alternative Energy Mutual Funds, along with other informative articles. Click here to go to the special page to download your free issue!
Newsletter Features
The new Alternative Energy Mutual Funds section ranks mutual funds that invest in the alternative energy industry. Two different types of funds are evaluated, open end mutual funds, and exchange traded funds (ETFs). Funds are rigorously examined using many measures, including past returns, expenses and valuations of underlying securities in the funds. Funds are then ranked so that subscribers can know which alternative energy funds are the best value today.
Other articles in the February issue include:
Shining a Light on Solar Stocks. This segment examines what happened to solar stocks last year, and where the best opportunities are now.
A profile of EMC Corp. (EMC), a high-quality company in the business of data management that is set to profit with the build out of the smart grid.
Reporting on the surge in value of stocks in the Paradigm Portfolio since the start of 2012.
Thank you and we hope you enjoy your free issue of the Roen Financial Report.
Disclosure: I have no positions in any stocks mentioned, and no plans to initiate any positions within the next 72 hours.