Green Dividend Yield Investing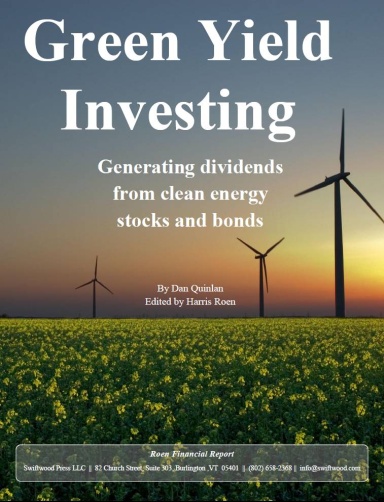 Do you want to generate meaningful income from alternative energy stocks and bonds while supporting the growth of clean energy? The Roen Financial Report has released a new report Green Yield Investing: Generating dividends from clean energy stocks and bond. This report offers valuable guidance on adding steady income through clean energy stocks, bonds and mutual funds.
Written by guest author Dan Quinlan, this timely and informative report will teach you how green dividend yield investing can be a more stable way to invest in alternative energy - a market that has, in many ways, been very volatile and speculative. Learn about three distinct types of emerging income investment opportunities: the "YieldCo", Financing Companies, and Clean Energy Bonds. By reading the report you will discover how these investments work, and how they can enhance your income generating strategy.
Green Yield Investing details seven specific dividend yield producing investments. The report includes crucial data on ownership, management team, key financials and future prospects. For example, Pattern Energy Group Inc. (NASDAQ:PEGI), a YieldCo that owns and operates six wind power facilities, has a yield of 4.4% and is on target for annual dividend growth of 8-10%.
Green Yield Investing also describes how investors can benefit from the Roen Financial Report Green Dividend Yield Portfolio. This select group of high-yield alternative energy stocks fall in the "sweet-spot" of dividend yield between 3.5% and 7.0%. Alternative energy companies in the Green Dividend Yield Portfolio are evaluated on many criteria important in determining the quality of dividend yield that a company produces. These criteria include dividend growth, earnings per share, free cash flow, return on equity and yield to debt risk. The 15 companies currently in the Green Dividend Yield Portfolio have yields ranging from 3.5% to 6.2%, with an average yield of 4.4%.
Whether you are thinking about augmenting your existing dividend yield portfolio, or want to add income investments as part of your savings strategy, Green Yield Investing can help you reach your goals. Download your free copy today at http://www.roenreport.com/green-dividend-yield/
Disclosure: I have no positions in any stocks mentioned, and no plans to initiate any positions within the next 72 hours.