Two of the key solar energy markets in the world, North America and Europe, are set to show substantial growth in solar photovoltaic installations for 2012. The recently released reports from North American PV Markets Quarterly and European PV Markets Quarterly, published by NPD Solarbuzz, depict robust increases in both regions.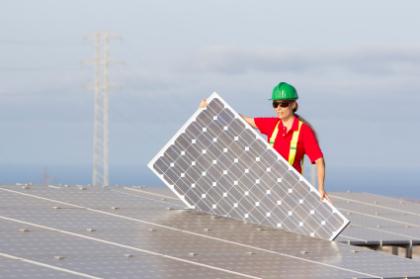 The United States, for example, has 25 gigawatts of photovoltaic projects in the pipeline. These are large-scale commercial and utility projects. That's a huge number, considering 0.93 gigawatts were installed in North America in the fourth quarter of 2011, which was a record quarter. If residential installations were included, the quantity would be even larger. The main drivers are falling prices for photovoltaic components, as well as solar incentive policies in the U.S. and Canada.
In Europe, the installations in the first quarter of 2012 are projected to show a 10% growth over the same quarter last year, with Germany expected to lead the way. Belgium, France, Spain and Greece are expected post record numbers of installations. If a ruling favorable to incentive tariffs is upheld in the United Kingdom (we will know in March), then the UK could experience a surge in photovoltaic systems as well.
Uncertainties remain, though. Feed-in tariffs, a mechanism that allows electricity generated from solar to get favorable rates on the power market, are under review in Canada. Also, Renewable Energy Grants from the U.S. Department of Treasury expired at the end of 2011, so it remains to be seen how this will affect the rate of installations. In Europe, Germany's more frequent tariff adjustments could affect the number of new projects.
So what does this mean for solar investors? Construction companies involved in solar installations are sure to be beneficiaries of the current photovoltaic project boom. Companies such as Ameresco Inc. (NYSE:AMRC) provide exactly this service to corporate clients. This is a fairly new publicly traded company, added to the New York Stock Exchange in July 2010. Since then it has had solid earnings and increasing sales, and has a forward price earnings ratio around 15, which I believe makes it a good prospect when it is trading below $11.00/share.
Disclosure: I have no positions in any stocks mentioned, and no plans to initiate any positions within the next 72 hours.