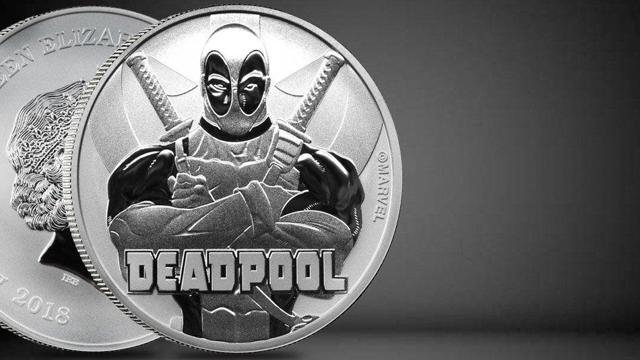 (AND HOW YOU CAN GET YOUR HANDS ON IT!)
Does it get better than superheroes and silver? Both investors and coin collectors can purchase a variety of the popular Marvel Bullion Series. The bullion coins in this series include Spiderman, Thor, Iron Man, Black Panther, and now Deadpool.
The limited edition and one of a kind coin is the 2018 1 oz Tuvalu Deadpool Marvel Series Silver Coin in .9999 fine silver. The coin also has a limited total mintage of 50,000!

SOME OF THE FEATURES OF THIS BRILLIANT COIN INCLUDE:
The option to purchase as PCGS (Professional Coin Grading Service) graded 69 or 70, meaning the coins graded near perfect or perfect respectively. The PCGS graded coins are also of the first strike designations, meaning that PCGS guarantees that the coin has been graded within the first 30 days of issue.

Brilliant uncirculated condition

Comes in a 1 troy ounce size, which is known to be the most popular bullion coin size.

Minted from the Australian Perth Mint, known for its high quality.

$1 Denomination from Tuvalu

Only 50,000 of these coins will be minted

Comes in protective packaging, or in a PCGS holder with the first strike label for graded coins

Made from .9999 fine silver

Distributed from LPM group
What exactly makes this Deadpool coin so awesome? From the American Marvel comic series, Deadpool is known worldwide. Deadpool, who is also named Wade Wilson (prior to being known as Deadpool), was also made into a movie in 2016. Firstly, Deadpool was known as a supervillain in the original comics. Later on, he turned anti heroic. Consequently, Deadpool is known to have a mentally unstable and disturbing mind, with a jokester personality on the side. In addition, he also has the agility and physical strength along with the ability to heal very quickly. Deadpool is a favorite character amongst many in the Marvel comic series. Deadpool has been featured on the reverse side of the coin, depicting the character from the comic book series more so than from the 2016 Deadpool movie.
The obverse presents a portrait of Queen Elizabeth II, a classic design by Ian Rand Broadley. Seems like, Queen Elizabeth II might be "night and day" to Deadpool but this makes this coin even more special.
CHECK OUT OTHER PERTH MINT PRODUCTS:
---
Bullion Exchanges is one of the largest and most reliable precious metals retailers in New York City's Diamond District. We ensure a pleasant and secure retail and online shopping experience. You can purchase this exquisite new coin available to you today online at BullionExchanges.com. We offer free US shipping on all orders over $75 USD. Alternately, complete your purchase of this exquisite coin at our retail store in the heart of Manhattan, at 30 West 47th Street, open Monday-Friday from 9am-5pm EST.