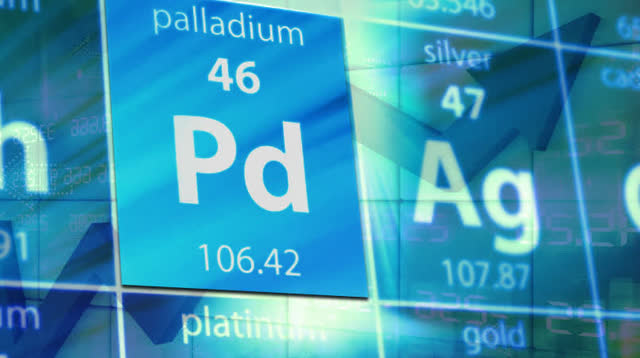 The palladium price today reached a new all-time high record above $2,700. This record makes it almost inconceivable to think that palladium once traded as low as $150 per ounce in 2003! In recent years, the palladium price rose because of rising industrial demand. As a key component for catalytic converters, palladium is particularly useful for limiting toxic gas emissions in petrol and hybrid vehicles. Hence, the increased industrial demand. To comply with the Paris Climate Agreement, many countries are turning to greener alternatives, which boosts demand for palladium. In addition to the short supply and higher demand, complications in Russia further amplify the palladium spot price.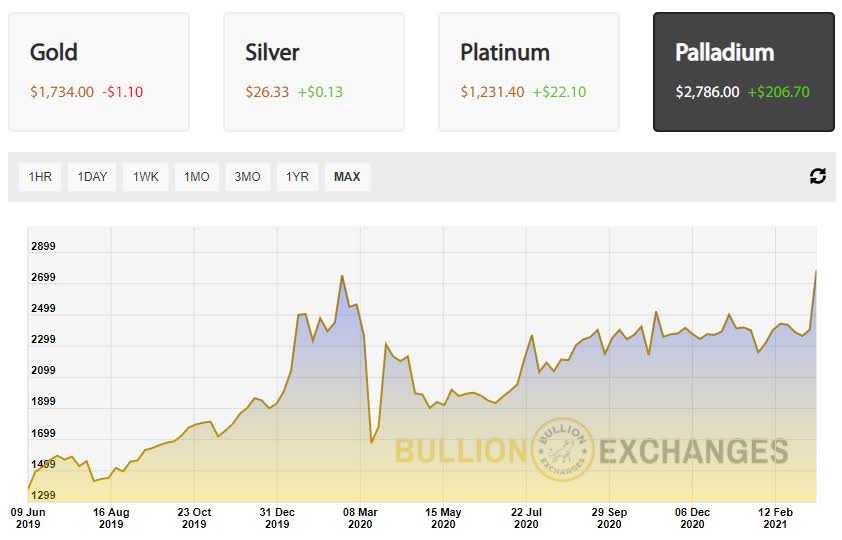 RUSSIA'S NORILSK NICKEL AND THE PRICE OF PALLADIUM PER OUNCE TODAY
Russia is one of the biggest producers of palladium in the entire world. The only other country that comes close to Russia's massive output of palladium is South Africa.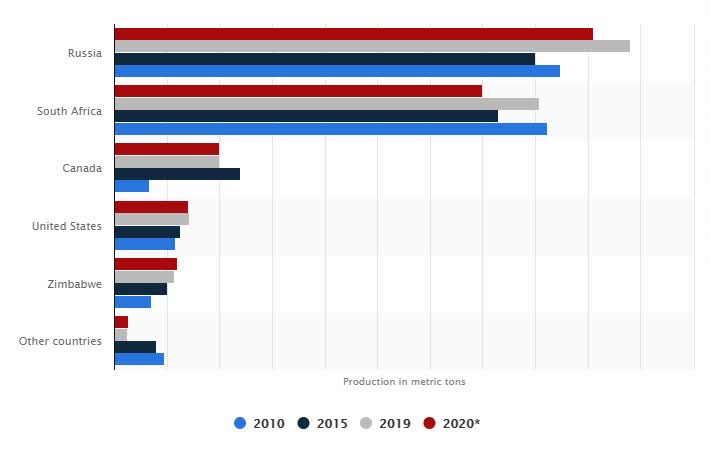 Because of the 2020-2021 global shutdowns, palladium and other precious metals could not be mined as often or as effectively. Furthermore, the already limited supply and widespread high demand elevate most precious metals in price at this time.
A new development in Russia, however, has pushed the palladium price today past its all-time high. Norilsk Nickel GMKN.MM announced on Tuesday that its 2021 metal production volumes will most likely fall short. To put this into perspective, Norilsk Nickel is the biggest palladium producer in the world.
Unfortunately, subterranean water started to flood parts of two mines at the end of February. So, they had to partially suspend operations at the Oktyabrsky and Taimyrsky mines. The CEO, Vladimir Potanin, said:
"Colleagues expect to finally achieve a turning point and stabilize the situation by March 9. There will be certain losses for production."
This was reported on March 3, and it appears that the flooding situation remains mostly unchanged. The inflow of groundwater has negatively affected the production of palladium in Russia. Currently, it is unclear when mining operations will resume at full capacity. The company also mentioned that it cannot be sure that there will not be any further delays. If this major issue persists, then this may continue to weigh on the palladium spot price.
PALLADIUM PRICE TODAY: WILL THIS CONTINUE?
The price of palladium per ounce today is approaching $3,000, and it just may have a shot getting there. Demand for palladium grows consistently: China is the leading consumer of palladium for its high-volume car production As Europe and the rest of the world move away from diesel, they turn to hybrids and gasoline engines. These cars use palladium instead of platinum.
With this added supply strain from Norilsk, the palladium spot price continues to skyrocket. On top of that, the mined palladium supply maintains its steady fall with 2020 being the 9th straight year of decline in a row. Palladium is a byproduct of nickel and platinum mining, and cannot directly be mined on Earth. This is one of the main reasons why the palladium supply is often strained. As the price of palladium increases year over year, car companies may eventually resort to passing the price onto consumers.
SELL TO US!
The current price of palladium per ounce today might signal that now is a great time to sell your palladium bullion. If you're looking for a reputable dealer with top ratings and a great reputation in the industry, check us out! Bullion Exchanges buys (and sells!) a variety of precious metals, in addition to diamonds and scrap metal. Our customer service team is ready to assist you with selling your precious metals to Bullion Exchanges, your precious metals and coin dealer in midtown Manhattan.