Royal Caribbean Cruises (NYSE: RCL) shows record earnings for the second quarter. Last Thursday the company reported US GAAP earnings of $2.19 per share for the three months ended June 30, 2018 and adjusted earnings of $2.27 per share. It beats the Adjusted EPS guidance by $0.39. Revenues increased 6% year-over-year to $2.34B.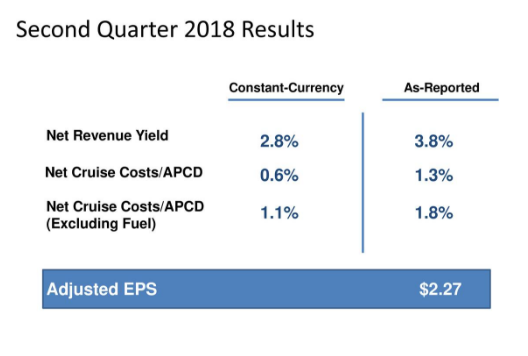 Source: Q2 2018 Royal Caribbean Cruises slide deck
   RCL says in it's Press Release that such results are due to better than expected revenue from company's global brands, better performance from the joint ventures and lower than expected expenses.
  Adjusted earnings for the full year are expected to be $8.70 - 8.90 per share.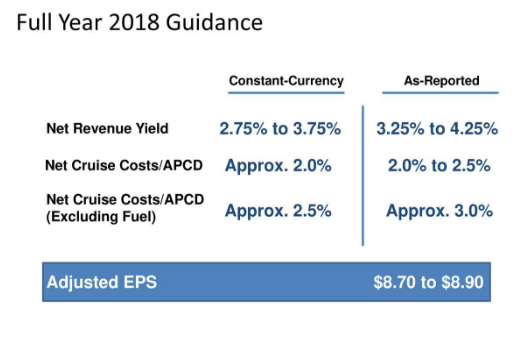 Source: Q2 2018 Royal Caribbean Cruises slide deck
   What factors can affect the company's future performance?
   Royal Caribbean Cruises is already operating three global brands: Royal Caribbean International, Celebrity Cruises and Azamara Club Cruises. At the end of July regulators finally approved Royal Caribbean's purchase of a 66.7% equity stake in Silversea Cruises, one of the leaders in the ultra-luxury cruise line industry. With the acquisition of Silversea's nine-ship fleet, Royal Caribbean's fleet now numbers 59 vessels, with 15 on order, the company said in the Press Release.
   The company also works on attracting new audience. It is trying to target millennials by modifying it's fleet as a part of the $900 million program to renovate and upgrade 10 ships in four years. The Mariner of the seas became the first modernized ship. It returned after the refurbishment in late June.
   As we can see in the table below not every region served by Royal Caribbean looks equally good by revenues. Asia's second quarter results appeared to be worse year-over-year. But It seems that the company is taking certain steps to improve the situation. Royal Caribbean International on July announced Crystal Campbell as a new general manager of the company's Hong Kong office.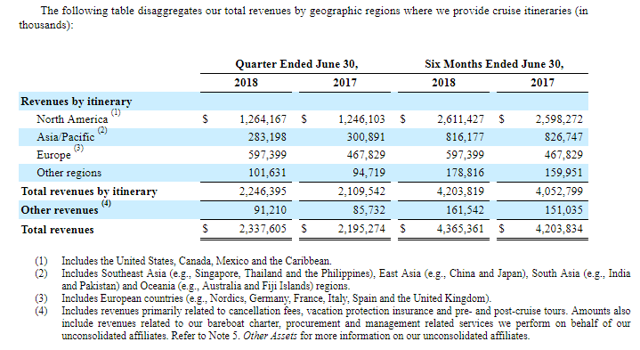 Source: Q2 2018 Royal Caribbean Cruises financial report
   Do not forget that travel and leisure industry is more cyclical than many others. Changes in key economic indicators, especially in consumer spending, may affect the company's future performance.
   Technical analysis.
   As we can see on the monthly chart below the price often meets the end of the year near its peak. Over the past ten years, seven times a year ended at the peak price (marked with green ellipses) and three times significantly below the peak (marked with red ellipses). Based on these statistics, we are more likely to see a new wave of growth before the end of the year.
RCL, Monthly chart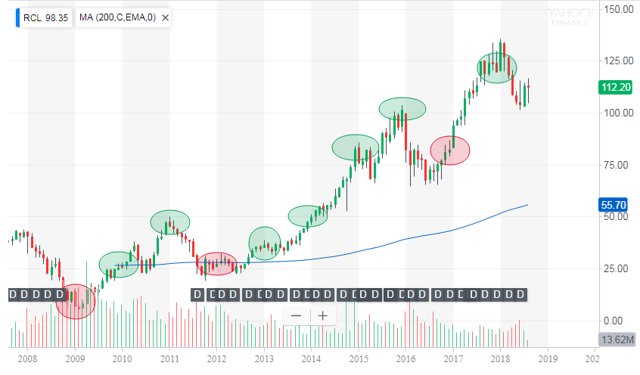 Source: finance.yahoo.com
   On the other hand, as we can see on a Daily chart below, in March the price dived below 200-day Exponential Moving Average (blue line). Due to classical technical analysis that means an attempt to break down a long-term uptrend. Since then, to start a new wave of an uptrend the price should cross this line up. As we can see on the chart there have already been four attempts to do that since April (marked with red ellipses) and they were unsuccessful. Even the last attempt made right after the publication of the Q2 report was also unsuccessful. This is a sign that locally the stock is week.
RCL, Daily chart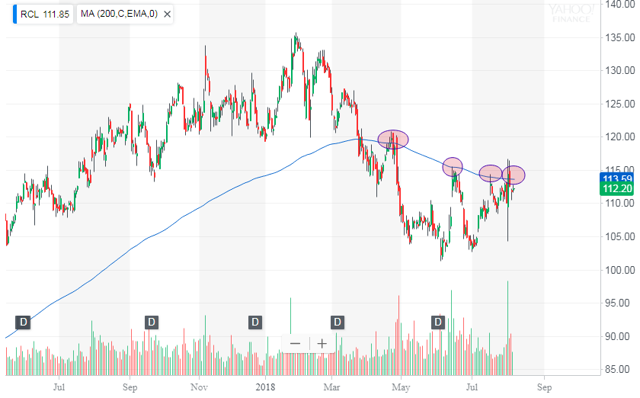 Source: finance.yahoo.com
Conclusion
   Royal Caribbean Cruises has a good fundamental basis for growth. In terms of technical analysis, the stock has a better chance of growth until the end of the year . At the same time, there are signs of weakness locally. The signal of activation of bullish sentiment will be a confident break up of the 200-day EMA.
Disclosure: I/we have no positions in any stocks mentioned, and no plans to initiate any positions within the next 72 hours.