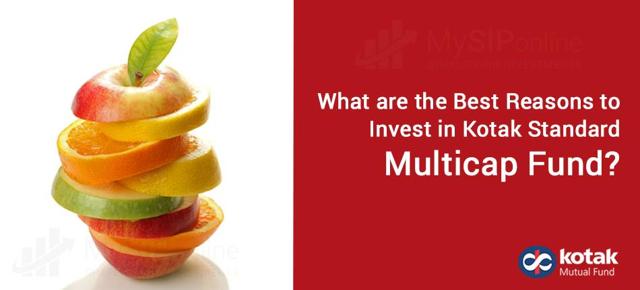 When we talk about best funds in the market, there would plentiful of options available in different genres. But the real challenge is to find out which amongst the lot is the best fund for you. Now, while this may seem little difficult, there are certain ways by which you can make a confident decision over selecting a fund for your portfolio.
Amongst all, the best way to select the best fund is expanding your knowledge about them. Hence, we are here, talking about one of the best funds in the market available today, viz. Kotak Standard Multicap Fund. This fund is the successor of another widely popular fund, Kotak Select Focus Fund. It recently switched to multi cap category from small cap, becoming a beacon of power and energy in the mutual fund market.
This article is all about Kotak Standard Multicap Fund (NYSE:G), discussing its features and benefits, returns and risks, strategies and objectives. So, stick around for a while and station your eyes on the screen, as you are going to spend the next 10 minutes learning healthy investing!
An Overview
Kotak Standard Multicap Fund, erstwhile Kotak Select Focus Fund, was started in 2009, with an objective to provide high energy investment options to the investors. The fund primarily played on high energy stocks of small companies that were recent players in the market, but had immense potential for future growth. After its switch in the multi cap category, the fund cornered from the small cap stocks focusing more on giant and large cap stocks.
In terms of asset size, Kotak Standard Multicap Fund (G) stands amongst the largest funds of Indian market with an AUM of Rs. 19, 614 crore as on 3rd July, 2018. It earned four stars from CRISIL due to its steady growth and remarkable servility towards the clients.
The Portfolio
As explained above, Kotak Standard Multicap Fund (Growth) made a switch in its category from small cap to multi cap, it has changed the entire structure of its portfolio. Today, the fund's portfolio consists of 61.41% of giant stocks, 21.62% of large cap stocks together with fair incorporation of mid cap stocks. This led to a fair inclusion of security and protection within the fund, making it more powerful to withstand the rough blows of the market.
In order to further strengthen the spine of the portfolio, the fund selects stocks of established companies present in different industry sectors. The keen focus of the fund has been on the financial industry, in addition to fair consideration of other sectors. The following table will clear the asset allocation by the fund:
    Industry Sectors

                           Allocation

In %

In value (Rs. Crore)

Financial

35.7

7002.20

Energy

11.31

2218.34

Construction

11.26

2208.54

Automobile

9.6

1882.94
The Risk-Return Relationship
Kotak Standard Multicap Fund – Regular Plan has performed strikingly well in the past five years, gaining a position in the top five performers in the multi cap category. The fund captured 21.29% returns in the market beating the benchmark and the category returns with a huge margin.
If we talk about the corresponding risks, then it fair to remark that the fund has a heavy foot in the risk pond. Although the portfolio mainly comprises of giant and large stocks of top companies, but a dominance on single (finance) industry has exposed it to high risk. Hence, it is advised that if you are planning an investment in Kotak Standard Multicap Fund then keep a long-term vision in your plan, as a short-term investment may not be very fruitful and may otherwise hurt your portfolio's value.
The Features
Kotak Standard Multicap Fund, owing to the virtue of its vibrant investment nature, is a powerful tool for employing diversification. It will make your portfolio stronger besides fuelling momentum to earn high returns.
By reading till now, you must have already got an impression that Kotak Standard Multicap Fund is indeed a growth-oriented fund. Hence, this fund will be apt for a portfolio geared for high growth in future.
Amidst the glamour and glittering of high returns, the job of the most important people, the fund managers, often gets overshadowed. But it shall be noted that the credit for the fund's phenomenal performance and strength lies vested into its management team, which is the lifeblood of the fund's supreme success.
Hence, if your motive is to make a balanced investment, then you should invest in Kotak Standard Multicap Fund (G). Talk to your financial advisor and work out a good plan for yourself.