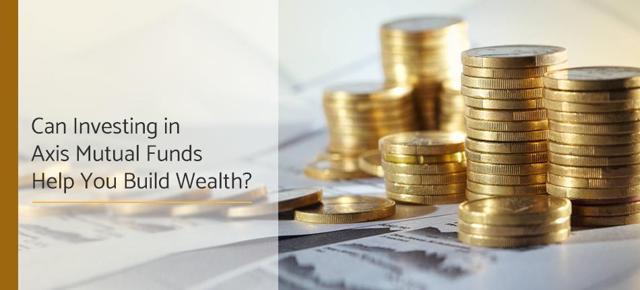 Mutual funds are those tailor-made plans that are managed by professionals to provide capital appreciation to the investors. They offer multiple benefits under a single umbrella such as convenience, diversification, flexibility, and transparency. One of the top companies in the mutual fund industry which is offering first-class services is Axis Mutual Fund. The fund house has launched its first scheme in the year 2009, and since then, it has never looked back.
Axis MF was incorporated in the year 2009 under the sponsorship of Axis Bank Limited and trusteeship of Axis Mutual Fund Trustee Limited. Currently, it has more than 50 schemes in which it is managing the assets of Rs 79201.23 Cr (as provided on June 30, 2018). It has more than 20 Lakh investors and a presence in 90 cities to provide the investment assistance as well as support services to them.
Investment Philosophy of Axis MF
Axis Mutual Fund has built its business on various pillars to deliver the high returns to the investors. They encourage investors to stay invested for a long-term to get the maximum benefits of investments.
Creating long-term relationships with the investors by leveraging the equity of the Axis brand rather than being transactional only is one of its specialty.
Objectives of the Fund House
This AMC aims at providing a complete investment solution to the investors with the best quality, which makes them feel financially secure and confident for a brighter future. It emphasizes majorly on the risk management by planning the investment according to the market cycle and volatility.
Team of Axis Mutual Fund
Chandresh Kumar Nigam: MD & CEO
Mr Nigam has 26 years of experience in equity fund management and has worked earlier with the top brands.
Jinesh Gopani: Head - Equities
Mr Gopani has a total experience of 16 years in the capital market with 8 years in the equity fund management. He has previously worked with Aditya Birla Sun Life Mutual Fund and Voyager Capital. He is also managing many equity funds including Axis Long Term Equity Fund, which is top amongst its category.
R. Shivakumar: Head - Fixed Income
Mr Shivakumar is an engineer by profession and has an experience of 20 years in the Indian asset management industry across multiple asset classes. He also has previous experience of managing fixed income instruments at Sundaram Mutual Fund.
Top Performing Funds of Axis Mutual Fund:
Among the various plans offered by the fund house, some of the top funds that are performing well in the industry and offered high returns to the investors, in the long run are provided in the table below. These funds are the highly recommended funds for the year 2018 by the financial advisors to invest in for a long-term.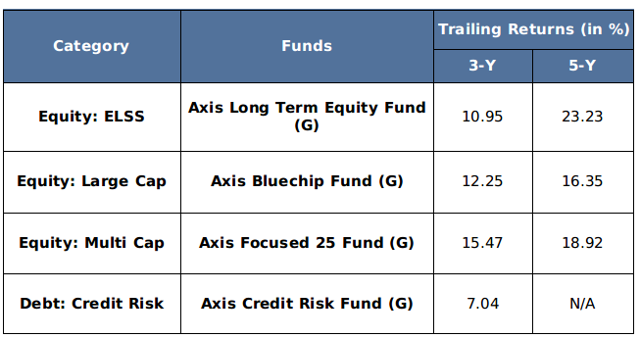 Besides the above-listed schemes, the fund house is offering different options under equity, debt, arbitrage, hybrid, EoF and FoF as well as special situation funds. Investors can invest in them according to their risk profile and investment horizon.
You can invest in the above-listed funds of Axis MF through SIP or lumpsum mode. Every fund differs from others and offers different benefits to the investors. If you are keen to invest in the fund, then consult with your financial advisor before investing as they will provide you with the schemes according to your risk appetite and investment horizon.