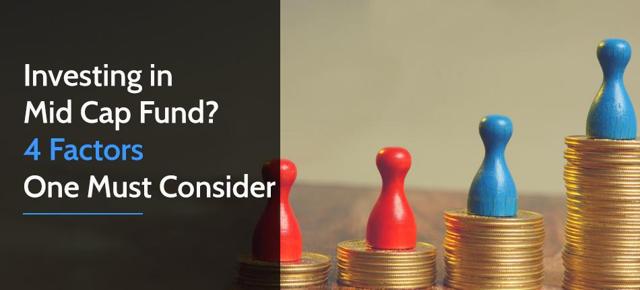 Is mid-cap worth investing? This is the major question which investors are asking after recent fall in mid-cap stocks. Most of mid-cap mutual funds are down by 10% on an average since January 2018. So, it is the best time to talk about investing in these mutual funds, because now they are available at a highly discounted price. Investors who are investing in mid-cap mutual funds or want to invest can have a greater deal, it's because they can capture most advantages of the market space. However, there are a few details that every investor must consider before investing in these funds which help them to earn the most. Some of these points we are discussing here:
Consistency Over ReturnsMid-cap funds are such which can offer high returns compared to bluechips because they carry higher risk. This is because mid-sized firms react more on volatility and are more susceptible to economic as well as business downturns. Therefore, it is asked by the market pundits to investors that they should always invest in the funds which have been delivering consistent returns rather than being chart-busters for a year or more. It's because many times, the strategies of chart-buster funds work in some market cycles, but in an overall manner, they perform poorly. So, when it comes to mid-cap mutual fund schemes, long-term consistency wins over high returns. Therefore, investors should not chase the funds which have high one or three-year returns when the market is totally one way and should access the rolling returns over two or more market cycles.
Look for Seasoned Fund ManagerPicking the best stocks from the market and investing in them is just not spending money, this needs extraordinary ability. With a 10-year return analysis of various mid-cap funds, we have come up with a fact that the fund managers with long-term experience can offer more returns than new fund managers. Therefore, whenever you choose any mid-cap fund, you must stick to those schemes which are handled by seasoned fund managers and have a track record of two or more market cycles. It's because the experienced fund manager who has made a mistake in the past will learn from it and won't repeat those mistakes in a euphoric market. In short, if you have to choose the fund with moderate returns and seasoned fund manager against top performer with a newbie, go with the first one.
Potential to Generate AlphaAs we have learnt why an experienced fund manager is necessary. It is also important because it's the top priority of a fund manager is to generate alpha (returns higher than that of the benchmark) for investors. This can only be achieved through better stock selection and portfolio construction strategies of the fund manager. Active managers have done more better than the market by cherry-picking the stocks from the broader market. This has helped them to deliver higher alpha, but if fund manager keeps churning the portfolio to deliver high alpha is not good and a cause of concern.
Right Investment ProcessMidcaps tend to be a lot more volatile and see greater price swings as compared to any large-cap fund. That's why investors need to be cognizant of this when they are getting into midcap funds and should invest in such funds which have prudent investment policies. Funds that check the corporate history before investing in any stock makes them strong as they can avoid future corporate governance mistakes. To win big in the mid-cap space, investors should go for the funds which have given enough diversification in the portfolio, investing in low leverage and strong management companies.
Last but not least, investors should not make impulsive decisions to raise allocation in such mid-cap mutual funds whose past three and five-year returns are at attractive levels. They should maintain a constant allocation by keeping the above-listed points in mind and take the SIP route to reach healthy returns.