The eruption of the Shinmoe-dake volcano in Korea accelerated an adjustment to the share price of Jeju Air (089590.KS) from last Friday which saw its share price slipped below KRW 40,000 after the eruption.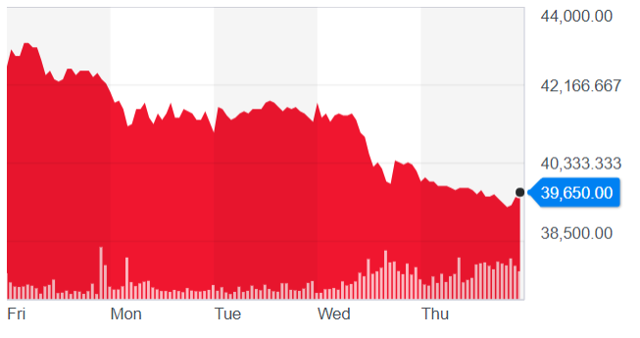 Source: Yahoo Finance
Immediate impact
The eruption led to cancellation of all flights to and fro from the Kagoshima airport on 7 March 2018.
Short-term impact is however limited
Korea Air, Jeju Air and Easter Jet told the meida that flights were back to normal on 8 March 2018. (http://www.newspim.com/news/view/20180308000045).
There is no special report that tourists or the locals have suffered serious casualty in the event. Local media in Korea also reported that the impact was minimal because the eruption did not happen in a famous tourist destination and that the volcano was not part of any package tour. (http://news1.kr/articles/?3254284)
It is true that the volcano erupted 5 times in the recent decade in 2008, 2009, 2011, 2017 and 2018. However, its impact to Jeju Air is limited even in the worst case where a bigger eruption occurs because Jeju Air only offers 3 flights a week to the nearby Kagoshima region in Japan. As the operation is small in Kagoshima, it appears that the adjustment of Jeju Air's share price is exacerbated.
Bottom line
Jeju Air is well known for business growth and developing new travel destinations for Korean tourists in Japan and other southeast Asian countries. Perhaps this is the reason that the market reacts more strongly than it should be for the volcano eruption in Japan.
The airline has successfully averted a decline in sales due to a declining number of Chinese tourists to Korea since 2017 through expanding and diversifying into new markets in Japan and southeast Asian countries, increasing its sales and operating profit by 33.3% and 74% yoy respectively in 2017. Its total accumulated number of passengers broke a record of 50M people in February 2018, which is close to the 51M population of South Korea.
I would consider that the volcano eruption is an one-off event which has limited impact to the fundamentals of Jeju Air. To long-term fundamental investors, this presents a good investment case.
Disclosure: I am/we are long Jin Air Co., Ltd. (272450.KS).