Investors are confronted with difficult choices as to where to put their capital when markets are topping out and the tipping point between stocks and bonds is distinguishable only with difficulty. Some prefer to go for ETFs in the belief that they are protected from drawdowns while others opt for precious metals or real estate. Diamonds are another possibility. They are not concrete, only carbon, but they keep their value. There is, however, one alternative investment that not only keeps its value but increases in value due to more and more interest, namely, classic cars.
Man`s romance with the motor car is already over a century old and shows no signs of coming to an end. Mobility has rather become practically a necessity of modern life. That is one reason why cars arouse such great interest.
To know which cars are the best to invest in, however, requires a full knowledge of the market as there are many makes of cars and the vintage car market is extremely complicated. This is why it makes sense to turn to a fund when one wants to invest in automobiles. The Classic Car Fund is one way that investors can take advantage of the wide interest in vintage and classic cars and turn a neat profit.
An advantage of the fund is that it has different levels of possible investment. One can invest in cash, and there are two types of investment available. The smallest amount is € 10,000.00, which is for Class P. There is a soft lock up period of one year and a 2% management fee with a 20% performance fee for the high water mark. The second class requires a minimum investment of € 200,000.00 with a soft lock up period of two years with a 1.5% management fee and 15% performance fee for the high water mark. There is monthly liquidity.
In the two charts below one can see the results of the fund over the period starting from its inception in 2013. It is obvious that results may vary from one year to another as auctions reflect buyer interest and willingness to spend on cars. The makes and models of cars offered undergo significant variations. The fund has been averaging a 5% yearly return.
The Classic Car Fund Limited - Class P Fund Fact Sheet - March 2018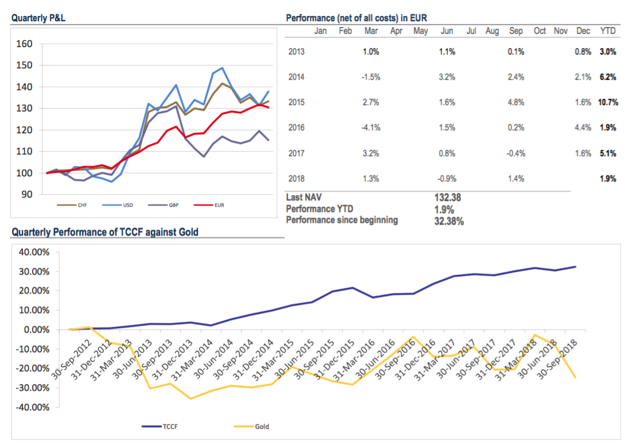 The Classic Car Fund Limited - Class I Fund Fact Sheet -March 2018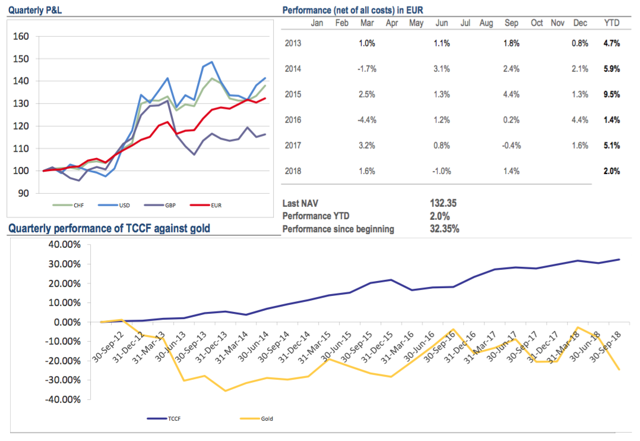 What is particularly interesting about the fund is that it can be subscribed to in cars as well as cash. Car collectors, and there are lots of them, can put up their cars in order to subscribe to the fund. This procedure is really special in that the subscriber/investor gives the fund the job of marketing the cars while at the same time benefitting from any increase in the value of the fund. Valuation of the car is made by an independent expert. The car may be sold only with the permission of the subscriber.
Further details of this opportunity can be found in the fund Newsletter, which contains information about fund performance as well as other useful information. Another advantage of the fund is that loans can be taken out against the value of the fund participation held by the subscriber.
One of the conditions for submitting a car to the fund as a subscriber is that the car or cars have to be examined by an expert that determines the market value of the car. This is interesting because the value of a classic car depends on many factors that have to be taken into consideration. The condition of the car is extremely important just as the make, model and year are basic. Then there is the factor of special features of each car. For example, cars from the 1930s sometimes had a radio installed. It requires an expert to be able to evaluate how much this feature can contribute to the value of a car.
As far as the factor of the make of the car is concerned, it makes a tremendous difference whether one is looking at a Ferrari or a Rolls-Royce or a Bentley. Then there are really special cars like Bugattis, and there are subtle differences between different types of Bugatti. Classic car enthusiasts will appreciate such fine points and will also see that the Classic Car Fund could serve their interests when it comes to buying or selling a classic car. At least one can drive a car. The investor who submits a car to the fund can still drive it. Of course the car must be well insured. But what can one do with a bond?
Portfolio diversification is possible thanks to the Classic Car Fund. This is especially interesting when bond and stock markets have high volatility. Shares of the fund are traded on the Borsa Italiana and have a good track record. See the chart below.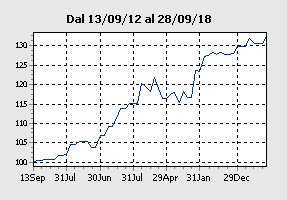 In any case the Classic Car Fund offers investors diversification of assets and is quite stable. Over the last ten years classic cars have increased in value almost 400%, more than practically any other asset class. Diversification pays off in the long run.
Disclosure: I/we have no positions in any stocks mentioned, and no plans to initiate any positions within the next 72 hours.
I wrote this article myself, and it expresses my own opinions. I am not receiving compensation for it (other than from Seeking Alpha). I have no business relationship with any company whose stock is mentioned in this article.
Additional disclosure: Disclaimer: This article expresses solely the author's opinions, is produced for informational purposes only, and is not a recommendation to buy or sell any securities. Investing comes with risk to loss of principal. Please always conduct your own research and consider your investment decisions very carefully. There is no guarantee that the information provided is correct or up-to-date.