Sometimes, mid-cap stocks offer the greatest runs. Some of these companies have their fundamentals together, their bases covered, and they're ready to take their mission to the next level. Yanlord Land Group ( is one of those companies, if China can maintain its current real estate-friendly economy. 
That might be more likely than you think. Before the global recession of '08, the Chinese real estate machine was chugging along at a pace similar to what we're seeing today. Sure, the market has seen some volatility lately, but these kind of jitters are to be expected as new paradigms are reached. Many of the stocks in the re-emerging industry have garnered quite a price premium.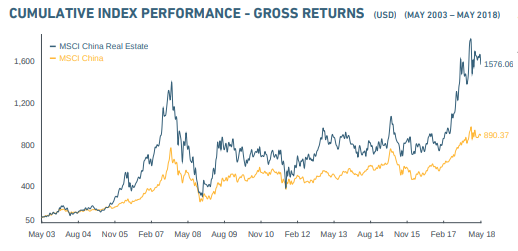 Yanlord didn't see the kind of year its competitors had. Many larger property developers ($HKG:3333 $HKG: 2007 and most Singaporean property stocks) saw their stocks at least triple since late 2016,while Yanlord only managed to add cents to its stock price. As we will explore later in this article, there are reasons to believe that the price of Yanlord has merely been suppressed, and despite prospects for high growth of the company,the stock is still undervalued.

One can't stress financials enough when attempting to value a company. With Yanlord Land, there are a few financials indicators that have some very positive implications for its future.
Financials Set Yanlord Up For Strong Performance 
Cash on hand has increased 24.08% from last quarter
This is generally a sign that financial turbulence in a company is coming to an ease. The company hasn't scaled forward yet, but has met a situation of improved financial condition, and is holding cash for its future developments.
Operating income trends positive 
Yanlord, the real-estate group that it is, takes on quite a bit of debt. For it to have survived this long, it would have to been aggressively pursuing profitability with cushion. Expect operating income to grow at a more sustainable rate in the future as debts are paid off.
Debt is decreasing, company is well-managed financially
Any level of debt can bring uncertainty, but Yanlord is a well-disciplined company financially. Debt-to-EBITDA has strengthened considerably and the company now has more financial freedom than it has in recent years.
Project profit margin generally higher than average 
Yanlord is known for high-end developments of all property types. Their strategy for selecting location serves them well and as a result they beat profit margin averages for their respective projects. 
Value Investors Salivating: Undervaluation Possibility
This stock has received some attention, most notably from OCBC Investment Research, one of my favorite Asian banks (another stock for another article!)  OCBC has Yanlord Land about 36% undervalued. Such a large institution will make a conservative estimate, but even so, under-valuation meets over-valuation before it meets fair valuation. Investors may flock to Yanlord stock on news or after the announcement of a large project. There's little reason for Yanlord to scale back now, but it may become operationally dormant as it strengthens its balance sheet. 
Yanlord is trading at a FY18F P/E of 4.5 times and P/B of 0.62 times, which is a steep discount to its competitors averages of 42.3% and 60.9%. In my view, this deep discount is unwarranted and offers major support for Yanlord at current levels.
For now, we just need to be looking for the right moment to enter a position in Yanlord before the company makes any moves (The market has not yet significantly responded to a new acquisition announcement on 06/14/18).
Yanlord Techincal Analysis + Buying Technique
With $20,000 in capital, my buy goals for Yanlord are:
SG$ 1.65: 25% ($5,000)
SG$ 1.60: 25% ($5,000)
SG$ 1.58: 50% ($10,000)
If you like to swing stocks like me, you'll be interested in the reversal levels. Potential reversal levels include a soft resistance at SG$ 1.73 and SG$ 1.91. If the price can break and sustain above the SG$ 2.00 range for more than a week, we could be looking at a bull breakout. If the price sustains below SG$ 1.58 for more than a week, it we could see a major reversal. this is unlikely, however, as Yanlord is currently in a "bottoming trend."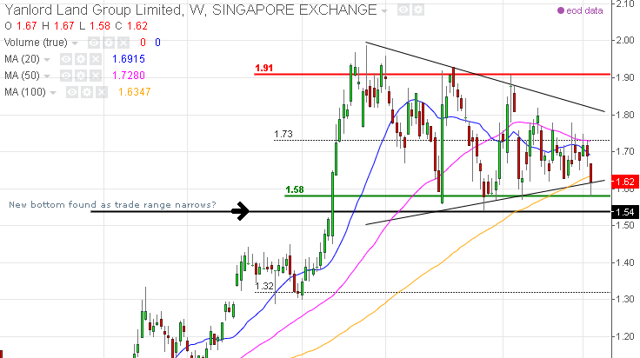 Who Calls the Shots at Yanlord?
The way Yanlord is run reminds me of The Trump Organization. A family-owned real estate and development group with a highly groomed and respectable heir who begins corporate work early in life. Such a process tends to works out well in real estate. If a long player is especially lucky, the heir will be in some way an exceptional improvement over his father. However, because the company is public, this heir may still be booted if he proves to be under-performing, which gives me further long confidence in this company. 
Founder, Chairman, and CEO: Mr. Zhong Sheng Jian, 60
The genesis generation of a company that's trying to achieve success in property can be struck by both turbulence and reward. Mr. Zhong Sheng Jian has created a institution by keeping the delicate balance between risk and reward lucrative but maintainable. He built Yanlord into a prominent company from the ground up and gives us no reason to believe he can't maintain its success. He's also a reliable insider, and buys from him are generally great signs for the stock, so keep an eye on that. 
Executive Director: Mr. Zhong Ming, 29
A person of interest for anyone looking to hold Yanlord for the long haul, Ming has showed potential as a future CEO of Yanlord. 
Should You Buy Shares in Yanlord Group?
I believe the company is worth a speculative look. With the right decision-making by leadership, continued practices of great competition, and the right environment to nurture it, Yanlord can see a high-float run. There is a possibility that the Chinese property market takes a turn against Yanlord, but such a risk is what represses the stock price. If things smooth out in the coming months of 2018, we cans see some lucrative returns from a stake in this company.