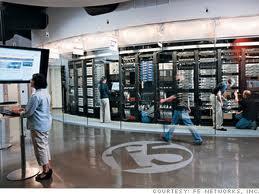 Be sure to check out our detailed stock analysis (click here). F5 Networks (NASDAQ: FFIV) took a beating last week, seeing its stock tumble some 20% on disappointing earnings and a poor 2013 outlook, but is the news really all that bad? With the company's positioning in an exciting and high growth industry, it's tough not be intrigued, to not at least take a look at the stock. But I think the stock could be low for a reason.
Notable Headwinds
Fiscal first quarter sequential revenue growth was a mere 0.8%, which suggests that second quarter revenues will fall by 4.2% sequentially. Revised full year expectations put this year's earnings equal to last year, with no growth.
Margins have began contracting, which is in part leading to poor EPS growth expectations.
A couple of F5's largest customers account for 17% of revenues (Avnet Technology) and 14% (Tech Data).
The majority of weakness is in the telco space, which is F5's largest segment (accounting for over 25% of revenues last year).
F5 noted that the telco space has seen notable press related to delayed funding for several projects and hesitation related to sign new orders, thanks to budget constraints.