Small-cap picks and pans of 3Q 2013
Outlined below are the small-caps we covered during the third quarter. The highlighted companies are those that have had strong moves, either 10% up or down. As well, the bold and italicized companies are those that we are on the short side of. All in all, we can't complain too much. We had a couple big losers, one down 12.6% and the other 16.6%, from the end of 2Q to 10/14, but the winners more than made up for those two's lack of performance. The market had a less than stellar third quarter, ending up only 4.12% after seeing a steep pullback in the later part of September.
S&P 3Q performance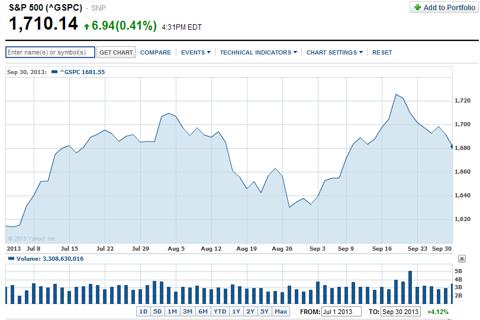 3Q stocks picks
Losers
"That's on me, I have to do better"
Let's go ahead and get this part out of the way. Post Holdings (NYSE:POST) is the biggest loser, down 16.6%. That's a big surprise for us. Our long-term buy thesis has not changed. The company had a slight miss on earnings and made an acquisition in the healthy foods sector (a big positive), but has been punished by the market. It's still a buy, especially at current levels.
Weight Watchers (NYSE:WTW) is another big loser, down 12.6%. Weight Watchers has been a victim of a change in tech. The company noted that it's seeing pressure from internet-based competitors and mobile apps, which, in part, led to an earnings miss last quarter. We believe the stock still has a lot going for it, including perfecting its own app.
Other notable laggard has been Pier 1 (NYSE:PIR), which is down 9.2% after getting pounded on a quarterly miss. The stock was down 11% in a single day after lowering guidance, but Credit Suisse came out the next day and put an "outperform" rating on the stock and a $25 price target.
Winners
"I'm Not Bi-Polar, But Bi-Winning" - Charlie Sheen
The biggest winner by far has been Amira Nature Foods, which is up 75%. Helping really drive this stock pick was a better than expected quarter, and expansion into the U.S. that's hitting on all cylinders.
However, not too far behind is Coldwater Creek on the short side, which is down 67%. Coldwater was down another 30% just this week after announcing that 3Q sales will come in weaker than expected, and so, the company is desperately looking for a buyer who can save the company.
The other winners are included above, but I figured we'd hit some of the biggest winners. Skechers continues to win, up 15%, and Harman International is up 21%. Oshkosh is up nearly 22%. All of those were early calls. Then we got a string of wins in the gaming industry, with Scientific Games (up 17%) and Boyd Gaming (up 21%).
From there, the other big winners are in less-than-sexy parts of the market, including Movado (watches), Lancaster (foods), Foster Wheeler (industrials), Cytec Industries (aerospace), Nabors Industries (oil & gas drilling), Stein Mart (retail), and Team Health (hospital staffing).
A couple other notable shorts that are doing fairly well include TravelCenters, which is down 8.8%, and hhgregg is down 6%.
All in all, it was a solid quarter. So far in 4Q, things have been slow. We think much of the market is playing a wait-and-see game given the government shutdown. Thus far, the biggest winner is Team (NASDAQ:TISI), which was hammered by an earnings miss, but we saw it as a long-term buy, given the necessity of its services, which are not discretionary. It's up 5% since then. The biggest loser has been Century Casinos, down 7% so far this quarter.